Jobs
Stricken Tufts professor keeps his passion for soccer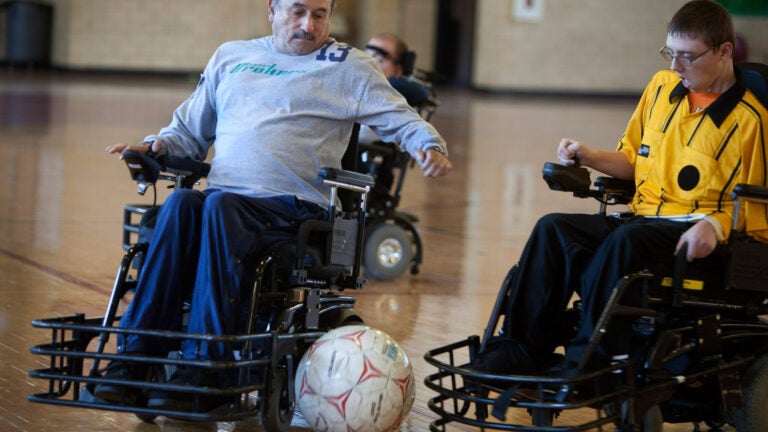 Steven W. Hirsch, associate professor of classics and adjunct professor of history in the School of Arts and Sciences at Tufts University, has always believed that happiness can't be faked. Hirsch, 62, is happy when he's with family and when he's in a classroom, teaching Greek and Latin, and the period between "prehistory'' and the Middle Ages. And he's also happy when he's playing soccer. His theory is that as long as one communes with loved ones and does the things he or she loves, then happiness is inevitable.
But 16 years ago that theory was sorely tested, when he was suddenly struck down by Guillain-Barre syndrome, an autoimmune disorder that destroys part of the body's neurological system. At the time, Hirsch, who was in Talloires, France, to teach at the Tufts European Center, was leading an archeological dig in the French Alps.
"I literally went from actively participating in the dig — on my hands and knees in the dirt, digging for artifacts, carrying heavy loads — to 24 hours later being completely paralyzed, except for my eyes and mouth,'' he says.
"It was definitely disconcerting to not be able to control my own body. But I don't know what to tell you,'' Hirsch says. "I didn't despair. I was more interested in getting back to those things that were meaningful to me. And so finding a way consumed my time.''
Hirsch was hospitalized for 13 months after he fell ill — he spent two weeks in French hospitals before being flown back to the United States, where he continued treatment in Boston-area hospitals. With friends and family cheering him on, and a team of Tufts occupational therapy students assisting him, Hirsch made it back to his classroom three months after going home from the hospital. He even regained some movement in his arms and hands.
Glad as he was, though, for that progress, Hirsch began to have dreams in which he was playing the sport he'd loved since age 12 — soccer. "These dreams were so vivid, so real,'' he says. "I just couldn't dismiss them . . . I knew the passion for soccer was hard-wired into me.''
Two years ago, Hirsch attended a state-sponsored event for people with disabilities, where he learned that lots of sports — like sailing, skiing, and, to his pleasant surprise, soccer — can be adapted for wheelchair users. "I hadn't even heard of wheelchair soccer before,'' he says.
The sport, called "power soccer,'' is played indoors between teams of four players — all in motorized wheelchairs equipped with bumpers that resemble old-fashioned locomotive "cow catchers.''
Hirsch joined the Sudbury Sharp Shooters, a team made up of teenagers who "were willing to let an old guy play with them,'' and they taught him everything about the game, from spacial dynamics to ebb and flow and good wheelchair timing. At the end of his first season, the United States Power Soccer Association held a clinic in Boston, organized by Jim Wice, director of disability services at Wellesley College. Wice, who also uses a wheelchair, was an organizer of an adult power soccer team, the Boston Brakers. He convinced Hirsch to join the team and eventually become its coach.
"I now play and coach the team,'' Hirsch says. "The thing about power soccer is everyone playing has a wide range of disabilities, and everyone has a story. And most are more disabled than I am. We have one Polish young man on the team who came to the US in the '80s and loved the country so much that when the first Gulf War broke out he enlisted and was wounded in war.''
Wice says Hirsch is an ideal coach, player, and role model. "He knows how to relate to anyone and everyone. He finds common denominators. In this case it's a passion for soccer. But he has a way of unifying people.''
"People often assume I must feel a great deal of regret about what happened to me,'' Hirsch says. "But I really don't. I have a great job, a great marriage, great kids. I do this wonderful thing — soccer, and I teach about a fascinating period. My assumption is if this hadn't happened to me, who knows what would have?''