Jobs
The 25 highest-rated CEOs at small and medium-sized companies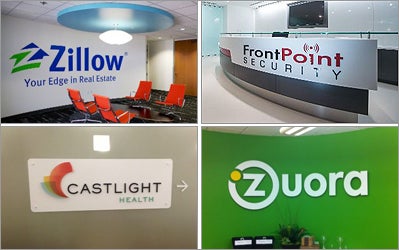 Glassdoor recently released a report on the 25 highest rated chief executive officers at small and mid-sized companies, a new study that ranks CEOs at companies with fewer than 1,000 employees based entirely on employee feedback during a 12-month period.Technology companies took the top spots on the list, with the top four earning ratings of 100 percent. CEOs at two Massachusetts companies were recognized by their employees. See which leaders earned praise from their workforce and employees had to say.

25. Vik Thadani

Unbounded Solutions Atlanta.CEO Approval Rating: 77 percentRecent feedback"How many CEOs and COOs of a company takes the time to know you personally? These guys are the best, and treat their employees with the utmost respect!'' – Unbounded Solutions Recruiter, Atlanta, Ga.Pictured: Unbounded Solutions employees at the 2012 Sharepoint Conference in Anaheim, Calif.

24. Abram Andrzejewski

American Marketing and Publishing Dekalb, Ill.CEO Approval Rating: 78 percentRecent feedback"Amazing company culture, team culture & inspiring leaders.'' – American Marketing and Publishing Employee, location, n/a

23. Sunny Singh

Edifecs Bellevue, Wash.CEO Approval Rating: 78 percentRecent feedback"A few of the many pros include great opportunities for professional development, very competitive benefits, hard-working leaders who motivate, and a passionate CEO who is committed to Edifecs employees.'' – Edifecs Employee, location, n/a

22. Pete Flint

Trulia CEO Approval Rating: 80 percentRecent feedback"The company is very competitive, so it gives me pride to work there. They are leaders in the industry and always changing due to market conditions. Upper management is very strong.'' – Trulia Analyst, San Francisco.

21. Chau Nguyen

The Campus Special CEO Approval Rating: 81 percentRecent feedback"Great managers and employees to work with. The management takes a personal as well as professional interest in their employees.'' – The Campus Special Employee, Atlanta.

20. Keith Krach

DocuSign CEO Approval Rating: 82 percentRecent feedback"Everyone from senior leadership on down to the newest DocuSign employees collaborate well together to achieve a common goal.'' – DocuSign Account Manager, Seattle.

19. Ben Legg

Adknowledge CEO Approval Rating: 85 percentRecent feedback"Dynamic and driven, team-based work atmosphere. Company values it's employees and invests to improve them. Management listens to feedback.'' – Adknowledge Employee, Fort Myers, Fla.

18. Chris Villar

FrontPoint Security CEO Approval Rating: 87 percentRecent feedback"Great pay. Friendly work environment. Awesome training. Awesome management.'' – FrontPoint Security Sales, McLean, Va.

17. Rob Tarkoff

Lithium Technologies CEO Approval Rating: 88 percentRecent feedback"Great people with a lot of successful tech company experience in their past. Great management team that has been successful in their past.'' – Lithium Technologies Director, San Francisco.

16. Clay Olivier

Volusion CEO Approval Rating: 88 percentRecent feedback"Management is rock solid in their decisions and it makes it easy to want to work here.'' – Volusion Employee, Austin, Texas

15. Shane Robison

Fusion-io CEO Approval Rating: 89 percentRecent feedback"In my experience, the corporate culture is very open, very supportive of employees' growth and involvement. Even very junior employees have the opportunity to communicate to the higher levels of the company about what's going on.'' – Fusion-io Software Engineer, San Jose, Calif.

14. Tien Tzuo

Zuora CEO Approval Rating: 90 percentRecent feedback"Amazing company, board and management. We are solving a mission, critical business challenge.'' – Zuora Employee, location, n/a

13. Tom Gavin

Eze Software CEO Approval Rating: 90 percentRecent feedback"Eze Software Group boasts strong, experienced, management and a highly profitable business model.'' – Eze Software Employee, Boston.

12. Rick Smith

TASER CEO Approval Rating: 91 percentRecent feedback"No one is ever satisfied with average work. Everyone is striving to be the best. Open door policy – even the CEO has a cubicle, not an office!'' – TASER Employee, location, n/a

11. Martin Rankin

Fast Enterprises CEO Approval Rating: 93 percentRecent feedback"The founders of the company remember what it's like to be the employee and as such they take care of their own employees way beyond what is expected.'' – Fast Enterprises Implementation Consultant, location, n/a

10. Chad Richison

Paycom CEO Approval Rating: 94 percentRecent feedback"Leadership truly cares about employees and offers many perks and benefits that you just don't find at most companies.'' – Paycom Supervisor, Oklahoma City, Okla.

9. John O'Brien

AroundCampus CEO Approval Rating: 96 percentRecent feedback"Management cares about every employee and works hard to keep an ongoing learning environment.'' – AroundCampus Regional Manager, Chapel Hill, N.C.

8. Brian Halligan

HubSpot CEO Approval Rating: 96 percentRecent feedback"The founders and executive team sit at open desks and encourage anyone to stop by. It's in the things that no one expects or requires that show a real investment in the employees.'' – Hubspot Support Engineer, Cambridge.

7. Giovanni Colella

Castlight Health CEO Approval Rating: 96 percentRecent feedback"Opportunities to grow, try new things, be recognized, be promoted. Our CEO "Gio Colella'' has everyone behind him. He is a visionary.'' – Castlight Health Sales Operations, San Francisco.

6. Spencer Rascoff

Zillow CEO Approval Rating: 96 percentRecent feedback"Good leadership vision and opportunities to grow, a place where good ideas can come from anywhere, get heard and get implemented.'' – Zillow Employee, Seattle.

5. Chip Paucek

2U CEO Approval Rating: 97 percentRecent feedback"Casual, creative and innovative work environment with a socially conscious leadership.'' – 2U Inbound Marketing Coordinator, Landover, Md.

4. Bill Davison

SirsiDynix CEO Approval Rating: 100 percentRecent feedback"The leadership at SirsiDynix takes the time to know the employees. Not just HR, but the CFO and other company leaders walk around and check in. They take the time to learn about our families and career goals. Then, they work to help make those goals a reality.'' – SirsiDynix Employee, location, n/a

3. Steve Beauchamp

Paylocity CEO Approval Rating: 100 percentRecent feedback"One of the most refreshing things at Paylocity is the honesty, the management team is upfront with you. The direction, plans, and how we are going to do it. This makes the job exciting, and a PLEASURE to come to work every day.'' – Paylocity Tech Support, Arlington Heights, Ill.

2. Anthony Bruce

Applied Predictive Technologies CEO Approval Rating: 100 percentRecent feedback"Incredibly intelligent workforce, engaged senior management who cares about employee growth, great benefits (including tons of food and occasional free massages).'' – Applied Predictive Technologies Marketing Analyst, location, n/a

1. Robert Reid

Intacct Corporation CEO Approval Rating: 100 percentRecent feedback"Experienced and visionary leadership makes profit-maximizing decisions, and foster a culture of open communication, teamwork, and partnership with our customers toward their long-term success.'' – Intacct Corporation Corporate Sales Representative, San Jose, Calif.