Jobs
The greatest nurses of pop culture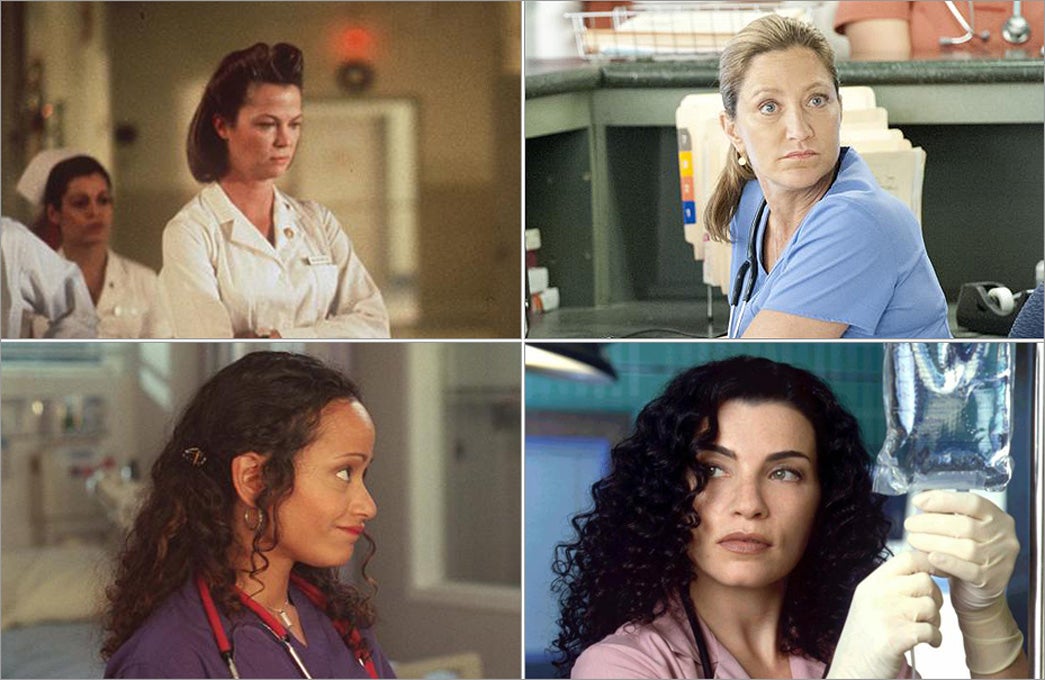 In honor of our annual "Salute to Nurses'' special, we've gathered some of the most memorable nurses from television and film. Most of the nurses included here have hearts of gold and many are willing to toe-to-toe with doctors and hospital administrators in order to help their patients. But if you think they're all the same, think again. Some of them are sassy, others moody, and at least one is as cold as ice.

Take a look at some of the most memorable caretakers in pop culture.

Jackie Peyton

"Nurse Jackie''

Played by: Edie Falco
The ethically challenged Jackie Peyton of Showtime's "Nurse Jackie'' is the pill-popping ER nurse at New York's All Saints' Hospital. Jackie is a very tough nurse who is adept at handling the daily chaos that an emergency room must handle and has little patience for hospital bureaucracy.
While her heart is in the right place, Jackie's main faults include forging organ donor forms, an extramarital affair, and a tendency to abuse Oxycontin, Xanax, Vicodin, and other powerful drugs. But hey, nobody's perfect!

Colleen McMurphy

"China Beach''

Played by: Dana Delaney
Dana Delaney won two Emmy awards for her portrayal of Colleen McMurphy, an Army nurse with the 510th Evacuation Hospital during the Vietnam War on "China Beach.'' Colleen was known for her kindness and compassion as well as her endurance as she treated soldiers injured in combat.

Greg 'Gaylord' Focker

"Meet the Parents''

Played by: Ben Stiller
In "Meet the Parents,'' Ben Stiller plays the awkward and unlucky Greg Focker , a male nurse who is ridiculed and criticized for his career choice (among other things) by his overbearing future father-in-law, Jack Byrnes (Robert DeNiro).
Despite a disastrous first meeting with Jack, during which Greg is thoroughly emasculated and accused of many wrongdoings (including trying to milk a cat), the two were able to set aside their differences and mend fences – until the following two "Focker'' movies came out and cycle began anew.

Christina Hawthorne

"Hawthorne''

Played by: Jada Pinkett Smith
Christina Hawthorne (center) was the chief nursing officer at a Virginia hospital who passionately advocated on behalf of her patients and was willing to put her career on the line to do so.

Carla Espinosa

"Scrubs''

Played by: Judy Reyes
Actress Judy Reyes described the character of Carla Espinosa as "sassy, no nonsense'' and said she looked to her own sister – a real-life nurse – as inspiration for the role. Carla is a straight-shooter, loves being right, and is one of the few hospital staff members that the show's curmudgeonly and crazy Janitor actually fears.

Kitty Forman

"That '70s Show''

Played by: Debra Jo Rupp
Kitty Forman (second from left) is the sweet, good-natured mother and housewife in the Forman household of "That '70s Show.'' She is known for her distinct cackle as much as her caring spirit. As a nurse, Kitty is usually the first to respond when the stoner teens get injured (much more frequently in Kelso's case) and plays an active part in the young peoples' lives.

Nurse Ratched

"One Flew Over the Cuckoo's Nest''

Played by: Louise Fletcher
Actress Louise Fletcher (left) won an Oscar for her portrayal of the tyrannical, cold-natured Nurse Ratched in "One Flew Over the Cuckoo's Nest.'' In 2003, the American Film Institute released its list of "100 Heroes & Villains,'' which placed Nurse Ratched as the fifth greatest movie villain of all time – followed by the Wicked Witch of the West.
Ratched runs the mental hospital where she oversees all aspects of the patients' lives, from medications to cigarette and television privileges, and is quick to withhold them when anyone steps out of line.

Carol Hathaway

"E.R.''

Played by: Julianna Margulies
Carol Hathaway is the uber-serious and sometimes melancholy nurse at Chicago's County General Hospital on "E.R.'' On the show, she is the emergency room nurse manager and a staunch advocate of the nursing staff. She occasionally gets hostile with physicians assistants and doctors when she feels that she or other nurses are being disrespected. During the series run, Carol faced a slew of hardships that include a suicide attempt, drug abuse, and several failed relationships.

Morgan Tookers

"The Mindy Project''

Played by: Ike Barinholtz
Morgan "Ransom'' Tookers (center, pointing) is the creepy ex-con nurse on "The Mindy Project.'' He was convicted as a teenager for steeling cars. As a result, he has a tattoo on his abdomen that reads "No More Steeling Cars.'' Some people just use post-it notes.

'Hot Lips' Houlihan

"M*A*S*H''

Played by: Loretta Swit
On the long-running show M*A*S*H, Major Margaret "Hot Lips'' Houlihan (left) is the head nurse at the 4077th Mobile Army Surgical Hospital during the Korean War. At first, Houlihan is a rigid, by-the-book nurse with a weakness for higher-ranking male officers and a constant foil to the more mischievous doctors, especially Captain Hawkeye Pierce. However, she is always devoted to the care of patients and her nursing staff and eventually becomes a more relaxed figure in the camp.

Anne Perkins

"Parks and Recreation''

Played by: Rashida Jones
Although she's a nurse, not a public servant, the upbeat Anne Perkins spends a lot of her time working with the Pawnee Parks Department to help improve the fictional town. Anne's involvement in local government begins when she asks the Parks Department to step in and get a massive pit outside her home filled. This leads to a strong friendship with parks deputy director Leslie Knope (Amy Poehler). Anne later goes to work for the Pawnee health department part-time.
Anne is usually the first to respond when someone gets injured and is quick to raise the alarm over public health threats, including those posed by candy giant Sweetums and local fast food chain Paunch Burger. Most importantly, her level-headed attitude helps keep the over-ambitious Knope and her zany ideas in check.
She and her boyfriend Chris Traeger (Rob Lowe) eventually leave Pawnee for Michigan to raise a child.