Jobs
Can You Guess Which Jobs Robots Will Probably Takeover?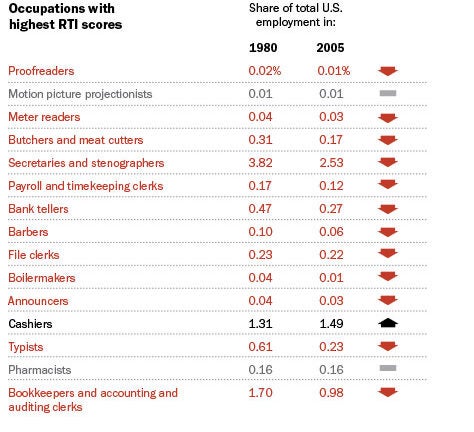 Hopefully your heart wasn't set on becoming a meter reader.
As computer technology is predicted to have a huge effect on current and future employment, Pew Research Center recently released a report showing which jobs are most likely to be performed by robots in the future. Meter reader is just one among the many occupations with a high routine-task intensity (RTI), a measurement developed by researchers to quantify a job's potential susceptibility to automation. The higher an occupation's RTI, the more it involves routine tasks with little manual labor or abstract reasoning — and the more appealing it becomes to robot takeover.
Computers are good at performing repetitive tasks, so any jobs that fall into this category are obviously at risk. But with computer-controlled devices already capable of doing far more than projected even a few years ago, Pew reports that "many experts now see more complex jobs coming into play.''
After Pew surveyed nearly 1,900 experts, it developed reports of jobs with the highest and lowest RTI scores.
Some jobs most susceptible to automation:
-Proofreaders
-Meter readers
-Butchers and meat cutters
-Secretaries and stenographers
-Payroll and timekeeping clerks
-Bank tellers
-Barbers
-Typists
-Bookkeepers and accounting and auditing clerks
-Announcers
Some jobs least susceptible to automation:
-Athletes, sports instructors, and officials
-Recreation and fitness workers
-Public transportation attendants and inspectors
-Kindergarten and early childhood teachers
-Archivists and curators
-Police and detectives
-Primary school teachers
-Actors, directors, and producers
-Bus drivers
-Airplane pilots
So, we can't help but notice that surgeon isn't on the list of jobs least likely to be taken over by robots. How do you feel about a robot donning scrubs?