Jobs
Boston Companies Do the #IceBucketChallenge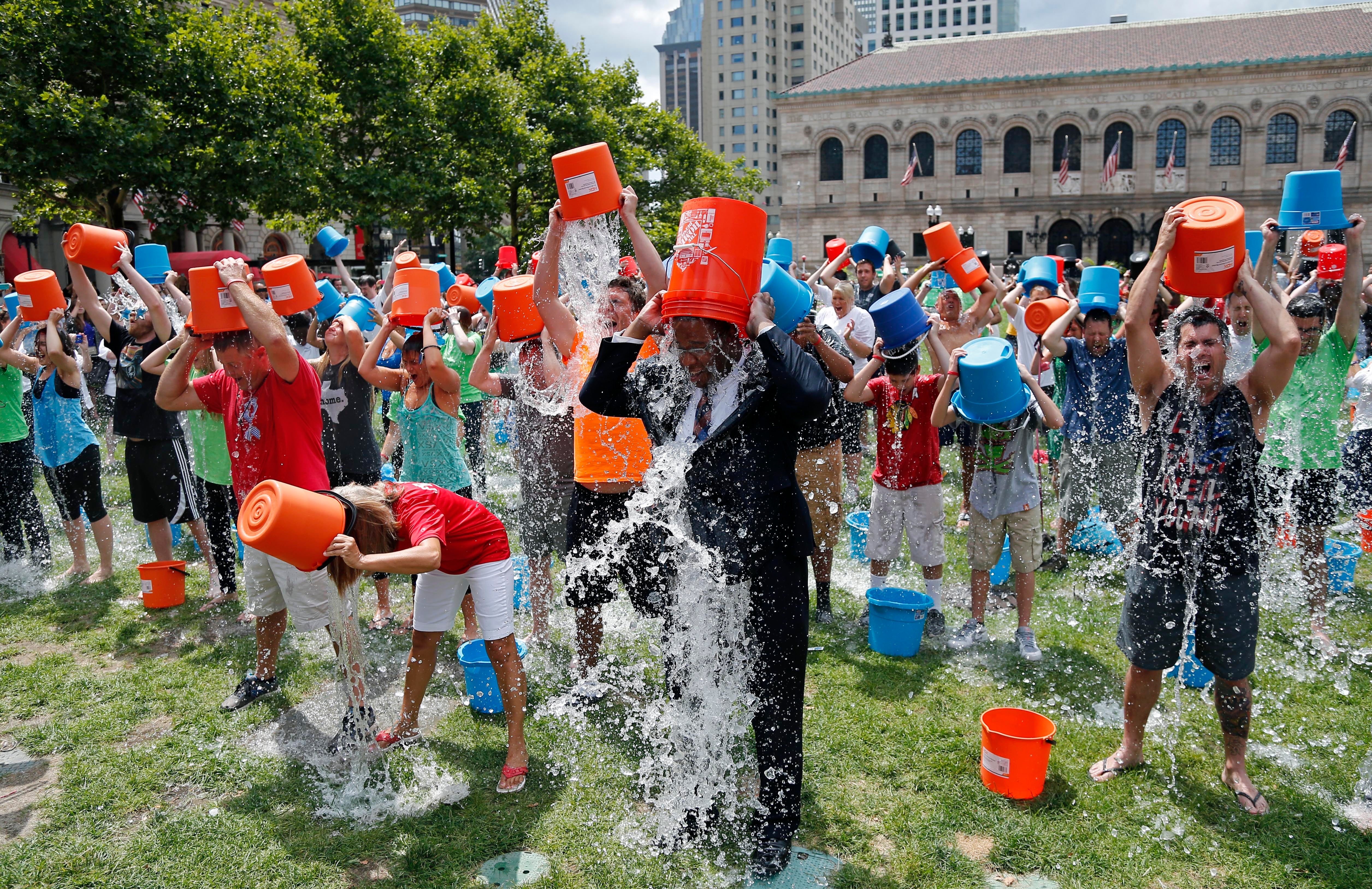 Many Bostonians gathered with their workplaces and completed the Ice Bucket Challenge this month. What better way to raise awareness for a good cause, bond with your co-workers, and seize the chance to get out of the office?
And of course, continue donating to the ALS cause.
We begin with yours truly. On Aug. 7, loaded with orange and blue buckets, the Boston.com staff headed to Copley Square, where other Bostonians joined in on dumping ice on our heads. We challenged New York, Chicago, and Los Angeles (ahem, who have yet to respond).
[fragment number=0]
The Boston Police Department doused themselves on Aug. 5.
[fragment number=1]
Challenged by their CEO Rob Hale, Jr., employees at Granite Telecommunications, and over 1,200 people took part on Aug. 18 at their company headquarters. Hale pledged to donate $100 for every staff member who took the challenge, and the company announced it has donated $200,000 to ALS charities.
[fragment number=2]
TripAdvisor's CEO, 150 employees, and mascot Ollie the owl completed the challenge in Newton, Mass. The company is donating $100 for every employee who participates.
[fragment number=3]
Uber Boston completed the challenge on a boat on Boston Harbor.
[fragment number=4]
The New England Patriots and the team's owner Robert Kraft did the Ice Bucket Challenge after a training camp practice on Aug. 12.
[fragment number=5]
Advertising agency AMP Agency completed the challenge on a rooftop and challenged Digitas.
[fragment number=6]
Digital marketing firm Digitas, which has many branches but is based in Boston, took up the challenge.
[fragment number=7]
Slalom Consulting in Boston followed suit as well.
[fragment number=8]
Content marketing agency Brafton completed the challenge and also donated $750 for ALS.
[fragment number=9]
Boston startup Tablelist, an app that connects you to nightclubs, contributed to a chain of nominations among city startups. Each team member also donated $100.
[fragment number=10]
The staff at Waterstone at Wellesley, an independent and assisted living senior retirement community, completed the challenge on Aug. 19.
[fragment number=11]
Nonprofit United Way completed the challenge and pointed at other partners and nonprofits to go next.
[fragment number=12]
Showing spirit, Italian restaurant The Varano Group participated and donated $1,000.
[fragment number=13]
Online insurance company Goji got into the spirit.
[fragment number=14]
Lined up in the shape of a Z, employees at Zipcar did the challenge at its headquarters in Boston as well as at its local branches across the country.
[fragment number=15]
German restaurant Jacob Wirth also doused themselves and challenged Leagal Sea Foods.
[fragment number=16]
The chain continued with hotels, Hampton Inn Boston-Natick and The Verve-Crowne Plaza Natick.
[fragment number=17]
[fragment number=18]