Jobs
Boston Bosses Who Broke With Tradition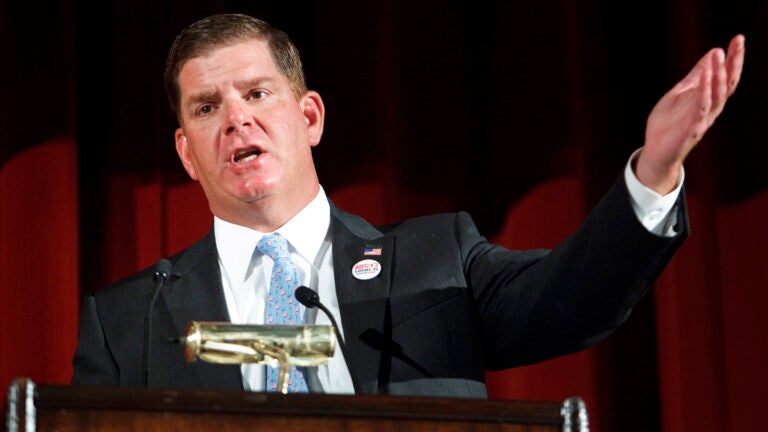 Great bosses are often defined by bold steps forward, by taking a big risk, by breaking with tradition. Boston-area's best and lesser-known leaders have been at the forefront of some of the riskiest leadership moves chronicled this year.
In honor of National Boss' Day, the following is our pick of Boston executives who recognized new challenges and made the difficult decision.
[fragment number=0]
Arthur T. Demoulas had a very public family feud over his family's supermarket chain this summer.Joanne Rathe/Globe Staff Photo
Arthur T. Demoulas
Tension between family members is never easy. Throw in the control of a popular supermarket chain and you've got a months-long public feud on your hands. In a nationally debated story, Arthur T. Demoulas was removed from his position on the Market Basket board of directors this past summer. The fight among the Demoulas clan brought the supermarket chain's business to a halt, but in the end, Arthur T. reached a deal to buy the company out from his relatives. The decision restored his control of the company, but put the chain deep in debt, breaking from Market Basket's long tradition as debt-free. Demoulas now faces the tough job of restoring the company's public image and paying off on the commitment striking workers showed at his removal.
[fragment number=1]
Three months into his first term, Boston Mayor Marty Walsh decided to skip the annual St. Patrick's Day parade.Elise Amendola/AP Photo
Mayor Martin Walsh
Breaking with family is hard. Breaking with legacy-making religious institutions isn't any easier. After failing to reach an agreement that would allow gays to openly march in Boston's annual St. Patrick's Day Parade, Mayor Marty Walsh said he was out too. Not an easy decision to make, especially for a new mayor who was only three months into his first term. Walsh gets kudos for attempting to bridge the gap between the city's Catholic community and its homosexual residents. Still, skipping the parade carried plenty of political risk that may still come back to haunt him.
[fragment number=2]
Wayfair co-founders Niraj Shah and Steve Conine had no Harvard or MIT connections when they started their online furniture company, a rarity for a Boston-area startup.Jonathan Wiggs/Globe Staff
Niraj Shah and Steve Conine
You may not have heard the names of Wayfair's co-founders. But the popularity of the online furniture company execs is likely to rise, especially after their recent IPO success. According to BetaBoston, while the company "hasn't moved more than a half mile from its first 'office''' in Steve Conine's South End residence, Wayfair recently raised $304.5 million for its initial public offering. What's more impressive? Both Niraj Shah and Conine went into their venture with no connection to MIT or Harvard, a major distinction from most Boston-area startups.
[fragment number=3]
HubSpot co-founders Dharmesh Shah and Brian Halligan turned traditional market on its heads with their software.HubSpot
Dharmesh Shah and Brian Halligan
HubSpot's leadership team turned traditional B2C on its head with their "inbound marketing'' business model. Unlike conventional approaches, HubSpot developed software that helps connect consumers with a company through social media and blogging. Dharmesh Shah and Brian Halligan's disruptive idea has so far paid off. Just a week after Wayfair's IPO news, HubSpot went public too, raising $125 million for its initial offering. Both Wayfair and HubSpot's successes are being heralded as a sign of Boston's potential growth in the tech sector.