Jobs
Collaborative Space Takes Off in Cambridge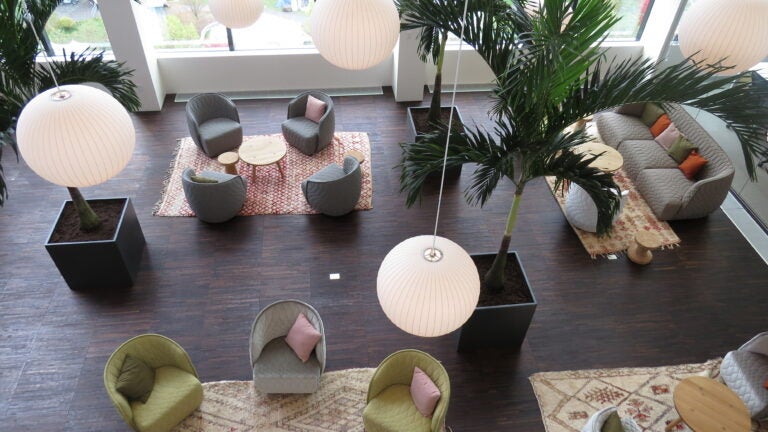 No more walls, no more cubicles, no more stuffy boardrooms. In offices across the Commonwealth, collaboration is taking over and changing the traditional look and feel of workspaces.
The concept of collaborative workspace is aimed at increasing communication and community of an office by creating a less rigid workspace for employees to meet easily and share ideas.
The newest display of the collaborative workspace made its debut Thursday. EF Education First, a Cambridge-based company that specializes in education and international travel, officially opened its redesigned $125 million headquarters to the public. The 300,000 square-foot, 10-story building in Cambridge's North Point is said to be the largest example of collaborative workspace in Massachusetts.
[fragment number=0]
Governor Deval Patrick and Senator Elizabeth Warren attended the EF Education First ribbon-cutting ceremony.Sanjay Salomon
To celebrate its new space, EF threw a ribbon-cutting ceremony that included some big name guests, including Governor Deval Patrick and Senator Elizabeth Warren. The event also featured a flash mob dance, fireworks, and a performance by Recycled Orchestra of Cateura, a musical group that uses instruments made from recycled goods.
[fragment number=1]
EF Education First's new building has a lovely glass waterfall on the building's facade.
Outside, the EF's new digs feature a spectacular, zig-zagging glass waterfall that pays tribute to the nearby Charles River. White tiles on the side are meant to mirror the Zakim Bridge.
[fragment number=2]
The building has plenty of open spaces, including atriums that resemble living rooms for larger meetings.
Inside, EF's offices have wall-less workstations for the company's approximately 900 employees. The interior also features conference rooms with glass walls, wet bars on each level, and large living room-like atriums that act as meeting areas. There are stunning panoramic views of Boston that extend from the Bunker Hill monument to the Zakim Bridge to the Prudential Center.
Boston.com spoke exclusively with Gert Wingårdh, the Swedish architect behind EF's splashy new pad. Wingårdh said his design is aimed at improving company communications, a problem many businesses identify with.
"Usually our surveys tell us that communications is lacking all over the world,'' said Wingårdh. "When employees have the same space to share, it enhances their sense of one another.''
With no walls between workstations, Wingårdh says employees will become aware of each other. At EF, even the CEO works in an open workstation.
"It's about respect,'' he said. "You realize you aren't alone and you can't raise your voice when you're talking on the phone.''
But Wingårdh also says he also recognizes the need for employees to have privacy, like making a phone call to a family member or a bank.
"There's always a need for privacy and there are spaces designed for that,'' he said.
Marla Kaplan, EF's executive vice president of recruitment and development, had nothing but nice things to say about the space.
"It's much more informed than stuffy office buildings. It's open, bright, and gets lots of sunlight,'' said Kaplan, who was a consultant for nine years before joining EF and was sometimes lucky to get a window.
But not everyone is crazy about the trend of collaborative workspaces. The idea is sometimes met with grumbles from employees who are used to more privacy at work. According to one study, some designs can backfire and harm productivity.
Brian Hines, executive managing director of development firm Cassidy Turley, could not speak specifically to the EF headquarters but says there are reasons to be concerned with the trend overall. He believes workers will want to get their workplace privacy back.
"People used to snicker when they saw smaller workstations…now it's the norm,'' said Hines. "It's like a sweatshop. The real test will be if the workers enjoy it and can be productive there.''
Hines also voiced concern about the stress the space-saving and collaborative workspaces could have on building infrastructure.
"When you put more people in a space it affects the building's HVAC, it affects parking, and it can affect congestion on the roads,'' he said. "The density of some buildings will be tested.''
Fiona Kennedy, EF's interior designer, had no concerns about the new headquarters durability. She says the open space of the EF design will not overburden the building's systems.
"Its different in a cubicle system where you might have many areas with thermostat controls,'' said Kennedy. "But EF's design has reduced the footprint of the desk and corridors aren't condensed so the temperature balances better.''
So where else are collaborative workspaces in place? Earlier this year, Boston City Hall put a collaborative workspace in place for Boston's Environment Department. Communispace in Boston's Seaport District has a Fenway Park-themed and several food-themed eating areas. LogMeIn has a large game area and bars on every level. And Boston.com readers continue to share images of their cool office spaces with us.