Jobs
Millennials Counter Argument 'They Aren't Professionals'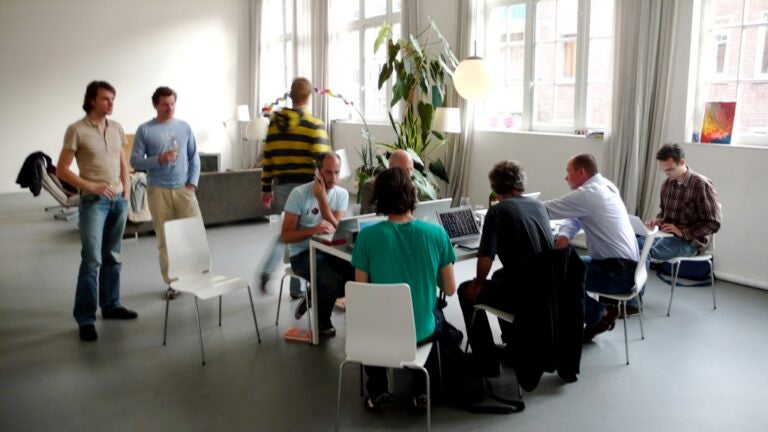 Nearly six months have passed since the class of 2014 crossed stages, amphitheaters, and make-shift platforms, silently intoning "shake with the right, take with the left'' as they received their college diplomas. While some are settling into graduate school and others remain unemployed, a large slice of recent graduates have officially joined America's workforce.
It's a scary thought if you agree with the perception of Millennials as lazy, spoiled, and narcissistic.
According to a survey published by Elance-oDesk and Millennial Branding, a majority of hiring managers view Millennials as more narcissistic than Gen X. The disparity between young workers and hiring managers is evident in the 74 percent who feel they're able to learn new things more quickly (while only 60 percent of managers agree), and the 71 percent who believe they're more likely to come up with fresh ideas (and only 57 percent of managers stating the same).
While there's no denying their weaknesses, it turns out a future built on the backs of Millennials may not be a bad thing.
The same survey indicates this latest generation surpasses previous ones in more than narcissism. They rank high in skills such as creativity, openness to change, and technological aptitude. Though recent graduates may Snapchat from their desks, they also crank through Excel more efficiently than other employees.
This aptitude could help 2014-ers gain employment, as many managers increasingly look for hard skills when hiring. It's a notion supported by popular employer Co-ops at schools like Boston University and Northeastern University.
"Sometimes new hires are criticized for lacking necessary skills, but we really don't get that complaint. In fact, we have employers go out of their way to say that the Co-op experience really does provide the real-life training that students need in the workforce'' said Susan Ambrose, senior vice provost for Undergraduate Education and Experiential Learning at Northeastern.
Though data on 2014 employment has yet to be released, Ambrose expects it to mirror that of 2013, indicating 85 percent of graduates were employed doing work related to their major, and 90 percent of graduates (2006-2013) were employed full-time after graduation.
In the same vein, results of Harvard's 2014 Senior Survey indicated that only six percent of students were unsure of their plans as of Spring 2014; the remainder said they'd soon be employed, attend graduate school full-time, or travel/volunteer.
Given the institutional reputations of Harvard and Northeastern, these numbers aren't surprising. Still, high employment rates reported by other area colleges reveal that recent graduates are actively contradicting what judgmental Aunt Linda keeps hinting at: "Millennials just don't want to work!''
Boston.com reached out to recent graduates for a first-hand report on their three-to-six month transition into full-time work.
"I really didn't understand the phrase TGIF until now,'' replied one.
"I didn't think it would be this stressful,'' said another.
Other downsides include sitting in a chair all day, communication issues with managers, and travel time.
But despite admissions of nostalgia and stress, most recent graduates had a positive view of their working life. Most replied that their job was in an intended field or viewed their position as a promising stepping-stone. Even those working 55 or more hours per week felt their work/life balance was good.
Perhaps this satisfaction derives from the importance Millennials place on workplace culture. In 2013, Millennial Branding looked into the high turnover of Millennial employees. They found that 60 percent of Millennials left their workplace within three years and the primary indicator was cultural fit. Millennials want their coworkers to feel like a "second family:'' if they're working long hours, it doesn't feel burdensome if they can count on stress-relieving water cooler conversation.
Sure enough, when asked what the best part of their job is, responses overwhelmingly acknowledged a supportive office environment. "I have great bosses and coworkers, and their work-life balance as well as their financial stability is something to aim towards,'' said one member of the class of 2014.
"The producers at my show, who I work most of the day with, are some of the best people I have ever met; very understanding and looking to help newbies grow and take on their own projects,'' said another.
Nevertheless, when asked how likely they were to look for a job soon, the most common responses were "at the end of this year'' or "within three to five years''. The Millennial impulse to evince change is present in their own lives too. It might be technology or the ease of transplanting that prevents Millennials from remaining in one place too long. Or perhaps, to a 22-year-old, the only thing scarier than facing change is getting stuck.