Jobs
Modern Mentorship from Commodore Builders' Joe Albanese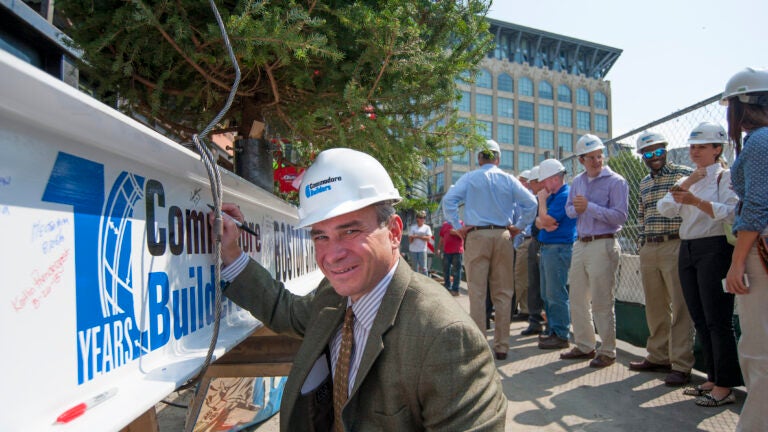 Newton-native Joe Albanese founded Commodore Builders in 2002 and has been the construction management firm's CEO since. In 2009, he retired as Captain in the United States Navy Civil Engineer Corps after 28 years of service. He shares how to tackle tough times and the importance of leadership. Commodore Builders came in seventh this year in top midsize companies to work.
Boston.com: How would you summarize a typical day?
Joe Albanese: My days are focused on developing the business, managing client relationships, and driving Commodore's long term strategy. Everything I do is concentrated on building Commodore for the next generation.
I'm always preparing for the next downturn–not for if it comes, but for when it comes. While we are growing our footprint through this bull market, I'm laser focused on positioning Commodore so we can leverage our strength in a downturn.
Q: What are things you learned from the Navy that you apply to your role today?
A: In the Navy I learned many things about leadership, especially the importance of humility. I learned that things are never as good or as bad as they first seem – and how important it is to instill purpose in every mission. I learned how much easier life is when you surround yourself with talented people and give them the room they need to deliver on their potential.
The Navy gave me a deep respect for physical fitness. There are a lot of CEOs who don't understand the impact that fitness has on their overall capacity. The Navy also taught me that the difference between a good haircut and a bad haircut is about three days.
Q: What challenge have you recently faced that taught you something about yourself?
A: The great recession taught me a lot about myself – about how able I was to be bold – and to take risks. It confirmed my unwavering focus on the long view. That's what got us through the recession. I thought that before the recession I was working really hard – but when the chips were down I found an extra capacity that I didn't know I had – to be resilient despite all the challenges.
Q: What aspect of your job keeps you going in tough times?
A: There are people surrounding me at Commodore who are working really, really hard and they're with me because they believe in me. The last thing in the world that I would ever do is let them down. I work hard for them, for my family, and for my legacy.
Q: What's an essential tenet of your leadership style?
A: I believe in character-based leadership. I've always admired my father's faith-based, values-based approach to life and to leadership. He passed away 20 years ago, but this lesson left an indelible mark on me. He never lost sight of his values. They were in everything he did.
This provides me with tremendous guidance during tough times. I also think that trusting my gut is important – that respecting the importance of people is vital, and that humility is so much more effective than bravado.
Q: What's the most admirable aspect of the community you work in?
A: I've always said that the construction business is a great business. In good times there's no better business to be in, and when times are tough, there's no tougher business.
What's admirable about the construction business is the impact we make on communities and on peoples' lives, and the improvements we leave behind last long beyond our years.
Q: What passions do you have that are unrelated to your profession?
A: I love my family more than anything in the world, and I love spending time with them. I love my involvement on the board for The New England Center for Homeless Veterans. I feel like I'm making a difference there by improving the lives of homeless veterans. I also love to ski and play golf.
Q: What's your favorite building, or piece of architecture in Boston?
A: Quincy Market, Faneuil Hall Marketplace, Faneuil Hall, and the Old State House, because they're such important buildings to the City of Boston, and to my family. My father, Charlie Albanese, was the George B.H. Macomber Company Project Manager for the 1970's revitalization of Faneuil Hall Marketplace with the Rouse Company and Benjamin Thompson Architects. My grandfather worked as a construction laborer on the same project.
Today, Commodore is renovating the exterior of the Old State House and managing the restoration of the iconic unicorn and lion perched on the top of the building.