Jobs
Modern Mentorship from Flour Bakery and Café's Joanne Chang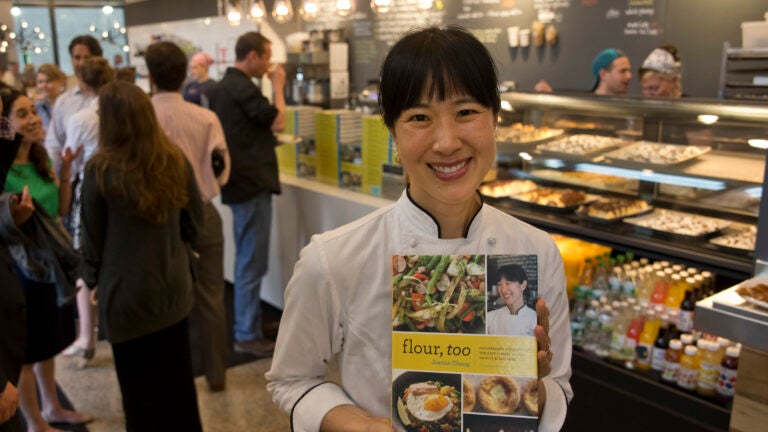 Joanne Chang opened Flour Bakery + Café in 2000, and the popular bakery now has four branches across Boston and Cambridge. Chang studied Applied Mathematics and Economics at Harvard College, but instead chose to pursue professional cooking. Flour placed 16th among midsize top places to work this year. She's also the owner of Chinese restaurant Myers + Chang, an avid runner, and a cookbook author. Below, she shares what it's like to do something you love as your job.
Boston.com: How would you summarize a typical day?
Joanne Chang: I try to visit two Flour locations a day and Myers +Chang at night. I spend the first part of my day just walking around the bakeries, looking at the product, the staff, the guests, and the dining room to ensure that everything and everyone looks good. Then I have meetings with managers or staff and I spend a fair amount of time on email trying to communicate with team members and guests.
The fun part of my job is tasting all the time. We taste every day, as much as we can, a bite of this or a bite of that. At Myers +Chang I try to spend time on the line (where I can taste some more) watching the cooks and making sure things are flowing smoothly. I also try to spend time on the floor talking with guests to see how their experience is. It's a full day but very satisfying.
Q: What was the spark that made you decide to pursue cooking professionally?
A: I was spending all of my free time cooking and baking for friends while working as a management consultant. I realized that even if I weren't paid, I would want to be in the kitchen for a living. As soon as I could afford to quit, I found a job at a restaurant (where I was paid less than peanuts!) and I've never looked back! Well, maybe a few times in that first year, but not since then.
Q: You began in the consulting and finance world, which is a very attractive career. What would you say to those deciding between "safe,'' traditional paths and something deemed "risky''?
A: Be sure you understand the difference between enjoying something as a hobby and pursuing something that you love as work. Many people think to themselves, 'I love to cook and bake and I don't love my job, so maybe I should get a job doing what I love.' To some extent this is absolutely true.
However, once you do it as a job, it becomes a job. It's work. You have the same frustrations in a kitchen that you do in any other field. You have a boss who tells you what to do and that is what you do. You don't get to play around and experiment with recipes and taste and ponder if you're the next Escoffier. So, for those looking to enter a riskier career just make sure you are ready for it to be your career!
Q: What challenge have you recently faced that taught you something about yourself?
A: I tend to bite off more than I can chew, and I'm continuing to learn that if I want to move forward and grow, I need to depend on everyone around me. I like to do everything myself, but that doesn't work well when we have so much going on! So, I'm learning how rewarding it can be to give direction, delegate, and watch how successful the team around me can be without me.
Q: What aspect of your job keeps you going in tough times?
A: My team, for sure. Down to the last person, they are engaged, caring, dedicated, thoughtful, and lovely. I love the whole staff at Myers + Chang and Flour.
Q: What's an essential tenet of your leadership style?
A: Clear communication is essential. You can have all of the best ideas in the world in your head, but if you can't effectively and enthusiastically communicate them to the team, you end up nowhere.
Q: What's the most admirable aspect of the community you work in?
A: I'm continuously impressed with how generous the food community is. If there's a charity or cause, we're there in full support however we can.
Q: What passions do you have unrelated to your profession?
A: I love reading, playing piano (although I'm really out of practice), running, and spending as much time as I can with my husband.
Q: And lastly … what's your favorite dessert?
A: Ice cream!