Jobs
Office Furniture That Adapt to the Way We Work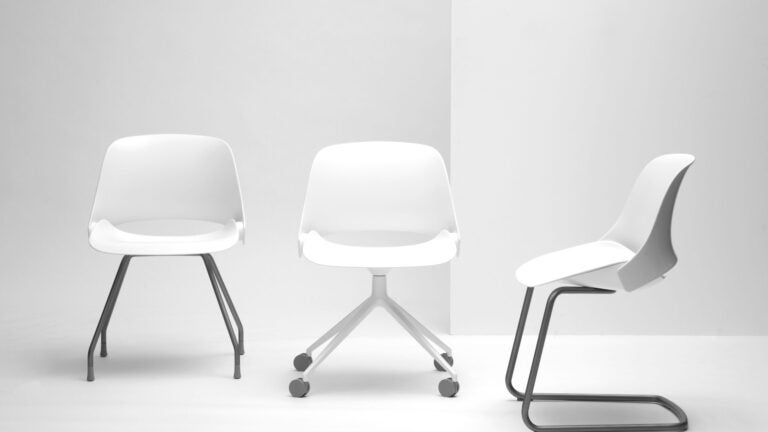 The drinks were flowing, music was pumping, and servers were offering hors d'oeuvres. About 200 people in an urban loft showroom were buzzing about the next big thing: a small white chair.
The designer of the chair, a dapper Todd Bracher, was presenting the "trea'' at a cocktail party sponsored by Humanscale, a manufacturing company specializing in workspace design.
The "trea'' is simple yet durable. It lets you lean back and recline, regardless of your size and without turning any knobs. "I might be here having a meeting and then I roll over to my work station, and then I'm having lunch at this desk six meters away,'' Bracher mimed.
"The chair we've created is intended to live in the flexibility of that workspace,'' he said. "For a younger, smarter, faster world.''
Countering Tech's Negative Influence
The new way we work, bolstered by Internet startup culture, is pioneering modern workspaces and an industry of designers, consultants, and architects cooking up what the next cubicle (or non-cubicle) will look like. It's driven by concerns over health, support of mobility, and as some experts say, what Millennials want.
But what does all this mean for the modern workspace?
Arguably the most popular "new-age'' furniture is the standing desk. Sitting for an entire eight hour workday is unhealthy, according to pretty much every study, ever. Bracher, who runs his own design studio and collaborates with Humanscale, and people in his line of work say, "Sitting is the new smoking.'' Even Ikea has started selling assemble-it-yourself standing desks.
Other companies, like electronics and healthtech company Philips, have taken it a step further and installed treadmills. At Philips' Andover office, employees can book time on a treadmill attached to a desk with a phone. It's a hit, according to company spokesperson Lea Armstrong, and employees have requested more treadmills be installed.
"The information stream is so rapid. The way our work has changed is causing us to be glued to our screens. It's so easy to sit there for eight hours,'' Bracher said. "We need furniture to help [us] stay glued to the device, but be healthy along the way.''
Tamara James, the ergonomics director at Duke University Health System, points to technology as a reason for why "standing is the new sitting.''
"In the old days, people were doing assembly jobs in factories and it was a luxury to be able to sit down when you worked,'' she said. "But, humans were just not designed to sit at computers for eight hours a day.''
The ergonomically perfect workstation, according to James, means having the top of a computer screen at eye-level. A keyboard should be at elbow height, with elbows at a 90-degree angle. Ears should be over shoulders, which should be over hips, whether sitting or standing.
Many desks, including those sold by Humanscale, have cranks that adjust the height of monitors and keyboard trays, and entire units capable of being raised or lowered.
Design With Millennials in Mind
Design is another force changing the workplace.
"[Young people] want to be somewhere related to good design. Design has appeared in our everyday lives at a level it has never before … we need to respond to make the office an appealing place for people,'' Bracher said.
Offices have put a lot of thought into making communal meeting spaces more appealing. For instance, Communispace, an online community building firm in Boston, has a Fenway Park-themed meeting area.
We can expect to see more collaborative spaces in newer office spaces, a change driven by the fact that we've become more mobile, said Mesve Varder, a New York-based industrial designer. There are countless devices to check your email with and software to join conference calls remotely. More people are doing work on laptops and tablets, or working from home, Varder said.
"The square footage per person has been going down too. People are at their desks for about 50 percent of the time, so it seems like a wasted space.''
In addition to the treadmill desk, Philips is among a growing number of offices without assigned desks or cubicles. Instead, they've created flexible workstations employees can plug their personal computers and phones into.
At the Boston offices of LogMeIn, a company specializing in file sharing and data backup, the break room employs biophilic design — it uses a combination of natural light and natural space to boost energy in the space.
The way your desk and your office looks has a big impact on worker productivity and satisfaction, and employers are beginning to understand this more.
"The youngest guy who works for me is about 28 [and] he wouldn't work in a mahogany work space. Cubicles aren't where you want to be. It's just what it is,'' Bracher said.