Jobs
Business By Day, Creative By Night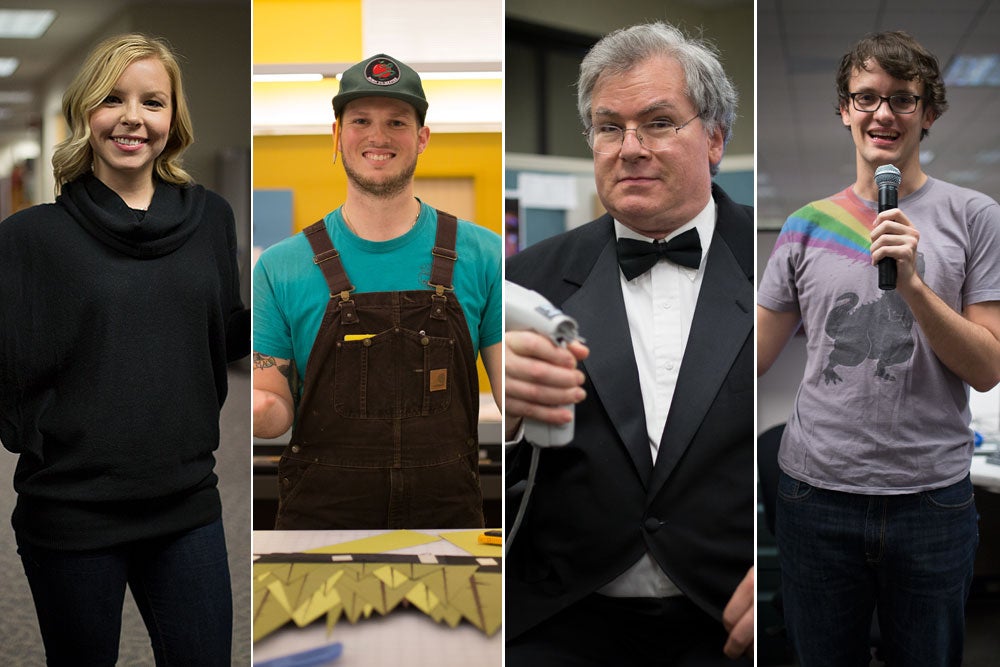 You spend a lot of time with your co-workers during your workday. But believe it or not, there's more to their lives than the photos on their desk or the decades-old "Far Side'' comic strip taped to the wall of their cube.
In fact, they might actually have a very creative outlet when they leave the office. A group of Boston-area employees reveal how they get in touch with their creative personas outside of work.
Andrew Mayer, 29 Jamaica Plain
By day, Andrew Mayer is a benefits specialist focusing on long-term care insurance. It's a fitting job, considering Mayer studied business at the University of Rhode Island. But while in college Mayer picked up another interest that more or less grew into a second career: stand-up comedy.
Mayer has performed at several comedy clubs and colleges around New England and at numerous comedy festivals and even won the Rhode Island Comedy Festival in 2006. But why does a guy with a corporate job like benefits specialist want to tell jokes on stage?
"I like it a lot as an outlet for creativity,'' he says. "I thought I wanted to make commercials when I went to college but I didn't go into advertising. This is a fun thing that I can do.''
It's also a demanding gig. Mayer would be out late four to five nights a week when he first arrived in Boston, and he would frequently come to work exhausted. But Mayer says that's no big deal for anyone who is willing to commit.
"In practice it's easy. You just go to a place and talk to people,'' says Mayer. "Physically speaking, it's a simple thing to do.''
Things have changed for Mayer since he first started doing comedy. He's getting married soon and only goes out two to three times a week to perform.
But he believes his life would be even more challenging without standup comedy.
"Having the outlet is very important,'' he says. "I just need to have that thing that I care about at night. It's very helpful to doing my day job [because] I'm in a better mood.''
Nicholas Devine, 24 Somerville
When we learned about Nicholas Devine's outside venture, we couldn't help but ask: How does he like them apples?
A lot, it turns out.
During a regular workday, Devine works as a layout artist for advertising firm Arnold Worldwide. In his spare time, Devine makes apple cider on his own family farm.
Devine, a graduate of the Art Institute of Boston, says he's found the perfect balance between his two main passions: art and agriculture.
"I worked at farmer's markets in Boston and didn't want to do it for the rest of my life,'' says Devine. "I wanted to do design. I looked around and found Arnold through friends.''
For Devine, cider is a natural fit. He first got his hands dirty while working on a family farm in Pepperell near the New Hampshire border.
"Since I was born, my whole family has been big into gardening,'' says Devine. "My grandparents have an acre-large garden to produce enough vegetables to last the whole year. That's been a huge influence on my life.''
Not only can Devine make cider but he can also spin a yarn about its history.
"Colonists would drink cider instead of water because they thought new world water was poisonous,'' says Devine. "But hard cider never really came back after Prohibition and that really interested me.''
So far, Devine hasn't seen his cider stocked on any local store shelves or showcased at any crafting venues. In any case, he has mixed feelings about selling his wares.
"It's a huge hobby right now, but I am planning on getting to point where I could potentially sell it,'' he says.
Fred Moses, 71 Arlington
Friends! Co-workers! Lend Fred Moses your ears.
Whether it's his day job making 3-D ear scanners for Lantos Technologies, or his nighttime gig as a baritone singer for the Arlington Philharmonic, Fred Moses is a guy you can trust with your ears.
He's been at it since he was ten years old, which means his musical career stretches over 60 years. He says music has always been important to him.
"When I moved to Arlington, I looked around for a choir and found the Arlington-Belmont Choral,'' says Moses. "I've been doing this a long time. I did more religious music when I was a kid. Since college I typically was in a choral or choir that sang classical work…Music is a major part of my life.''
Moses says he rehearses with his choir group on a weekly basis and sings in four performances each year. But even with this level of commitment, Moses has no problems achieving a work-life balance.
"I don't think it infringes on my work life at all,'' says Moses. "I view it as a positive force in my life.''
Moses says while some of his co-workers are aware of his musical background he doesn't spend a lot of time talking about his performances.
"People in general are pleased I have that aspect of my life,'' says Moses. "I tend to keep my two lives separate because most [of my co-workers] don't live in the Arlington area.''
Moses' extracurricular activities aren't limited to music. He also makes marbled papers and fabrics and is also a professional photographer on the side.
Kara Kamrowski, 34 Framingham
For nine years, Kara Kamrowski has been an executive assistant to the EMC Corporations' vice president for Global Customer Services. It's a typical administrative job that involves maintaining an executive calendar, booking travel arrangements, and more.
But when she's done with the workday, Kamrowski is a makeup artist with her own side business. She's been into makeup for more than ten years and has run her business for about six.
"I worked behind the jewelry counter at Macy's and became friends with the lady in cosmetics,'' says Kamrowski.
After leaving her job in retail, Kamrowski relied on word of mouth from her friends for makeup gigs. As the years went on, she realized it was more than a hobby.
She says her employer is aware of her side venture and has been very supportive.
"I've been here for nine years, and I definitely like it,'' she says. "If I need time off to pursue anything makeup wise, I'm allowed to take it off. It's a great company to work for.''
Kamrowski says she prefers bridal events for her makeup work because weddings and other bridal functions typically occur on the weekend. Plus, she can make a decent amount of money for the job. But one of the real perks is being a part of a bride's wedding day.
"The brides are so happy. You can paint their faces and make them feel special on their special day,'' says Kamrowski. "It's a great feeling when they look at themselves and say 'thank you so much.'''