Jobs
Tips for holiday networking in a non-obnoxious way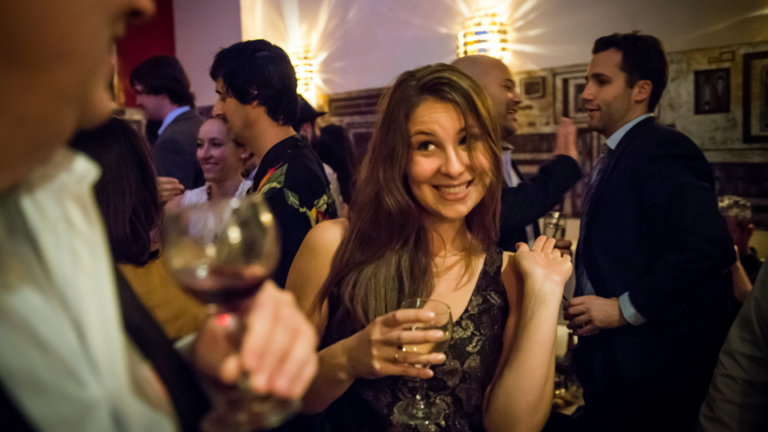 It's the holiday season, which means between your friends, family, and co-workers, you probably have a handful of parties to attend. Whether you're trying to climb the ladder, switch jobs, or just get off your parents' couch, it's good to know how to network at different types of events without seeming desperate or pushy.
Before the holiday parties, remember to do the obvious: update your resume and practice giving an elevator pitch about yourself and what jobs interest you. That's the easy part.
Once you arrive, you'll have to adapt to the occasion.
Pam Lassiter is the founder of a Boston-based career management firm, Lassiter Consulting. She shared some tips for making the most of the season, professionally.
Family Functions
Sure, your great aunt can seem a bit intimidating, but hopefully your mom's holiday punch will loosen her up to talk a little business with you.
But Lassiter said that networking with family can be difficult: "Family probably doesn't know what you do half the time,'' she said. Good point.
To solve this conundrum, Lassiter said to give your family members three key words to memorize about what you do. Hers are "executive, career, and transition.''
"Keep it simple,'' Lassiter said, "but choose three words that might get others interested in you. Figure out what code words would trigger a response from family friends.''
Another way to impress your family members is to offer to host the party at your own home. It might force you to finally buy a shower curtain, but showing that you can clean, cook, and be a good host shows that you're mature and (somewhat) organized.
Friends Gathering
No one wants to seem like a killjoy when they're hanging out with friends, but maybe after you play 'White Elephant,' you can think of a tactful way to network.
Lassiter said it's important to keep up with trends in the news and marketplace so that you have a "competitive edge'' in conversations. Hopefully, you have friends with a variety of jobs, so you can glean information about what's going on in different fields.
On that note, Lassiter said to treat conversation as "a dance.'' After talking about yourself, always ask what someone else is working on. "Throw it back to them,'' she said. "And actually care about their life.''
Also, beware of friends who always have their cameras out. Make sure you aren't snapped doing anything you wouldn't want to see sent out in a company-wide email. In a similar vein, don't be the person taking all the selfies and group photos – it seems childish.
Work Party
These can be the most stressful functions for networking because everyone is trying to get ahead. But that's not a reason to give up and hover over the Chex Mix.
Mike McGuiness is the executive director of jobipedia.com, a career advice website. He said if you're attending a holiday work party, you shouldn't be thinking about the outcome of your networking.
"Don't go in talking to your executive director anticipating tht you'll get in with them,'' he said. "Think about conversations as making connections. You could be making a lifelong mentor or a lifelong friend.''
Lassiter said holiday work parties are a great time to "break down silos.'' By this, she means you should talk to people from other departments.
"Talking to people from other departments gets them less competitive and more collegial,'' she said. "This will help your career and help you get things done at work.''
Work parties are also a good time to get someone's card, Lassiter said. You never want to try and close a deal or nail down a specific date at a party because you'll seem pushy. Lassiter said it's better to say, "Hey, want to get coffee in January?''
Also, don't drink too much. You never want to be remembered for your sloppy karaoke performance of Mariah Carey's "All I Want for Christmas Is You.''
On a similar note – don't eat too much. Those pigs in a blanket are good in moderation, but standing too close to the food table, or continuously noshing on M&M's might make you seem insecure.
Oh, and that phone? Put it down. Texting at a work party is rude and you'll seem disinterested.
So, the party's over. What's next?
Follow up with anyone you professionally connected with via email or a handwritten note. Don't underestimate the power of a paper artifact in the digital age – that stamp can mean a lot to someone.
While you're at it, make sure you send thank you notes to family, friends, or co-workers who gave you tips or provided you with contacts or suggestions.
Finally, follow up on social media. Whether it's sending an invitation to someone on LinkedIn, liking a company on Facebook, or just following someone you admire on Twitter, being active shows you care.
Just maybe delete that Instagram of you and Nana playing beer pong first.