Jobs
USO Helps Military Families Celebrate the Season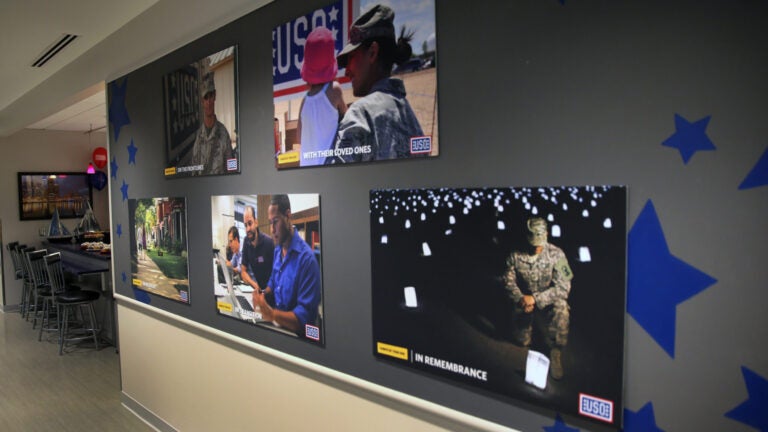 For some members of the United States military, the phrase "home for the holidays'' is a wish that might not be granted. It's a job that does not have yearly holidays and time off.
Allan Tracy, the Executive Director of the Pioneer Valley United Service Organizations (USO), understands that well. Tracy is a veteran himself — he served as a combat marine in the Vietnam War. Now, as part of the United Service Organizations, he works year-round to make the job of soldier an easier one.
"I love taking care of the troops,'' Tracy told Boston.com. "They are special. We couldn't do our daily things without the military.''
Tracy is a veteran himself — he served as a combat marine in the Vietnam War. Now he is in charge of providing to the troops year round, but especially during the holidays.
Pioneer Valley USO is located on Westover Air Reserve Base, serving military members and families in Worchester and Western Massachusetts.
The group serves families living on the base, troops living on the base and those who are deployed abroad.
Pioneer Valley runs a food bank for families, which is populated with food donated by "the American people,'' Tracy said. "The goal is to raise their spirits.''
Dealing with the challenges of being a military spouse is a full time job, too.
Amy Moriarty is a military spouse (and a veteran herself) and has not had to use the food bank yet, but she has friends that have.
"It's nice to know there are people who care,'' she said.
Throughout the year, the Pioneer Valley USO also hosts Monday night dinners for the military and their families, with the help of donated food and money.
"I found through the years that coke, donuts, and coffee used to be popular,'' Tracy said. "Now it is water bananas and fruit, but there is still a need for donuts. It is to lift their spirits and they are so appreciative.''
Moriarty said the dinners are extra important during the holidays.
"It gives you one night,'' she said. "It's such an extra awesome thing and my family loves it. It's the camaraderie and being around people who truly care about the troops.''
Though it is important that the USO supports the military all year round, during the holidays they do something extra.
"Three times a year we do baskets: Thanksgiving, the [winter] holidays and Easter,'' Tracy said. The baskets contain enough food for a full family meal, which includes a full ham or turkey. "Just to say thank you from the American people.''
So far this year, the USO Pioneer Valley has been breaking records, according to Tracy. Since Thanksgiving, they have collected 620 baskets and they have spent $12,000 on care packages donated abroad, mainly to Afghanistan.
But what else do military families want and need?
Moriarty said that though they fully appreciate the food and holiday gifts, there is something a little more sentimental that the Pioneer Valley community would appreciate.
"One thing that a bunch of us would love is if the USO was able to get a sound or video recording [device] to make CDs or DVDs,'' Moriarty said. "So they could read books on CD before they deploy so the remaining spouse could play it for a kid.''
This is a service other USO groups have. Moriarty said people can donate money to their specific USO and say the money is for a recording or video device.
"The general feeling of the USO is we are so grateful to have an organization like this,'' Moriarty said. "It's not just the troops, but the troops and the troops' families. They do everything to make sure we are happy and in a good place and having that is so wonderful. I can't even describe how wonderful that is.''