Jobs
Most Influential Job Announcements of 2014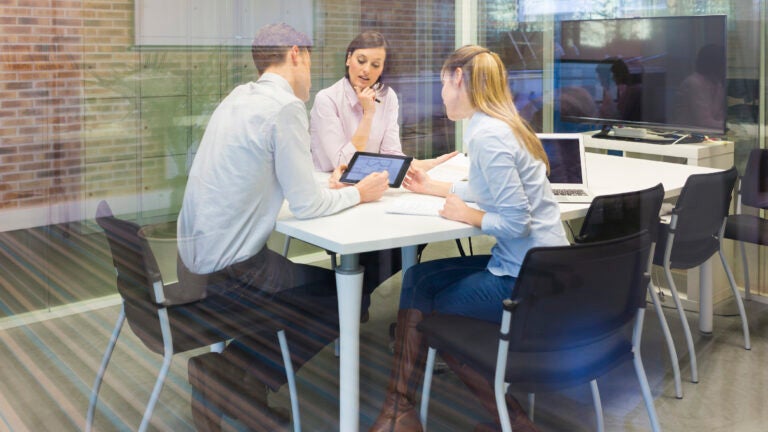 2014 was a big year for Boston job seekers: Massachusetts' labor force grew by 80,500 workers, compared to an increase of 7,500 people last year, said Alan Clayton-Matthews, an economics professor at Northeastern University.
This is a sign of a healthy economy, and mirrors a national hiring trend, as 321,000 US jobs were created in November alone, according to the US Labor Department.
We've also seen a significant drop in unemployment, higher wages, and changes to sick leave policies. What were the most important announcements for job seekers this year?
Minimum wage:
"I'm comfortable with the House version, but I really want it attached to small business tax credits,'' governor-elect Charlie Baker said, regarding the state House of Representatives passing a bill to raise the minimum wage from $8 to $10.50 an hour by the middle of 2016 this year.
This year, Massachusetts legislature enacted a minimum wage increase from $8.00 to $9.00 per hour, which will take effect this January, according to the US Department of Labor. By 2017, the minimum wage is expected to reach $11.00 per hour.
Wages in Massachusetts are 3.4 percent higher this year than they were last year, according to census data.
This data also showed that Massachusetts' wage increase was higher than the national average, which showed a 1.1 percent increase in average private-sector hourly earnings.
Baker, the next Massachusetts governor to be sworn in January, has long supported a minimum wage increase. But some fear this could cause small businesses (50 or fewer) to lay off employees or reduce workers' hours, so Baker has proposed tax credits for small employers – or $1000 per minimum wage employee, for each $1 increase in the minimum wage.
But Daniel Hodge, Director of Economic and Public Policy Research at the UMass Donahue Institute, said he has not seen any negative impact from the minimum wage hike thus far.
"There's always a concern that this may lead to lost jobs due to employers paying more,'' Hodge said. "But I haven't seen any direct evidence of that occurring. Hopefully, it will have a positive effect of people having a little more money in their pockets.''
What this means for job seekers: Expect higher wages across sectors over the next couple of years.
Unemployment:
"We have recovered from the jobs lost in the recession a little ways back,'' Hodge said.
The state's unemployment rate fell to 5.8 percent this November, down from 6 percent in October and 7.1 percent this time last year, according to the Executive Office of Labor and Workforce Development.
This hiring surge reflects a nationwide trend, as 321,000 US jobs were created in November, according to the US Labor Department. November also saw the most monthly job gains in Massachusetts in the past three years, adding 13,500 jobs. And it's a particularly good time to be within the prime of your earning years – 25 to 54 – since more people in this age range have jobs than at any time since the recession.
But certain skills seem to be more valued than others.
Hodge said that the technology sector has been one of the largest growers of 2014, particularly software development and information technology. He also said the life science, biotech, health, and education sectors have continued to add jobs.
In education and health services alone, 3,900 jobs were added in Massachusetts this November. Hodge said that "over 28 percent'' of jobs in the state fall in these sectors.
What this means for job seekers: College students should take job openings into consideration, as well as projected salaries. Certain sectors like technology and finance are offering high salaries (around $80,000 or more) for skilled workers.
Sick Leave:
"Most people with vacations and sick time provided to them don't realize that there are people who are without it,'' Attorney General Martha Coakley said, while on the gubernatorial campaign trail this fall.
In the November election, Massachusetts' voters approved a ballot question that requires companies with at least 11 employees to provide workers with earned paid sick leave.
The law takes effect July 2015, and will allow workers to be eligible for an hour of paid time off every 30 hours worked. The law also covers illnesses in the family, and those dealing with domestic abuse.
What this means for job seekers: Many workers who used to go to work sick for fear of not getting paid (like waiters and waitresses), can now look forward to taking time off for health related issues like medical appointments or personal illness – and getting paid for it.
Population Growth:
"More people are choosing to stay or be attracted to the state than in the past,'' Hodge said.
At 0.7 percent, this was the fourth year in a row that Massachusetts led the Northeast in percentage population growth. Not only did the state attract many international migrants, but it also drew many domestic workers, Hodge said.
This swell may not seem directly related to finding a job in Massachusetts, but Hodge said population growth reflects a healthy economy.
"This is reflective of economic opportunities,'' Hodge said. "We have a very positive international migration like a lot of states, but what sets us a part is the low loss of workers.''
What this means for job seekers: The US economy is improving, especially in Massachusetts. But the influx in workers will also mean a squeeze on affordable housing and increased traffic congestion – particularly near Boston.