Jobs
Resolutions from Millennials Looking to Climb the Ladder in 2015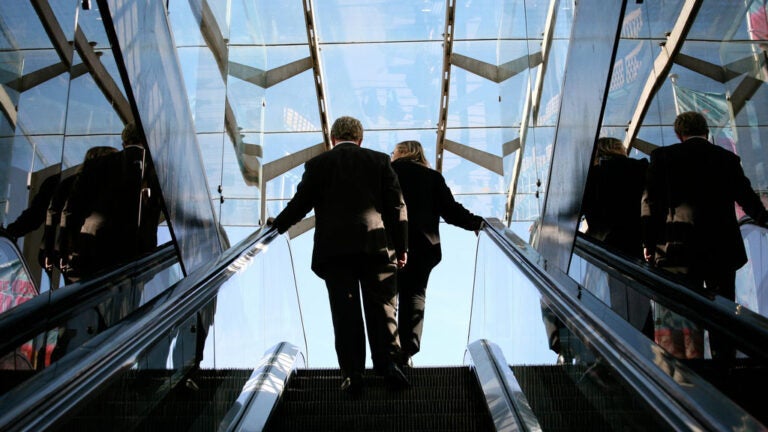 All recent college students remember that dreaded question, "So, what are you doing after graduation?''
One of the most gratifying post grad experiences— second only to successfully receiving your diploma without falling—is landing your first "big kid'' job. But once you are finally able to offer up a legitimate company and (somewhat embellished)job title to your nosy relatives, the questions seems to die down and you're left to figure out how to advance your career.
Rising from the entry level to the corner office requires lots of hard work, patience, and caffeine. Looking to 2015, three millenials offer their workplace resolutions for turning the jobs they have into the jobs they want.
There is just no substitute for hard work.
Sam Howe, a senior account executive at Fleishman Hillard, wasted no time jumping from the classroom to a major marketing firm. Although he's grateful for the immediate hire, Sam knows that there is a decade of hard work between being a ramen-eating recent graduate and an idolized 30-year-old executive.
"People tend to become frustrated with chapter one and forget that there's the rest of the book.'' The rest of those chapters tell the tale of early mornings and late nights – the basic principles of hard work that never change. Sam is determined not to be a stereotype of a clock-watching millenial.
His resolution: "Keep that old school 'burning the midnight oil' mentality. There are no short cuts.''
Embrace what you don't know.
"At the end of the day, I am a 'yes-er.' I never say no, even if I don't know what I am doing. Every yes means another opportunity to prove myself.''
Matthew Gillis isn't afraid to be the new kid on the block or in this case, the new kid listing the block. Transitioning from several internships in the NYC broadcast scene, Matt took his 'yes' mentality to a career in real estate, where he says being willing to take on tasks is essential.
"You showed them why you should get the job, now you need to show them that you are a business generator.'' Matt sees confidence and strong character as the keys to success. How to go from being the long shot to the front runner?
His resolution: Stay relevant. Show everyone that he is putting in the extra effort. Be the person that sticks out in their mind so that he is given each opportunity.
Find a mentor.
Deirdre Clute's psychology major led her down an uncommon path, to the doorstep of the Pepsi Corporation. In her opinion, "Your major is a mindset to approach problems.''
The classroom can't teach you everything you need, anyway. One of Deidre's first on-the-job tasks was mastering the lingo of corporate acronyms. "There were hundred of acronyms and it really slowed me down at first but people forget what they once didn't know.''
Having a more experienced professional to talk to when challenges like that arise is a key for Deidre.
Working on a three person team assisting—in Deidre's words — "a music guru,'' has landed her at the CMA's, Latin Grammy's, and sat her next to David Guetta as he played his newest album for the first time. Deirdre is determined to surround herself with people who will help her continue that streak of good luck.
Her resolution: Find a few people that you check in with every day. Mentors are key to becoming better in her own position and preparing for her next step.