Jobs
Tips For Making Your 'Al Desko' Lunch Slightly Less Sad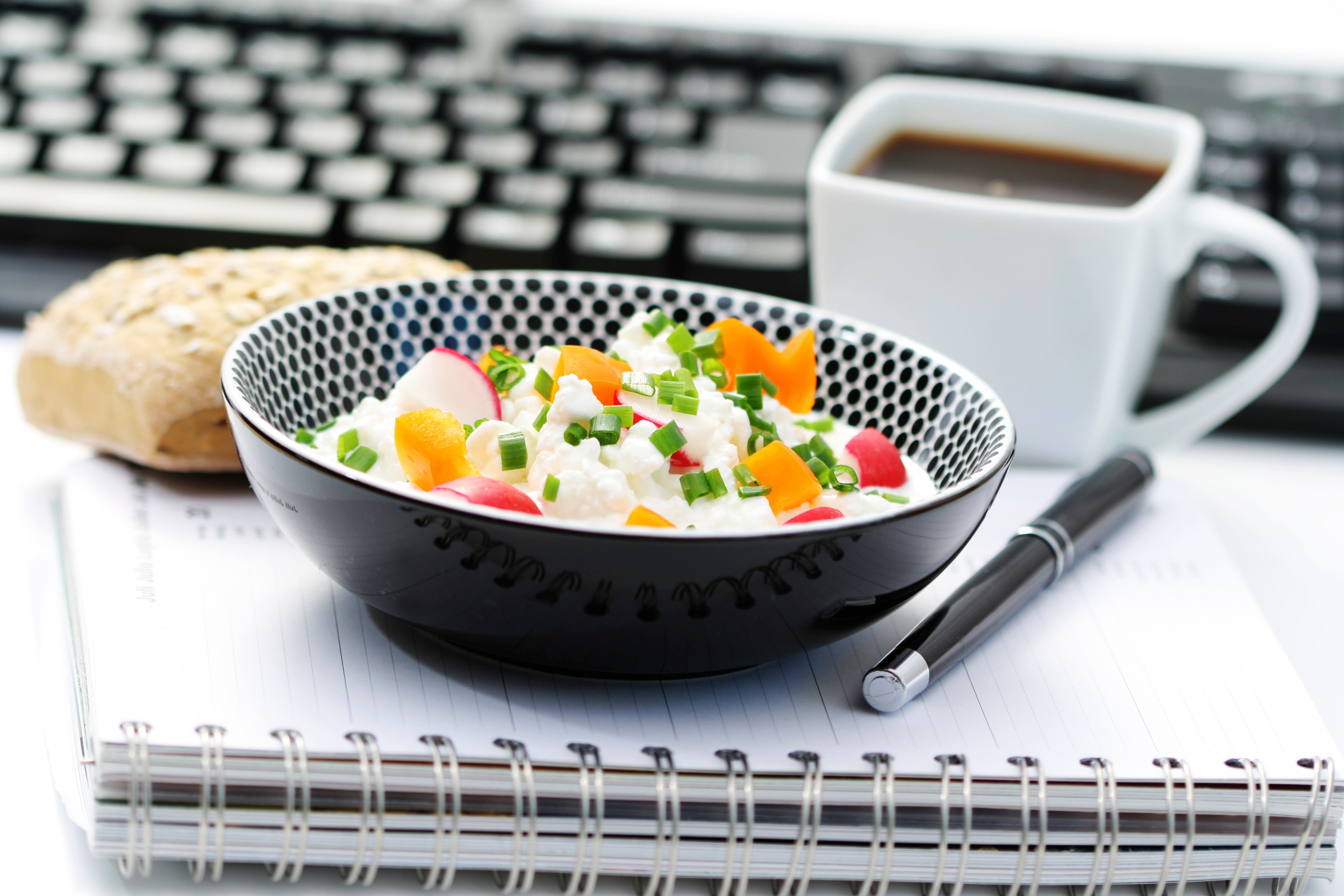 At this point, you've probably heard about the sad desk lunch. It even has its own sad website with photos detailing the gloomy lives of people eating lunch at work. Apparently, so many people deal with this phenomenon that the Oxford English Dictionary made up a word for it and added it to the dictionary in 2014.
Meet "al desko,'' an adverb or adjective that means: "while working at one's desk in an office (with reference to the consumption of food or meals).''
If you work at an office, you've probably done this once or twice, or maybe, every day. It can be sad, lonely, and even annoying for your coworkers around you. Some studies have also found that al desko can be dangerous to your health.
Here are some examples of a sad desk lunch and some tips on how to avoid this horror:
[fragment number=0]
If this weird looking veggie burger is all you have to bring to lunch, lathering it with BBQ sauce doesn't seem to be the solution. Why don't you find a fun condiment or something new that will spice up this seemingly plain burger? Also add something else! Some fresh fruit, chips, veggies or hummus could make this sad plate a little brighter.
[fragment number=1]
This is just disgusting. Pre-made, frozen meals are often times filled with preservatives and are high in sodium. Make eating at your desk a little more exciting by making a fresh plate of pasta the night before and bringing in the leftovers. Staying up an extra 20 minutes to make it the night before will greatly improve your health and mood the next day. (Not to mention, it will be healthier.) Spruce up your pasta and try new sauces and toppings if you want to be really creative!
[fragment number=2]
Leftovers don't have to be sad. If you have some pork or another kind of meat left over from the night before, you might get sick of it if you eat it again for lunch. Or, it might also be super boring and plain. Buy two dressings or marinades at the store in preparation for eating the same meal twice. It will then be almost like a totally new meal! Also, this meal has some fresh fruit, but adding another side could make this sad lunch into a well-balanced healthy lunch.
[fragment number=3]
Lunchables are bad for you. They just are. Sure when you are at the store shopping they can seem convenient and simple – and who doesn't like cheese and crackers? But, take the extra step and buy a fun brand of cracker, some fresh cheese and lunchmeat from the deli. It won't cost that much more and can make a huge difference when you sit down for lunch at the desk. Make it your goal to try a new cheese every week and get out of your unhealthy routine.
[fragment number=4]
This couldn't be sadder and really lacks most food groups. If you want toast and butter for lunch, add some interesting flavor of jelly. Bring some fresh fruit – even a simple banana – or some veggies on the side. Remember that this might not be enough to power you through the rest of the afternoon. When it gets to be 3:00 pm and your stomach is growling, you might regret only eating a piece of toast for lunch. You need some sustenance.
Some final reminders:
– Leave the tuna at home: no one wants a coworker sitting next to them eating something that stinks up the whole office. If you must eat tuna or another pungent food, al desko is just not for you. Get out for a few.
– Variety matters: Don't bring the exact same thing for lunch every single day. Trade off new lunchmeats, bring leftovers, or try a new topping for your salad. Just a little bit of variety could make your desk lunch a little less monotonous and boring.
– Get moving: if you have to be at your desk when you are ready to eat, make sure you get up at others times of the day. No one is going to be productive in an office if he or she never leaves the desk. Go for a quick walk or stand outside for 5 minutes. That small amount of time could help you get through the long day.
–Avoid al desko all together: Really, if you can, just don't eat at your desk. Though not everyone has the luxury to take hour lunches to your favorite places, you can find somewhere else other than your desk. In reality, eating lunch outside or in a cafeteria or in another part of the building for even 10-15 minutes can make your day a lot better and less sad.
Editor's note: A previous version of this story said "al desko'' was a noun, but it is actually an adjective or an adverb.