Jobs
Is Firefighter the Most Stressful Job of 2015?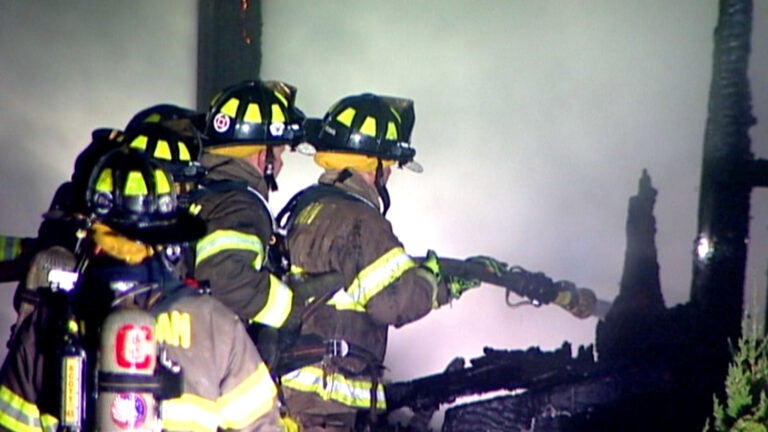 "All honor unto gallantry in reverence we pay that others might have days to be these gave their lives away now glory shall enshrine each name and times their deeds defy since humble men who sought no fame have taught us how to die''
-A tribute to Boston firemen at the Firemen's Memorial at Forest Hills Cemetery, by Henry Gillen
Every year, career information site CareerCast puts out a ranking of the least and most stressful jobs in the nation. Using information from the Census Bureau, the Bureau of Labor Statistics and the Department of Labor, they rank 200 jobs by looking at 100 different criteria, including physical demands, environmental conditions, life risk, income, and growth potential, among others.
Firefighting was ranked 2015's 'most stressful job', followed closely by enlisted military personnel and military general. Last year, it snagged the third spot.
Historically firefighting has always been stressful. You're responsible for others' lives, and must be ready to act at a moment's notice.
"It's traditionally been a stressful job,'' said Stephanie Schorow, author of "Boston on Fire: A History of Fires and Firefighting in Boston.''
CareerCast also mentioned budget cuts to some fire departments' funding, leading to less raises and promotions. But firefighters have better firefighting equipment, improved psychological support systems, and fight fewer fires than ever before — so we asked some experts how the stress of modern firefighting might compare to the past.
A Brief History of Boston's Firefighters
Bostonians have been fighting fires since the 17th century, when it began as a volunteer effort. 1678 saw the first paid municipal fire department, with a fire chief, 12 assistants, and the purchase of the city's first fire engine, according to the Boston Fire Historical Society.
Back then, fires were huge. Many buildings were built with wood, and a dropped match or untended candle could create a deadly conflagration that leapt from narrow street to street in moments. A 1676 fire destroyed 45 buildings near Richmond and Hanover Street in the early morning light. A fire in 1760 ruined 349 buildings, leaving 220 families homeless. Often, the human death toll was uncountable.
"Buildings in the Downtown area were so hot, the fire created its own wind,'' Schorow said.
Over time, steamers replaced hand engines, and in the 19th century, permanent firemen and engineers were appointed. Stone and brick homes replaced wooden ones, and equipment improved. Gradually, the prevalence of fires decreased.
But the occasional deadly fire still occurred. The Great Fire of 1872 burned 770 buildings, devastating a massive swath of Boston's commercial district and prompting then fire chief, John Damrell, to establish new building codes. Notable tragedies persisted: the Cocoanut Grove nightclub fire of 1942 killed 492, and the Vendome Hotel collapse killed nine firefighters in 1972. These instances reminded city dwellers that it only takes a moment for a fire to change your life.
Boston firemen showed extraordinary bravery in all of these situations, which were undoubtedly stressful. But Schorow said despite the inherent dangers of the occupation, most firemen adamantly loved the nature of their job: "It's a job people were just devoted to. It ran in families. Friendships were made, and friendships were forged.''
Schorow said despite how frequent fires used to be, firemen found consolation in their fellowship and shared history.
"Boston firefighters do have a sense of history that gives them comfort because they feel they're part of a tradition that goes back to Chief Damrell in 1872,'' she added. This alleviated some of the psychological stress that could occur after a particularly traumatic fire.
As building and fire codes are continuously improved, fire-related deaths have also declined in Boston. In 1997, 65 civilians died. In 2013, 44 died, according to the Massachusetts Fire Department.
But less fire to chase doesn't necessarily mean less stress.
A Modern Firefighter's Life
"It's not what you see on 'Sesame Street,''' former Boston Fire Commissioner Paul Christian said. When your job involves the possibility of putting your life on the line everyday, said some can handle the stress, and some can't.
It's true that firefighters spend a lot more time waiting for fires now than years passed. Schorow said this could be stressful for some firefighters who just want to do the job they were trained to do: "Even 20 to 30 years ago, firehouses would be really busy. Most firefighters I know want to work in a busy house. They want the activity. There's some stress from waiting around, wanting it to happen.''
But both Schorow and Christian said even while they wait, firefighters are plenty busy. They constantly practice dealing with different firefighting scenarios. This is even more important now, because less real-live fires can lead to skills degradation.
"Anyone without proper knowledge would be stressed out,'' Christian said. "But if you find the job stressful, you shouldn't be there.''
Christian always wanted to be a firefighter. He used to literally chase fire trucks down the street, waving to the firefighters as they streamed by: "I had tremendous admiration for them…I couldn't imagine not being one. I was drawn to it.''
Climbing the ranks of the Boston Fire Department to eventually become Chief, Christian loved his job every step of the way. He said the most rewarding part of the job is helping people at their most vulnerable, though trying to save people on a daily basis can be fraught with tragedy.
Just last March, a horrific Back Bay fire killed Boston firefighter Michael Kennedy and Lt. Edward Walsh.
Christian reminisced about a South Boston fire that destroyed a construction trailer, killing a few homeless people inside. "That one really stuck with me,'' he said. But for the most part, you have to take the tragedy with the success of saving lives, he said. If you feel so physically or psychologically stressed that you can't sleep at night, you shouldn't be a firefighter, Christian said.
It's certainly not for everyone, but Christian said 'stress' depends on the individual. Being an NFL quarterback or a war correspondent would be incredibly stressful to him, he said. Besides, modern firefighters have even more support systems in place than their historical counterparts.
"In the 1980s, we created employee assistance programs for Post Traumatic Stress Disorder,'' Christian said. Those who used to rely solely on fellow firefighters for psychological support now have other outlets.
Though the Great Recession's budget cuts have been a real issue for fire departments in Minneapolis, Detroit, Kansas City, and Los Angeles in recent years, the Boston fire department is not taking the same hit.
You can say that again – at least for the BFD brass.
Boston Fire and EMS payroll is the most expensive of the 30 largest cities in the country, with 148 supervisors earning more than former Governor Deval Patrick, according to WCVB. The base salary of a district fire chief in Boston is $162,118, while Baltimore's is $95,193, Chicago's is $131,552, and New York's is $146,583.
According to 2014 data from the Pioneer Institute, Boston firefighters make roughly the national average, which CareerCast listed as $45,600.
In addition to reasonable pay, Christian said modern Boston firefighters' camaraderie with the city and with each other is the biggest stress alleviator, Christian said.
"You make friends that last a lifetime. I've had a lot of friends die over the years, but it's part of the price we pay. When you're in a position where people depend on you, it rallies your emotional state,'' Christian said. He wouldn't take back a moment of his 38 years with the Boston Fire Department.