Jobs
The Jobs Policies Behind Obama's State of the Union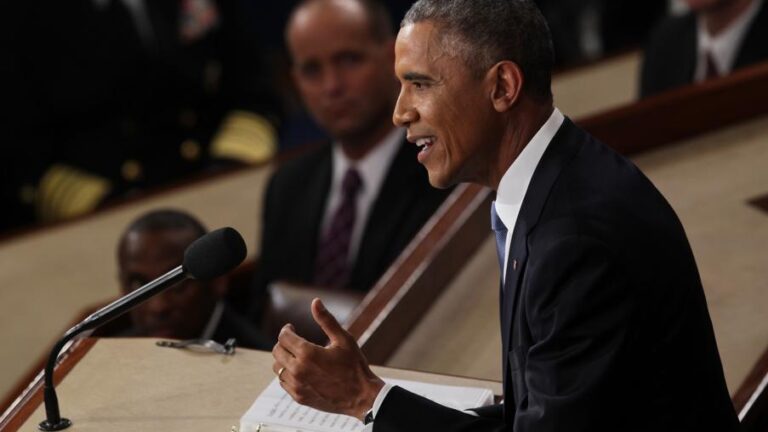 The centerpiece of President Obama's State of the Union address was an outline of his vision for a new "middle-class economics.''
"That means helping folks afford childcare, college, health care, a home, retirement — and my budget will address each of these issues,'' Obama said.
But the deadline for the president's budget proposal is almost two weeks away, and the nature of the State of the Union means Obama only had time for a cursory overview of his economic goals. Fortunately, many of Obama's proposals have roots in state or local policies already in place around the country, perhaps providing a hint as to what national models could look like.
Last Dollar Funds
"I want to spread [the idea that free community college is possible] all across America, so that two years of college becomes as free and universal in America as high school is today.''
President Obama made the case that increasing access to higher education will improve the job prospects of millions of Americans in the coming decade. Community colleges are a key part of the plan, as we've written about here. In announcing his plan to make two years of college free to everyone, Obama specifically cited experiments underway in Tennessee and Chicago.
The Tennessee Promise program will give out scholarships for the first time in the fall of 2015. The scholarship is not merit-based and is available to anyone who graduates high school. In October, The Tennessean reported that more than 35,000 of the state's 60,000 had already signed up.
Tennessee Promise aims to be a "last dollar'' scholarship, which means it will pay for tuitions not already covered by other funds, like Pell Grants. Tennessee Promise's executive director Michael Krause said in an interview with the online policy magazine Republic 3.0 that the last dollar model will help the state keep costs under control and guarantee it can send as many people to college as possible. Scholarships can be used at any of the state's 13 community colleges.
The program also assigns every student a mentor and requires them to do eight hours of community service per term, as well as maintain at 2.0 GPA once they're enrolled. "We are in no way seeking to shuffle students to a two-year college who may have been thinking they would attend a four-year college,'' Krause told Republic 3.0. "This program is about capturing students who were previously leaving the education system after high school.''
The Chicago Star Scholarship, announced in October, is also a last dollar fund that will pay for students to go to any of the seven City Colleges of Chicago. Unlike the Tennessee program, the Star Scholarship has eligibility requirements. High schoolers have to graduate with a GPA above 3.0 to qualify. According to the website Inside Higher Ed, "only an estimated 3,000 of the city's roughly 20,000 high school graduates would qualify'' for Chicago's program.
Expanded Childcare
"…my plan will make quality childcare more available, and more affordable, for every middle-class and low-income family with young children in America — by creating more slots and a new tax cut of up to $3,000 per child, per year.''
A new tax cut for families sending their kids to day care is a pretty clear way to make childcare more affordable for Americans, but "creating more slots'' is a vague plan for increasing availability.
One possible way forward would be to encourage states to expand outwards from the current public education system, as New York City did this year. Mayor Bill de Blasio has promised the city will provide free, full-day pre-kindergarten education to every family in the city.
The city expanded the number of available pre-K seats from about 20,000 in the 2013-2014 school year to more than 53,000 this year, and plans to hit full implementation (at around 73,000 seats) by next September. The new seats were added both in city public schools and at Community-Based Early Childhood Centers, which are independent operators screened by the city.
Paid Sick Leave
"So I'll be taking new action to help states adopt paid leave laws of their own. And since paid sick leave won where it was on the ballot last November, let's put it to a vote right here in Washington. Send me a bill that gives every worker in America the opportunity to earn seven days of paid sick leave.''
Obama pointed out in his speech that the U.S. is the only "advanced'' country without national laws requiring paid sick leave for employees, but cities and state have set rules that could act as a model for a federal proposal.
San Francisco pioneered mandatory paid sick leave with a 2007 law, under which workers accrued one hour of paid sick time for every 30 hours they worked. That's the same rate proposed by the Healthy Families Act, which was introduced into Congress in March of 2013.
Connecticut introduced the first statewide requirements for paid sick leave at the beginning of 2012. This more modest law has an accrual rate of one hour of sick leave per 40 hours of work, and exempts significant groups of employers, including those with fewer than 50 workers, manufacturing businesses and offices of national non-profits. The bill currently in the House would exclude employers with fewer than 15 workers from paid sick leave requirements.
The Center for Economic and Policy Research surveyed business owners and employees in Connecticut a year and a half after the law went into effect and found it had a small impact on the cost of operating a business in the state. The study also found part-time workers especially benefitted. The Institute for Women's Policy Research came to a similar conclusion about the impact of San Francisco's law on businesses and workers there.
Another experiment will play out right here in Massachusetts, after voters in November approved a law required employers to offer paid sick leave. It will go into effect in July.
Fair Wages
"Of course, nothing helps families make ends meet like higher wages.''
President Obama briefly reference three ways to raise wages around the country: enforcing equal pay for women, making sure "employees get the overtime they've earned,'' and increasing the national minimum wage.
When Obama said, "… this Congress still needs to pass a law that makes sure a woman is paid the same as a man for doing the same work,'' he was probably referring to the Paycheck Fairness Act, which is actually an amendment to the Equal Pay Act passed in 1963.
The federal bill has been wallowing in the Senate since January 2013, but Vermont passed a state bill with similar updates in the spring of 2013. Women's groups applauded Vermont's bill for strengthening the requirement that employers need to prove wage differences are based on something other than sex, and for prohibiting employers from retaliating against workers who ask about wage practices.
As for getting employees "the overtime they deserve,'' that's probably an oblique reference to the president's efforts to bring overtime pay to millions more salaried workers. In March, Obama directed the Department of Labor to raise the salary threshold above which workers are exempted from overtime regulations.
The exemption was carved out of the Fair Labor Standards Act, which otherwise requires workers to be paid time-and-a-half their hourly wage when they put in more than 40 hours a week. In theory, it's meant to apply to executive-level managers who may be expected to put in long hours, but in practice, the exemption threshold is so low (about $23,660 a year) that millions of middle-income employees are losing out on overtime pay.
Minimum wage hikes have been a hot topic around the country for the past several years. In fact, Obama called for a hike to the federal minimum – from $7.25 and hour to $10.10 an hour – during last year's State of the Union. Dozens of states already set their minimum wage higher than the federal requirement (including Massachusetts), and in 2014 SeaTac, Washington became the first municipality to boost the minimum wage to $15 an hour, with its bigger neighbor Seattle soon following suit.