Jobs
Who Makes Money When it Snows?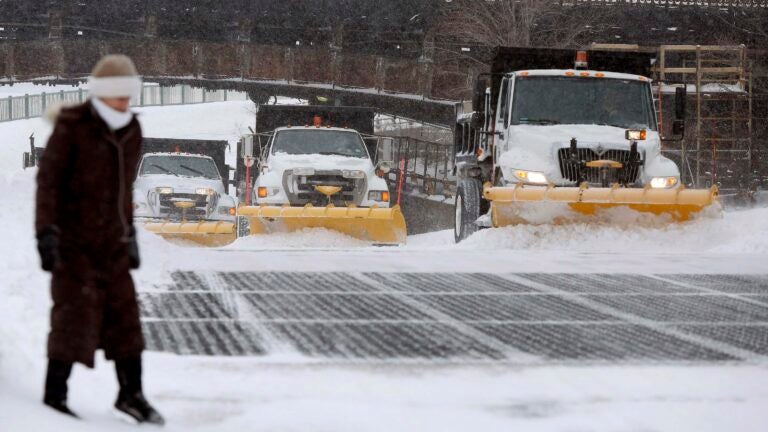 Blizzards usually mean snow days for teachers, bankers, government workers and even for your personal trainer, but there are plenty of people who have to go to work – and when it comes to Winter Storm Juno, there are clear winners and losers.
Winners
Snow Plow Truck Drivers
Plowz and Mowz is an on-demand app that allows users to order a plow driver to clear out their driveway with the touch of a button. Plowz and Mowz typically charges about $45 per plow, and covers a 40-mile radius around Boston.
Co-founder of Plowz and Mowz, Wills Mahoney, said the company currently has a couple thousand orders from the Boston area, and "they're still coming in'' for the storm.
"We are currently swamped right now,'' Mahoney said. "We will definitely break a record for the number of orders made for our company.''
Juno will be the first large-scale Hub snowstorm for Plowz and Mowz, which launched in Massachusetts last year.
Mahoney said he expects the surge in business to continue up to 48 hours after the storm dies down.
"Right now in Boston will definitely go down as one of the best storms we've had to date,'' Mahoney added.
Alcohol Delivery Services
We'll stand in line for what seems like hours to make sure we don't run out of bread and milk – the essentials — but alcohol is a different story.
As of 2 p.m. Monday, Boston-based alcohol delivery service Drizly reported that sales were up by 477 percent when compared to a typical Monday in both Boston and New York.
"We've seen weather affect sales but nothing like this,'' Drizly spokesperson Kerry McGovern said.
If you didn't order your booze before the storm hit yesterday, you're out of luck. Drizly shut down delivery service early Tuesday due to unsafe driving conditions.
Cheers, Juno!
Gas Stations
Some gas stations ran out of fuel yesterday in Massachusetts — but not the 24-hour Sunoco in Roxbury.
Worker Abraham Tito said the station has been selling gas "like crazy,'' as predicted, but many customers just want to buy a bag of chips.
"We are very, very busy with a lot of customers right now,'' Tito said. "People are buying chips, sandwiches, and gas.''
Oh, and they're almost out of candy, he added.
Hardware Stores
Massachusetts's hardware stores saw a jump in business from residents who wanted to be able to shovel their cars out themselves.
Somerville's Home Depot was sold out of salt, snowblowers and generators, as of Sunday evening, but some shovels and windshield wiper fluid were still available Monday, according to WHDH.
Luckily, many hardware stores planned on getting another shipment of snow materials before Tuesday.
Lex Stevens, the owner of Back Bay Hardware on Newbury Street, said yesterday was a record day for sales.
"I did probably the equivalent of three days of sales in one day,'' Stevens said, adding that customers bought emergency-related items such car brushes, snow shovels, batteries, and window washer fluid in preparation for the storm.
Hotels
Many hotels in the region were flooded with Boston area commuters who were worried about getting stranded on their way home from work Monday.
The Seaport Boston Hotel was near capacity by Tuesday afternoon, according to spokesperson Laurie Howe, and many of the hotel guests were employees of large businesses.
Since the hotel has to be well staffed for its guests, Howe noted that employees would be given proper accommodations during the storm.
"We also have a block of rooms for our employees staying in-house during the storm so that are guests are well taken care of,'' Howe said.
According to Howe, the hotel's restaurant has also been very busy with not only guests, but also Bostonians who had ventured out in the storm.
"I can't speak to whether we're breaking any records or not, but it is fairly busy for us,'' she said.
Losers
Grocery Store and Convenience Store Owners
While grocery and convenience stores may have great sales the day before a winter storm hits, on the day of (and the days following), they can also lose a lot of money.
Britt Beemer, CEO of America's Research Group, told CNN Money that the long lines you often see at the local grocery store chain are misleading indicators of overall blizzard sales.
"The pre-storm spike is usually offset by a lull once the storm hits,'' Beemer said, "and the overall picture is mostly a wash for grocery stores.''
A worker at the 23 Beacon Street City Convenience store in Boston said he couldn't give exact numbers for pre-storm sales but said business was "better than usual'' on Monday. He added that the store sold more beer and wine than usual, but on Tuesday, business was "nearly dead.''
Bar Owners
If Drizly closed before you could get your alcohol delivered, you might live close enough to an open bar which is braving the storm, but some Boston bars that stayed open aren't very optimistic.
Jeremy Scanlon, manager of McGreevy's in the Back Bay said that while he's received a lot of phone calls about whether they're open, there were only two gentlemen at the bar as of 1 p.m.
"It all depends on the weather, honestly,'' Scanlon said.
Whether businesses made or lost money on Winter Storm Juno, the snowstorm — which dropped up to 3 feet of snow in some areas of the state — will certainly be one to remember.