Jobs
Business Lessons From Doughnut Connoisseurs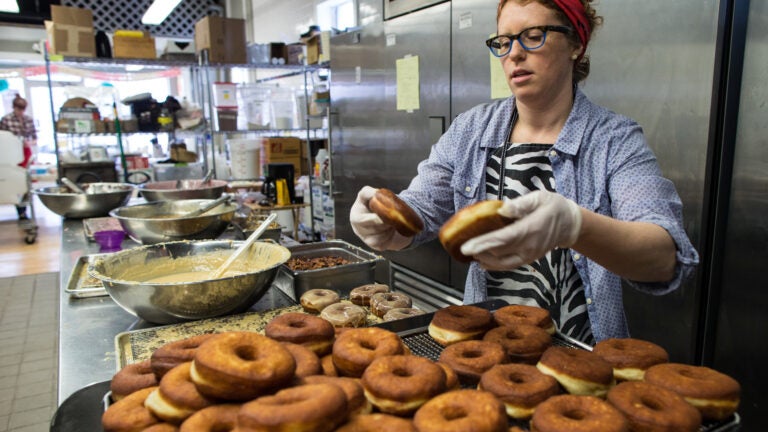 Years after New York City hopped on the gourmet doughnut craze, Greater Boston is realizing the full financial potential of deliciously baked and fried dough.
Last year, Stephanie Cmar began pop-up shop Stacked Donuts in Cambridge, featuring unique flavors like cherry coke and key lime pie. Restaurants like Island Creek Oyster Bar in Kenmore Square have started offering doughnuts, as has Sofra Bakery in Cambridge.
The latest Hub shop to debut is the South End's Blackbird Donuts, which opened three weeks ago. So far, business has been booming.
Blackbird owner Rebecca Roth Gullo said they sell about 2,000 doughnuts every day.
They sell out every Friday through Sunday, she said.
Union Square Donuts in Somerville, which opened in 2013, has earned so much business, co-owners Josh Danoff and Heather Schmidt were forced to move to 20 Bow Street this fall – doubling their production space.
Both Roth Gullo and Danoff have some tips for all the doughnut shop owners in town.
Danoff leaned casually against a pile of 50-pound flour stacks in the backroom of Union Square Donuts as he explained why he got into the doughnut biz.
"With food, you have that whole sense-memory thing,'' Danoff said. "You know, the smell of grandma's kitchen. Food can bring you back. Baked goods have that, and doughnuts especially have that.''
Danoff, who looks like a retired surfer or someone who has spent many hours outside, has enjoyed every second of the doughnut-making process. A little over 6 feet tall, with wild dark hair that's graying at the roots, Danoff has an easy smile, and wrinkles that crease around his eyes as he laughs.
Before Danoff embarked on his doughnut business with Schmidt, he ran a fresh fruit popsicle and kombucha business called Culinary Cruisers, where he used bicycles to sell his product at farmers markets. Before that, he ran a stone masonry business. He said both experiences gave him a wide-range of skills that he uses at Union Square.
So what makes these doughnut shops a success? Here are Danoff, Roth Gullo, and Blackbird chief operating officer Seth Yaffe's tips:
1. Use the best ingredients
Besides plenty of butter and sugar, Danoff said there are many high-quality ingredients that go into their handmade doughnuts.
"We use real vanilla beans,'' Danoff said as he hustled over to a shelf, grabbing a plastic bag that held a long, dark brown vanilla bean pod. "See? We cook them, open them up, and scrape out the paste.'' This prevents Union Square Donuts from tasting like vanilla extract, and sets them a part from other doughnut shops.
"For us, our product is the most important thing,'' Danoff said. "If you have a good product, people are going to find it.''
2. Location, location, location
Union Square makes sense for an eclectic gourmet doughnut shop. The Boston Globe describes Somerville as "a funky, affordable home to both hipsters and immigrants.''
The mixed bag of residents can find some kind of doughnut to meet their whim, whether it's a classic old-fashioned cake doughnut, or something trendy, like the Berry Pistachio or their Brown Butter Hazelnut Crunch.
The support of Union Square locals has "gone above and beyond'' what Danoff ever expected. When they the shop opened, he said they expected to sell maybe 100 doughnuts that day. He can't remember how many they actually did sell, but he knows they ran out of doughnuts.
3. Be nice
Danoff exudes friendliness. Besides smiling a lot, he joked around with staff and said, "Hello!'' to various customers, as they delved into their Boston Cream, Maple Bacon, and Sea-Salt Bourbon Caramel doughnuts.
"Customer service is always a priority,'' Danoff said. "Because then people come back.''
Danoff said many of Union Square's customers are regulars who live in the neighborhood, but he often sees people drive in from Boston to pick up a hot dozen on their way to work.
4. Expand your product line
Union Square will always sell classic doughnuts, Danoff said – your cinnamon sugar and sugar raised. The dough, which Schmidt perfected using a brioche recipe, will always be the base for their deliciously fluffy, yet dense creations.
But they love trying new flavor creations, like Orange Ginger Cream and for awhile, a Popcorn doughnut. The latest additions to the Union Square lineup include savory squares like Spinach, Feta & Red Onion and Bacon, Cheddar & Sage, but there are new doughnut flavors in the works.
5. Brand yourself
Branding Union Square took awhile, Danoff said, because in the beginning, he and Schmidt were most concerned with making the best doughnuts possible. However, with an expanded production space and a larger staff, they've been able to focus on branding.
"Now we have t-shirts and hoodies,'' Danoff said. He laughed and unzipped his coat to show a navy blue Union Square Donut t-shirt.
They further branded themselves by having one of their staffers design their website, which is clean, simple, and easy to navigate – it's as authentic as their doughnuts.
6. Be naïve
When Danoff started Union Square, he had no idea how hard it would end up being.
He often works over 80 hours a week, ordering products, scheduling staff, and overseeing production. But he said he's extremely grateful for his job, because as he puts it, "At the end of the day, our lives revolve around doughnuts.''
Danoff said if he had thought too long about it, planning for every potential headache before taking the plunge, he might have given up. That's why he said it's important to be at least a little naïve before opening a doughnut shop.
"I think no matter what job or industry you work in, things are always going to come up,'' Danoff said. "Don't bury yourself in the details before you start.''
7. Have an awesome staff
Roth Gullo said hiring people that she and Yaffe respect is more important than the food. They consider the Blackbird staff family.
"When you surround yourself with people who push themselves, you also push yourself,'' Yaffe said. Roth Gullo added that she often plans employees' birthday parties, baby showers, and even weddings.
8. Take chances
Blackbird has about four staple flavors, and four "wildcard'' doughnuts that they rotate every two weeks. Roth Gullo and Yaffe allow their two bakers, Sarah Thibodeau and Tara Bresnick, to come up with crazy conceptions like Melon & Prosciutto for summer and Cannoli, which they're launching soon.
For Super Bowl weekend, they'll be frying up some savory Buffalo & Frito chip doughnuts.
"It all starts somewhere with an idea,'' Bresnick said. "Like, I've had pizza on my brain all day today,'' she laughed.
"We take ideas about foods that aren't doughnuts and then make them work,'' Thibodeau added.
9. Learn from your competition
Yaffe said he loves going out for a drink after work at other local restaurants. He said the different establishments support each other, and want to see each other succeed.
"I get inspired by my neighbors, and want to do something a little different,'' he said, saying that he always thought the "restaurant row'' of the South End would be the most exciting place in Boston to do business.
10. Embrace your neighborhood
Roth Gullo and Yaffe are diehard fans of the South End. They grew up in the area, Roth Gullo said, and she loves building up the area with unique food destinations.
"You get a real sense of community in the South End that you don't get in others,'' Roth Gullo said. "This neighborhood has everything.'' People she passes on the street know her daughters' names, and inquire about Yaffe's dog.
"This is our neighborhood,'' she said.