Jobs
Why Do We Call Our Colleagues 'Work Spouses'?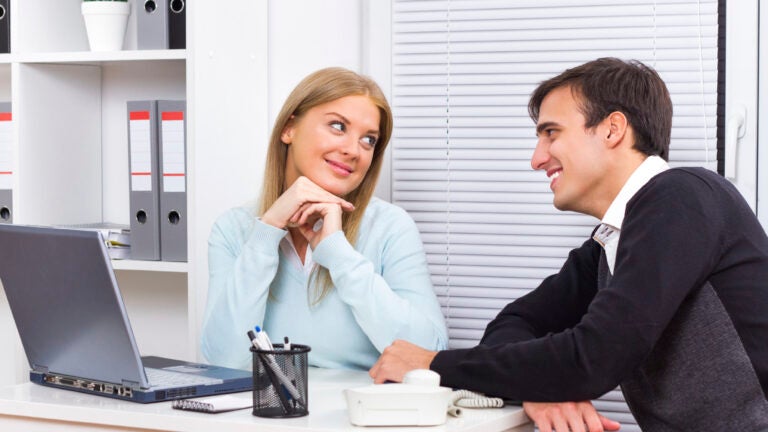 Are you getting flowers or chocolate for your work spouse this Valentine's Day?
Better question: should you?
An office spouse, otherwise known as a good friend at the workplace, is usually someone of the gender you're normally romantically attracted to. These relationships are — again, usually — platonic, with someone you can rely on and who understands unique work-related challenges.
Thirty-two percent of 1,864 respondents across the country and across industries said in Vault's 2014 Office Romance survey that they have an office spouse. This is a slight increase from 2011, when 28 percent of respondents said they did.
"I definitely have an office husband — he's my regular lunch buddy, confidant, and sound board. Fortunately I've also become good friends with his actual wife!'' one anonymous respondent said.
"I used to have an office wife until it became a romantic interest that turned south. Now I have an office 'ex-wife,''' another said.
As these two testimonies from the career intelligence firm's annual survey show, office spouse relationships can walk a fine line.
There are many studies out there showing definite benefits of meaningful friendships at work.
According to one by Globoforce — a Southborough-based employee recognition firm — employees are more productive and more loyal to their companies if they have close relationships with their colleagues. Those with friends at work are almost three times as likely to say they love working at their companies, the study continued.
Eric Mosley, CEO of Globoforce, said it comes down to basic human needs. "People are more creative and productive when they have human connections,'' he said.
But why do some people go one step further and call someone a work spouse?
Compared to a normal marriage, a work spouse doesn't come with complex issues like raising children or dealing with in-laws, Dr. Jacqueline Olds, a psychiatrist at Massachusetts General Hospital, said in an interview with Psychology Today. Work life is usually "less emotionally complex'' than home life, she added.
It's human nature to crave novelty now and then, and for some, the fact that hooking up with a "work spouse'' is forbidden makes doing so all the more enticing, she added.
While it may feel special to have one person you can call a work spouse, others could be jealous or suspicious of the relationship. When employees may be spending more time with colleagues than their families, a "marriage'' at work certainly has the potential to endager a real-life marriage.
"When you use the term 'spouse,' that's marital language and implies a sexual relationship,'' said Chad McBride, a communications professor at Creighton University in Omaha, Nebraska. "It makes people think there's something improper going on.''
That's not always the case, though. In a survey McBride conducted, only 2 people out of 276 respondents said they had a sexual relationship with one another, and 80 percent said that they were not sexually attracted to their work spouse.
McBride teamed up with Karla Bergen, a communications professor at Omaha's College of Saint Mary to study work spouses and workplace relationships. McBride and Bergen, who said they were some of the only people in the US to study this topic academically, were called work spouses when they attended grad school together at the University of Nebraska-Lincoln.
"I was a married woman, and he was a single younger guy,'' Bergen said. "Our adviser called us Mr. and Mrs. Communications Studies. "I just thought it was so strange.''
McBride shared her sentiment.
The duo's findings research, as well as the Vault survey, finds that more women report having a work spouse than men.
McBride and Bergen explained it's not that men value these relationships less, but that if there's ever a sexual harassment or improper conduct accusation, it's the men that get slapped with it.
"Men are more wary of it, of using that language even though they see the relationship as important,'' McBride said. "They don't want to be seen as improper.''
The term "work spouse'' is "accompanied with a little wink,'' Bergen said. "People who use it might think it's not appropriate for a man and a woman to have a relationship at work.''
"Our society is just not ready to accept that men and women can just be friends,'' she added.