Jobs
Some Employees in Massachusetts are Getting Paid to Eat Vegetables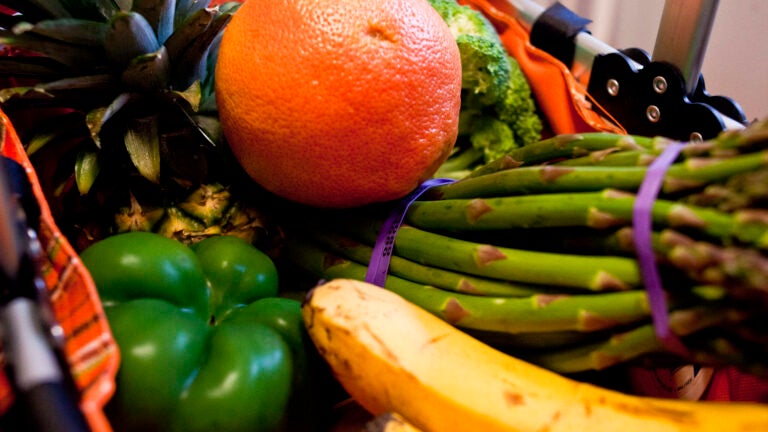 Would you take the time to compare the nutritional information of five different brands of tomato soup at the grocery store? Probably not.
But the creators of NutriSavings, a company that offers employers a way to encourage employees to eat better, bet that maybe you would if an app did the work for you, and you made money off your healthy choices.
Niraj Jetly, senior vice president of NutriSavings, said this was part of the thought process behind his Newton-based company, which launched in 2013.
"The way we benefit employers is by engaging their workforce to eat better and become more productive,'' Jetly said.
NutriSavings partners with health plans, wellness providers, and direct employers who want to invest in worksite wellness programs, as well as grocery stores and food manufacturers that want to increase their sales and brand awareness.
If employees choose to enroll in the program, they have access to the NutriSavings app, which scores more than 200,000 foods in participating grocery stores (Stop & Shop, Hannaford, Roche Bros., Wegmans, Shaw's, and Kmart) on a scale of zero to 100. Extremely sugary foods typically score zero, whereas fresh fruits and vegetables score 100.
Harvard Pilgrim Health was the first health plan in the country to partner with NutriSavings, developing a private label brand called EatRight Rewards that enables Harvard Pilgrim employees to earn up to $20 a month as an incentive for better eating.
"I'm a member and I've saved $160 since last April,'' Harvard Pilgrim Health spokesperson Joan Fallon said. The money can go right into a savings or PayPal account, she added.
Fallon said EatRight uses its own app that assigns healthiness values to more than 100,000 foods, taking 30 different nutrient factors into account.
When employee participants grocery shop, each food item is scored and they're sent an average score for each shopping trip. Harvard Pilgrim employees get $10 just for making the shopping trip at a participating grocery store, and another $10 if their score is 60 or above.
The app also suggests healthy alternatives to food selections. Fallon said if the brand of pasta sauce you typically buy scores a 35 for its high salt content, the app will redirect you to a brand with more nutrients and a better score.
"It's great — it really does make you think,'' Fallon said. "Like, 'Are you sure you want to put that bag of potato chips in your bag?' It raises your conscious about food and it's fun.''
About one-third of employees covered by Harvard Pilgrim are currently enrolled in the program, she said, adding that she expects the percentage to increase.
Employers that use Harvard Pilgrim's health plan also have access to the basic NutriSavings scoring system, Fallon added. They can also develop a rewards program for their employees if they choose.
"Having a healthy workforce is very important to employers,'' Fallon said. "People who are healthy perform better and they're happier.''
Harvard Pilgrim's wellness incentives mirror a national trend. A recent study by the National Business Group on Health (NBGH) and Fidelity Investments found that U.S. corporate employers plan to spend, on average, $594 per employee on wellness-based incentives within their healthcare programs this year. That's an increase of 15 percent from the average of $521 reported for 2013.
Although employers are spending more on workplace wellness, there is little proof that these plans have a significant impact on reducing companies's overall healthcare costs, Harvard Medical School's Dr. Ateev Mehrotra said.
"People with big illnesses spend the money,'' Dr. Mehrotra said. "It's hard to change healthcare spending for that group of people with chronic health problems.''
Dr. Mehrotra also said that people who use workplace wellness programs are probably healthier in general – "fitness people,'' Dr. Mehrotra said, comparing many incentivized health plans to towns that offer opera. "Employers like them because employees like them. They seem attractive… Do a lot of employees use it? Not really. It's like they like the idea of it.''
In Massachusetts, some employers get tax breaks for incentivizing employee wellness. The Massachusetts Department of Public Health provides small businesses (under 200 employees) a state tax credit of 25 percent of the costs associated with implementing a certified wellness program, with a maximum of $10,000 per business in a taxable year.
Though annual tax breaks are an attractive benefit for small companies, most employers still say they hope to curb overall healthcare costs for employees in the long run.
"We all want to slow the growth of healthcare costs,'' Fallon said.
According to the Centers for Disease Control and Prevention, 75 percent of the country's healthcare spending is on people with chronic diseases (like heart disease, diabetes, and obesity) that are largely preventable. Paying for chronically ill employees is costly – in 2006, Americans' healthcare expenditure was over $7,000 per person, more than twice the average of 29 other developed countries.
Americans have shown their interest in changing these statistics. The CDC also found that two-thirds of adults want the US health care system to place more emphasis on chronic disease preventative care.
Much of this prevention starts with healthy eating, NutriSavings's Jetly said.
"We aren't asking you to do anything you don't always do,'' Jetly said. "You eat everyday, and often have to get food for your family as well… At the end, your health is at stake.''
Dr. Mehrotra added that employees are far more likely to use health plans that offer monetary rewards (like NutriSavings).
"For a higher level of engagement, you need to put money on the table,'' he said.