Jobs
Local Frozen Custard Shop Keeps Churning Through Snow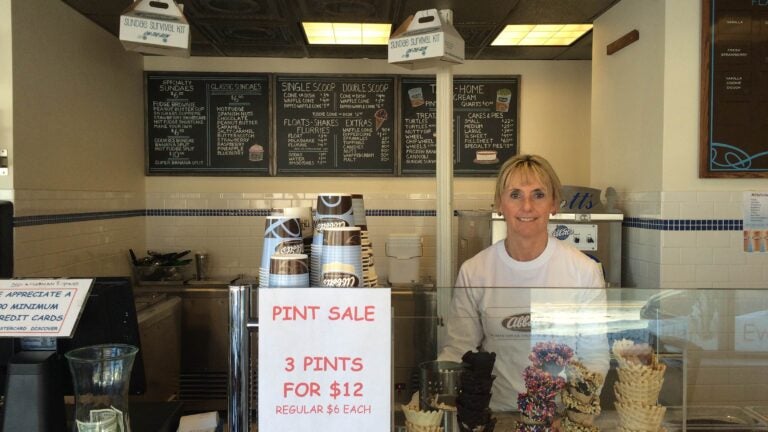 Sales are down 50 to 60 percent at Abbott's Frozen Custard Shops in Brighton and Needham from what they were a year ago.
"February is normally a catch-up month to start the year off great,'' said owner Mary Pat Dauria. "Not this year.''
Dauria, who has owned the shop in Needham for about eight years and opened the Brighton location four years ago, previously worked in retail. The frozen custard shop, which now has about 40 franchises, has its first location in Rochester, where Dauria grew up. Every time she would go back home, the first place she would stop at would be Abbott's.
"Finally my husband said, 'open one up here,''' she said, sitting at one of the many tables in her Brighton location a few hours before they opened for the day. "We were one of the first outside franchises.''
The winter months are always a little slow¬ but Dauria said this winter has been something else.
During the cold weather months, she shuts the Brighton store on Mondays and Tuesdays, and keeps the Needham store open all week long. This year, she has had to close her shops early or not open at all. And on the days they do stay open, business is fairly slow. From 12 employees in each store during the summer months, Dauria has had to cut her staff to three employees per location.
Most of the Abbott's stores close in the winter months, but she said New Englanders want their frozen desserts.
"New England loves ice cream all year,'' Dauria said. "It's not that they don't want it. It is a matter of getting here.''
Normally in the winter, people still come to get the custard, which has similar ingredients to those found in ice cream, but instead they are made in a special machine that churns it slowly. The process takes the air out of the mixture, making it dense, creamy, and very fresh tasting.
On average, 50 people have come in per day in the last few weeks. In the summer Dauria said there are hundreds, with lines often out the door.
"Parking is a huge factor,'' Dauria said regarding the huge snow banks that line the streets, not only for customers, but also her own car and delivery trucks.
Before one of the 2015 storms arrived, Dauria heard officials outside using megaphones to tell people they needed to move their cars in a certain amount of time or get towed. She had to quickly close the store down and head home. For her employees, it has been hard getting to and from work.
"A lot of employees take the bus,'' she said. "I am having to pay for their Ubers to get home.''
The morning of our interview, Dauria said they were about to get their first delivery to the store since the heavy snowfall, and she was a little nervous of where the driver was going to park on the busy Washington Street.
After each storm, she said she has gone out to shovel the sidewalks to make some attempt at creating room for parking, but oftentimes it proves difficult from the plows and the large amounts of snow.
"You try to dig out,'' she said. "But it just comes back in.''
But Dauria hasn't given up hope. She's been doing everything possible to maintain a flow of customers for her small business.
Luckily, Abbott's makes a lot of cakes, hosts group events, and caters, which has helped when sales are down. Normally much of the business comes from people on foot walking by and coming in, which has slowed down lately.
"You can't succumb to it,'' Dauria said. "You have to be creative in marketing. Social media is big for us.''
On Instagram, Dauria lets customers know about promotions and new things happening in the store. Discounts on pint sales are also one of her strategies to get more people to come in.
"We don't have the finances behind us to sustain for long periods of time,'' she said. "A month or two can put [small businesses] out of business.''
The Brighton Main Streets group has been doing everything possible to help out local businesses, said Dauria, who thought it was a nice gesture for Boston Mayor Marty Walsh to declare the past week "Valentine's Week.''
Abbott's in Brighton and Needham will stay open as much as they can and will have some exciting new flavors coming in the spring.
"I love my job through the good times and the bad,'' Dauria said with a smile, before she went back to churning the custard for the day.