Jobs
Employee Appreciation Day Can Be About More Than Gift Cards
The results of our Employee Appreciation Day Poll explained.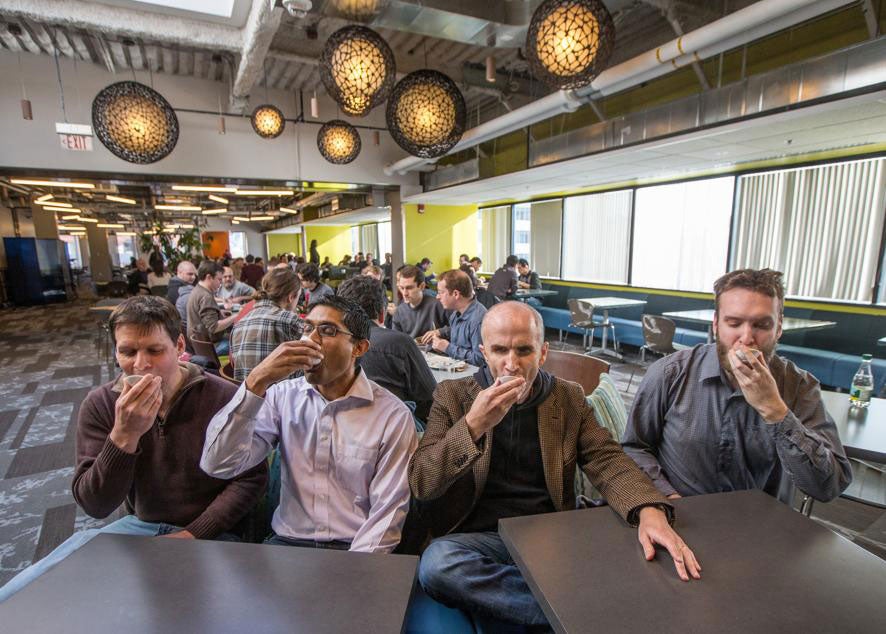 Earlier this week, we asked readers to weigh in on what kind of policies their offices could institute to make their work lives better.In honor of Employee Appreciation Day – and any employers who want to take advantage of the opportunity to make meaningful changes instead of handing out gift cards – here are the results of the hundreds of votes we tallied, accompanied by some explanation of how each policy fits into recent research about happiness at work.24 percent wanted a ban on sending work emails at night or on the weekends.As workplace consultant Tony Schwartz points out in the New York Times, one of the things that quickly saps employee energy is the loss of an on/off switch as a result of constant connectedness: "Instead, we live mostly in a gray zone, neither fully on nor fully off. We keep going and going. But to make that possible, we rarely fully engage in anything.''A company-wide agreement to keep the email inbox closed during off-duty hours goes a long way toward encouraging employees to hit the off switch and recharge.Companies that don't give their employees a chance to rest risk losing their attention over the long run.In 2012, the professional services company Towers Watson undertook a "Global Workforce Study'' to understand how modern businesses around the world were doing on the metric of "employee engagement — colloquially defined as the willingness and ability to go the extra mile.''Not well, it turned out. The study found companies were struggling to keep their employees engaged over the long-term, which could have detrimental effects on overall company performance.The authors of the Towers Watson report argued that employers need to focus on "sustainable engagement,'' a key component of which is "creating an environment that's energizing to work in because it promotes physical, emotional and social well-being.'' (Emphasis in the original.)

21 percent wanted bosses to encourage taking breaks throughout the day.The Energy Project, a consultancy Schwartz founded to promote new ideas about workplace management, identifies four key needs that must be filled to keep employees happy and productive – physical, mental, emotional, and spiritual.Breaks from work, even short ones, have a big impact on both people's physical and mental health, The Energy Product has found.A survey of 20,000 workers, undertaken in 2014 by The Energy Project and Harvard Business Review, found that workers who took breaks every 90 minutes reported better health, a greater ability to think creatively, and better focus."Mental downtime not only provides an opportunity to relax and refuel, but also to reflect and to digest new information,'' As Schwartz explained in another Times column. "People also tend to get their best ideas during downtime, when they're not working toward a specific goal.''

18 percent wanted more frequent feedback from managers."The Human Era at Work'' report, which came out of the partnership between Harvard Business Review and The Energy Project, "calls for a new kind of leader, whose most fundamental role is to serve as Chief Energy Officers, responsible for mobilizing, focusing, inspiring, and regularly recharging the energy of those they lead.''This goes to the report's ideas about the emotional needs of workers. The survey found only 21 percent of workers were "receiving feedback in a way they can hear.'' That group was less focused, less engaged, and less likely to stay with their company, according to the report.

17 percent wanted a free gym or workout space.All-encompassing "workplace wellness programs'' that incentivize employees to eat well, exercise, and go to the doctor are a growing trend, especially in the Boston region.A 2013 report from the Department of Labor (DOL) found the programs, if well implemented, succeeded in making employees healthier, which The Energy Project argues is a key to making them happier and more effective workers.One of the main stumbling blocks to a successful wellness program, as identified by the DOL, is accessibility. If employees are already working long hours, or if the gym they get a discount to is on the other side of town, they're less likely to engage with a wellness program. Putting a gym directly in the office and, ideally, encouraging people to use it during work hours, encourages people to stay healthy and energized.The DOL identifies "wholehearted buy-in of direct supervisors'' as another key factor in successful wellness programs, an idea that applies to many of the policies in this poll. As another example, if the boss sends emails on the weekends, employees are more likely to do the same, even if official policy says they don't have to.

10 percent wanted a formal system for thanking or recognizing peers.Eric Mosley, co-founder of Southborough-based Globoforce and author of The Power of Thanks, advises companies on how to implement formal systems for recognizing the work of their employees. In the past several years, he said, peer-to-peer recognition systems have been found to be the most effective kind."You're democratizing management, because now everyone's on the lookout for great performance,'' Mosley said. "You really need to affect everyone at the company.''Mosley said companies like JetBlue and Symantec have seen double-digit increases in their employees' engagement – that magic metric tied to good performance – after coming up with a way for them to call each other out for good work. It all comes down to basic human psychology, Mosley said."A fundamental need is social connection,'' he said. "If you can make [employees] happy, it unleashes creativity, and it unleashes performance.''

10 percent wanted to be reimbursed for professional training courses.Continuing your education outside of work, either with university programs like the Harvard Extension School or organizations like General Assembly, can be a strain on the schedule.But it can also make employees feel like they're moving forward in their careers, an important element of a happy workplace.Every year, the job search site Career Bliss put out its list of "50 Happiest Companies,'' based on reviews from its users.The biggest takeaway from last year's list, as explained in Fast Company, was that "Happy employees don't stay in one role for too long.'' Reimbursing workers for career-relevant courses can encourage them to grow their skillset and move up the company ladder, keeping them happy over the long run.