Jobs
MIT Advisor Paves Way for Students' Tech Startups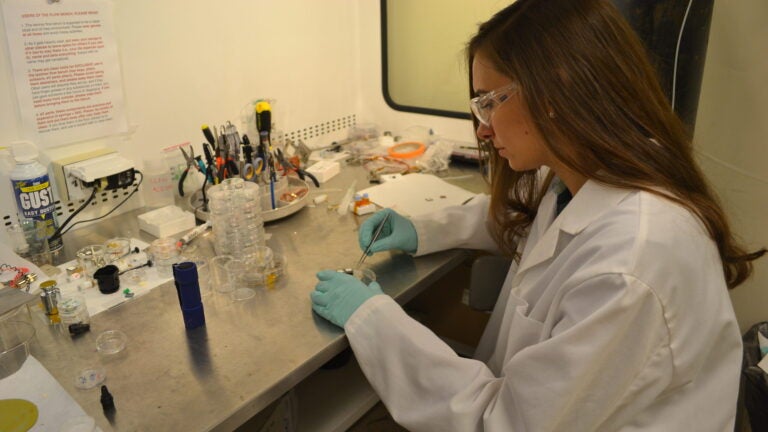 "The only common theme is that there is no common theme,'' MIT entrepreneur-in-residence Christina Chase said of her typical day at work.
Before changing the way Hewlett Packard stored data, working in the White House's Office of Science and Technology Policy, and creating educational technology company Firehoze, Chase launched her first company at age 18.
"It was exciting, yet I didn't know what I was doing,'' Chase said of her line of environmentally friendly beauty products. "I liked the constant state of solving new problems.''
Chase always wanted to be a marine biologist, but when she got to college, her Colorado State professors encouraged her to explore other fields, so she switched her major to international relations.
From there, her career took many twists and turns – working for photonics company Labsphere for a couple years, and building Dartmouth College's Entrepreneurial Network by helping teams commercialize their academic Intellectual Property – but she had an eye toward entrepreneurship and technology.
Currently, Chase mentors MIT students in the Martin Trust Center, helping hundreds of pupils launch startups of their own. She's also a lecturer and faculty adviser. Whether they're building revolutionary propulsion for satellites or inventing the next platform for digital art consumption, Chase's former students say she's helped them realize their dreams, and is paving the way for women in tech one class at a time.
"When I came through here, one of my big personal missions was to not only pull more women in, but also to pull more women into hardware through the pipeline… pulling them through the loop and giving them the mentorship to go down that path if that's something they're interested in,'' Chase said of her mentorship role at MIT.
Her students work on startups in fields ranging from nuclear engineering, drones, robotics, and medical devices, to sustainable green materials, wearable tech, fashion, and aerospace.
Here are some of the startups Chase's students have created:
Co-founded by Kimberly Gordon and Shambhavi Kadam
This web and mobile platform lets art enthusiasts fill the blank spaces in their homes with artwork by the world's leading digital artists, either on users's connected screens, or on the company's "Depict Frame,'' which is described as a "cutting-edge display for digital art.''
MIT classmates Gordon and Kadam met in an entrepreneurial class where students were encouraged to pitch their ideas. Gordon had a vision of a digital art ecosystem that resonated with Kadam, who said she realized her need for a creative outlet while working as an aerospace engineer for Boeing (her career prior to returning to MIT for an MBA).
Plus, Kadam said she's been drawing since she was little.
"I told her I'd love to work on this together,'' Kadam said.
The pair co-founded Depict in 2012 – the same year Kadam graduated, and moved the company to San Francisco, adding 10 people to their team. Gordon graduated in 2013. They've refined their process for curating artists, testing new products, and bringing beauty to homes, Kadam said.
Though she conceded that there "aren't enough hours in the day,'' Kadam said she's proud of the diverse culture she and Gordon have created at their startup.
"It's very important for organizations, especially young startups to make sure that your hiring process is designed so that any talented people are able to make it through rather than someone getting weeded out early on by false negatives,'' she said. "It requires self-awareness and honest conversations about your company culture, but it's a step I've been happy to see many startups take.''
Kadam added that she's particularly proud of how she and Gordon have handled gender balance at Depict — their engineering team has an equal number of (very talented) male and female engineers, she said.
Chase, who Kadam described as "one of her favorite people,'' was an invaluable resource as she and Gordon navigated the startup world. Even though Kadam's graduated, she said she still emails Chase with business questions, knowing she'll respond promptly, with a thoughtful answer.
"She's always willing to listen,'' Kadam said. "She's very approachable even though she's obviously a badass, she never intimidates you when you approach her.''
Co-founded by Dipul "Dip'' Patel
This zoning system gives users room-by-room control over the temperature in their homes. Ecovent's vents plug into the existing holes where customer's vents are and open and close automatically to control airflow, depending on feedback from sensors that plug into the wall, telling Ecovent the climate of the room. There's also a control hub that does math behind the scenes, and customers use an app to control the system.
Patel said he first had the idea for Ecovent back in 2008 when he was saving money for his wedding by shutting off vents in the unused portions of his home. One day, his mom came to visit and Patel forgot to open the vents in her guest bedroom. "She spent the whole night freezing and I knew there had to be a better way,'' he said.
So Patel left his engineering job at Lockheed Martin to get an MBA from MIT, where he co-founded Ecovent in 2013.
The startup process was arduous, Patel said, recalling many hurdles involving founders, patents, and funding. Chase, who mentored Patel's advanced entrepreneurship class, supported him along the way.
"You know when you go to a doctor and they're like, 'How often do you drink?' and you don't actually want to let the doctor know, 'like four times a week?''' Patel said with a laugh. "Christina is good at getting you to tell her what's actually on your mind. She's not wishy-washy.''
Patel said he still consults with her regularly, and sends all his friends who work in tech to her for advice.
"She's just ridiculously supportive and one of the best listeners I've ever met,'' he said.
Patel said the most rewarding part of running a startup is watching his team, who he describes as "the best and the brightest,'' meet their full potential by addressing an everyday problem that's long been ignored.
Though Patel said women leaders are picking up steam in the tech industry, he still sees a huge gender imbalance. For every five male resumes Ecovent receives, he said there might be one resume from a woman.
"There are different perspectives to be brought to the table,'' Patel said, mentioning the need for more female engineers. "That's what diversity is.'' The more companies diversify, the more they will come up with unique ideas, Patel said, and they'll create "more ridiculous stuff.'' (He means that in a good way.)
Co-founded by Natalya Brikner
This company is printing propulsion systems for satellites based on a proprietary ion beam technology that aims to "revolutionize in-space electric propulsion'' by doing away with the bulky tanks and valves of yore in favor of simple, modular thruster chips that can go anywhere on a satellite, in any number.
Brikner has always had an affinity for math and outer space.
In high school calculus, Brikner made a scaled down model of a wind turbine for a class project, realizing her interest in propulsion. After talking with a school counselor, Brikner decided to pursue the field of aerospace engineering because it involved more math than other engineering fields.
Brikner went to MIT and became interested in space propulsion. In an undergraduate electric propulsion class, one of Brikner's professors mentioned that the technology for satellites's propulsions systems hadn't changed since the 1960s and no one knew how to make it better, she said.
"I said, 'That's the field for me,''' Brikner remembered, eventually returning to MIT for graduate school.
She met Accion co-founder Louis Perna in the space propulsion lab at MIT, and the pair embarked on a journey to turn their passion for tech into a business with the potential to "transform the satellite industry.''
Though Brikner never took a class with Chase, she said Chase was her mentor, meeting with Brikner once or twice a week to talk about the startup.
"She helped me and my team dig out a lot of holes we needed to get out of,'' Brikner said, describing how Chase helped her deal with the softer, "more psychological and emotional'' aspects of launching a startup.
The propulsion systems they're creating are different from past systems because they don't use a gaseous propellant and aren't explosive, she said. The satellites the systems are used on could provide constant earth imagery, helping to monitor natural disasters and provide global Internet coverage.
The Somerville-based company raised more than $2 million in seed money this year to accelerate product development and hire employees. But the startup hasn't been without its challenges, Brikner said.
There have been instances where Brikner said she's felt like people don't take her seriously because she's a woman.
"I don't have any horror stories of being a woman in tech, but there have been some uncomfortable instances where people have told me they'd be better at my job than I am,'' Brikner said. "I'm not convinced that would happen if I was a male.''
Brikner said she'd like to see more powerful female role models in the media, TV shows, and movies that encourage young girls to at least consider STEM careers.
"Everyone is working on it, but not that many girls go into science and engineering,'' she said, adding that this has made it harder for tech companies to find women to hire and close the gender gap. "There are not that many role models.''
As much as her students esteem her, Chase shows equal admiration for them and their endeavors.
"I get to see the future everyday,'' Chase said. "That's really cool.''