Jobs
New Bill Could Change Hourly Wage for Tipped Workers in Massachusetts
Tipped workers are paid a minimum cash wage of $3 per hour in Massachusetts.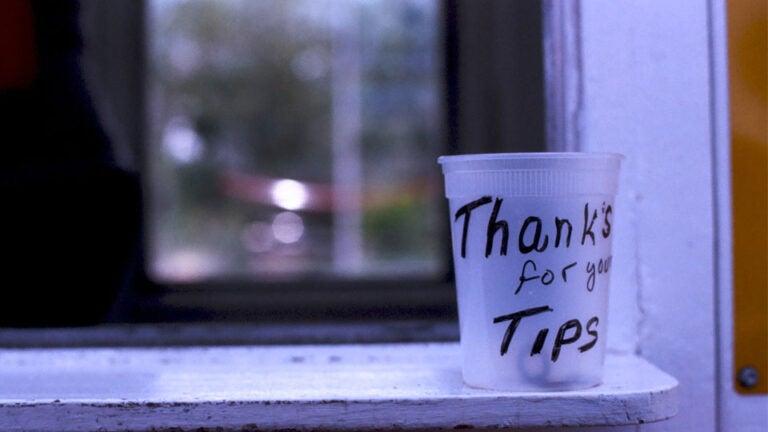 In January, standard minimum wage in Massachusetts was raised to $9, while tipped workers saw their wage floor increase to $3 as part of the state's two-tier wage system.
Restaurant worker advocates say the system prevents many tipped workers from making at least the standard hourly minimum wage. They want to see change, and in the next couple of years, they might.
A proposed law would gradually eliminate the subminimum wage for tipped workers, mandating that after 2022, tipped employees would have the same hourly minimum wage as workers in all other industries in Massachusetts.
The bill, presented by Rep. Tricia Farley-Bouvier of Berkshire County, would act as an addendum to the current minimum wage bill, which saw tipped workers wage floor increase from $2.63 to $3.75 per hour by 2017. The new bill would instead give gradual increases to tipped workers past 2017, with the two-tier system being abolished in 2022.
Under current state law, tipped employees (those who receive more than $20 a month in tips) must be paid a minimum of $3 per hour, provided that, with tips, they make $9 per hour – the standard minimum wage in the state. If the total hourly rate for the employee, including tips, does not equal $9, then the employer must make up the difference.
But some restaurant worker advocates say that many employers skirt the law, neglecting to make up the difference on slow days when employees aren't making the standard minimum wage with tips.
"In the instances when the worker is in a restaurant where their tips do not bring them to rate of $9, often the difference is not made up by the business,'' said Alex Galimberti, a lead organizer for the Restaurant Opportunities Center (ROC) of Boston.
At $3, Massachusetts tipped minimum wage is the second lowest in New England, with Rhode Island tipped workers earning the lowest at $2.89 per hour.
In restaurants where workers are averaging more than $9 in tips alone, Galimberti said workers sometimes see the restaurant neglect to pay the hourly rate to employees, "especially if the workforces are immigrant and undocumented workers who feel intimidated and afraid to demand their rights,'' he added.
ROC is supporting the bill through their "One Fair Wage'' campaign, Galimberti said, saying the law would prevent "lax and disorganized'' employers from neglecting to top off employees – a form of wage theft.
Wage theft – defined as employers neglecting to pay employees their rightfully earned minimum wage or overtime pay – is a hard thing to monitor since it often goes unreported, but a recent study by the Economic Policy Institute estimates that U.S. workers are cheated out of roughly $50 billion per year.
Some labor experts say there's more at stake than just fair wages, citing gender inequality and sexual harassment as larger themes that emerge in the restaurant industry.
Dr. Eve Weinbaum, director of The Labor Center at UMass Amherst, called the bill "a great idea,'' saying tipped workers in the restaurant industry face sexual harassment more often than workers in other fields because they're paid primarily by their customer, not their employer.
"Unlike other sectors where employees wouldn't take it, tipped workers feel they have to put up with it,'' Weinbaum said.
In October 2014, the ROC and another group released a report based on interviews with 700 former and current restaurant workers in New York and other major cities, as well as an analysis of census data and statistics from the U.S. Labor Department and the Equal Employment Opportunity Commission, and found that 78 percent of women (and 55 percent of men) reported being sexually harassed by customers.
Women account for about 72 percent of all workers in predominantly tipped occupations like restaurant servers, bartenders, and hair stylists, according to the National Economic Council.
Tipped workers are also about twice as likely as other workers to experience poverty, and servers are roughly three times as likely to live in poverty.
"I really think the tipped minimum wage is completely outdated,'' Weinbaum said. "There's almost no compliance with the law. Employers and workers don't keep track of the tips, so some restaurant workers make far above minimum wage, and in other restaurants, workers make far from the minimum wage.''
But some restaurant owners maintain that the current wage system for tipped workers is ideal for employees, restaurants, and consumers. The group argues that abolishing the two-tiered wage system would hamper job creation.
Stephen Clark, director of government affairs for the Massachusetts Restaurant Association, said he opposes the bill. If enacted, Clark said tipped employees would "lose thousands'' per year because customers wouldn't feel compelled to tip as much.
"Massachusetts tipped employees are among the highest compensated in the country, with the average tipped employee making $13 an hour,'' Clark said. "And in reality, most are earning between $25 and $30 an hour.'' His data is based on statistics from the U.S. Bureau of Labor Statistics.
The current system also allows employers to keep their menu prices down, attracting customers and building future business, Clark added.
But restaurant advocates like Galimberti argue that in states like California and Nevada that have abolished the two-tier system, employees haven't seen a decrease in tips, and restaurants haven't had to drastically raise menu prices. In fact, the seven states that have abolished a subminimum tipped wage have seen above average employment growth, he said, and the restaurant industry projects their employment growth by 10.5 percent over the next decade.
There's no current timetable for the legislation in Massachusetts, but Weinbaum expects a fierce debate when it comes to a legislative vote.
"I think the restaurant industry association is incredibly powerful and they will fight this with everything they have, but I really hope our legislators will see it through and decide to stick up for people with less power,'' Weinbaum said.