Jobs
How Companies Fight to Offer More Than Money
In an effort to bring top talent on board, companies are rolling out some unorthodox tactics (and perks).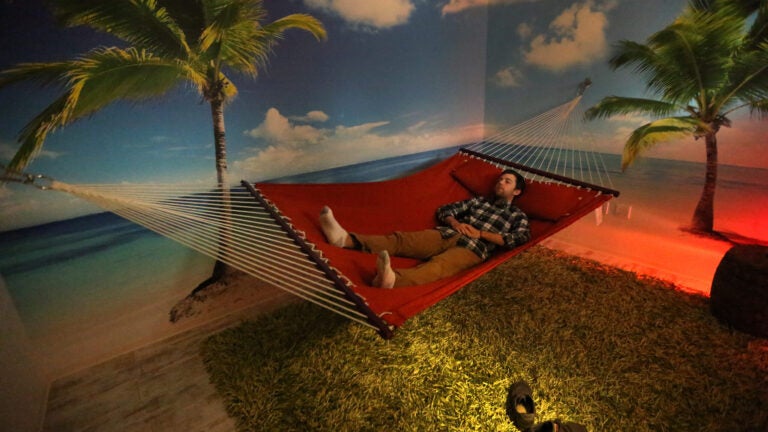 Job candidates' confidence is growing and recruiters are starting to take notice.
According to the most recent Employment Confidence Survey by Glassdoor, conducted quarterly, one in three employees will look for a new job this year if they do not receive a pay raise from their current employer. The same report also found 48 percent of employees were optimistic they could find a job that met their experience and compensation requirements in a six-month period.
With candidates growing more selective about their options, companies are being forced to step up their recruitment game and are employing some unusual recruitment tactics to attract and retain talent, according to recruiters and human resources professionals.
"Companies today have to be more creative in luring the best candidates because they're all competing for the same [talent],'' said Gary Grossman, president of Execu|Search Group, a recruitment firm that focuses on permanent and temporary candidate placement for accounting, healthcare, legal, and technology companies.
Often, companies are going beyond traditional benefits and finding a variety of ways to turn their office culture into a selling point.
Interviews
The contest to stand out as a company starts early, according to experts and candidates who have gone through unique interview processes.
Andrew Waber, a market analyst for online advertising network firm Chitika, said when he was recruited two years ago, he was asked to prepare a presentation on data insights for the company's CEO as part of his second-round interview.
But when he arrived at the Westborough, Massachusetts office, Waber learned he would not be delivering his presentation to the CEO after all – he would be presenting to the entire company instead.
"It was very different from the one-to-one presentation I was expecting [to deliver],'' said Waber. "The idea was to see how I reacted and how I responded under fire from questions from different professions, like engineers.''
Waber ultimately landed the job and says, rather than scaring him away, the interview experience introduced him to his potential co-workers gave him a good sense of the company's analytic culture.
"I got the impression that this is a company where you can work with a lot of unique individuals who are intelligent and think about problems critically,'' said Waber. A more common way to expose interviewees to company culture is to bring in groups of candidates for "hiring blitz days.''
"They arrive at 9 a.m. and leave at 2 p.m.,'' Grossman said of the event. Job seekers are introduced to various departments on the same day, saving time and getting everyone involved in the process. "It creates excitement in the office and an awareness that lends itself to more hiring.''
Overall, Grossman said a "hiring blitz day'' is an efficient approach that allows candidates to get an introduction to the company's culture and meet future co-workers before any offers are exchanged.
"It's an unusual path, but the number one reason to do it is to have candidates meet their [future] peers earlier in the process instead of at the end of it,'' Grossman said.
New-Age Perks
In addition to a very challenging and public interview process, Waber said Chitika also offers employees some attractive perks, including a game room with a pool table and video games, catered lunches, and free laundry and dry cleaning services.
To Waber, these benefits make it easier for employees to stay connected to their jobs.
"People don't have to worry about picking up their laundry or dry cleaning, so it makes people's lives a little bit easier,'' said Waber. "Catered lunches make sure people stay in communication with each, sit down for lunch, and enjoy each others' company.''
Doug Schade, a technology recruiter for WinterWyman, said perks like the ones Waber lists are especially common in the startup sector where new hires can help build a company's culture from the ground up.
"A small startup could be just three to four people in a room trying to figure out the best work style,'' he said. "The startup space is an incubator for new benefit ideas, like beers on tap, a game room, or ping pong tables.''
Schade also sees companies using generous perks like unlimited vacation days, travel bonuses for work milestones, pets in the workplace, and birthdays off. Offering employees the chance to enjoy their personal lives makes the company more appealing, said Schade.
"Work life and home life are blended more,'' he told Boston.com "It's about letting people figure out how to get comfortable instead of putting the same constraints on others.''
Work/Life Integration
David Pollard, senior vice president of Talent Fusion by Monster, said companies looking for young talent should make special effort to think outside the box.
"This generation of employees is different,'' said Pollard. "Throwing money at millennials is not going to work…There are other things that are important to these folks.''
Pollard says today's job seekers are "very idealistic'' and are looking for companies with a link-minded culture that will offer them the chance to work and volunteer for causes they deeply care about. He says Monster is among the companies that encourage employees to pursue charitable endeavors.
"Some candidates want the opportunity to volunteer on the clock,'' said Pollard. "You see events to raise awareness for different causes and gift drives…That's very appealing.''
Values
Cambridge-based HubSpot offers employees a host of perks, including a nap room, unlimited vacations, free books, and a generous referral bonus. But HubSpot's director of talent and culture, Katie Burke, believes the company's culture is its strongest selling point.
"I think about what makes the biggest difference is less the nap room and free snacks,'' said Burke in a phone interview. "It's the transparency and autonomy that you provide to employees on a day to day basis.''
In 2013, HubSpot publicly shared its company values via SlideShare, a LinkedIn platform that allows users to share visual content such as PowerPoint presentations. So far, the 135-slide presentation has been viewed more than 1.6 million times.
Burke says the SlideShare document allows HubSpot to pitch its company culture with job seekers, partners, and potential vendors.
"Remarkable people want to do remarkable work,'' said Burke. "And they want to do that work on their own terms, so we try to create a flexible work environment to make that happen.''
Grossman expects companies will continue to be aggressive with the recruitment tactics and perks as the job market continues to pick up steam.
"Whatever it takes for the company to get the candidate in front of them, they're prepared to do that,'' Grossman said.