Jobs
Where is the Best Place to Live in Boston Based on Your Job?
HotPads will tell you what neighborhoods you can afford to live in Boston based on your salary.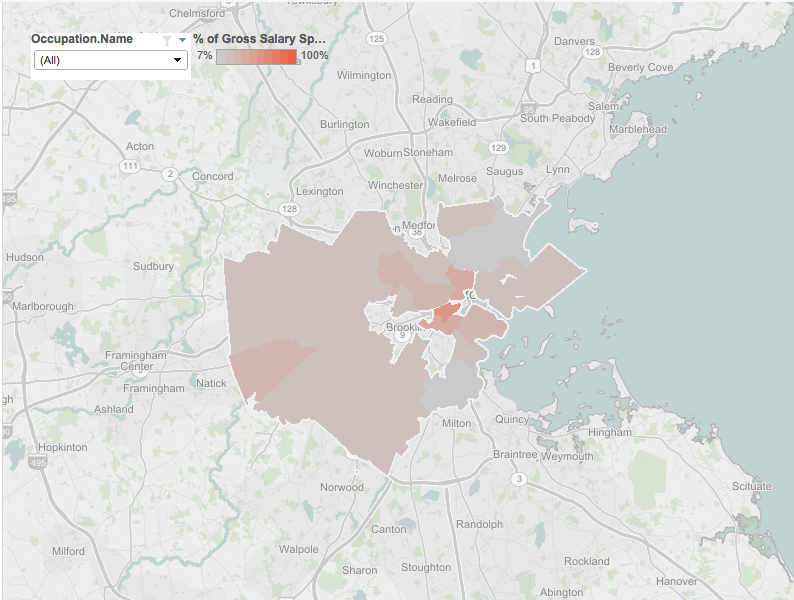 What percentage of your monthly salary goes toward rent?
HotPads, the San Francisco-based apartment and home rental marketplace, used the mean rent per neighborhood and census data for gross salaries to figure out where new college grads can afford to live in 11 different cities, including Boston.
With an interactive map, you can search for an occupation and then see what percentage of your salary would go toward rent, by neighborhood. To tailor the study toward recent grads, they used the census data for 22 to 30 year olds who hold college degrees.
According to HotPads, bartenders had the lowest gross annual salary for 22 to 30-year-old full time workers in the Boston metro area at $19,000 and advertising sales agents had the highest at $100,000.
Mark Uh, a data scientist for HotPads said that it could be interesting to do a future study to see how these percentages change for people over time.
Here are some tidbits we found in the data:
If you are a bartender living in Charlestown you might be spending 116 percent of your gross salary on rent.
If you are an astronomer or a physicist living in Cambridge, you could be only spending 26 percent of your salary on rent.
Computer programmers made a median gross annual salary of $60,000 and might be spending 52 percent of their salaries on rent if they live in the Back Bay.
If you're a financial analyst, you might spend 20 percent of your annual salary on rent if you live in South Boston and you make a gross annual salary of $80,000.
Check out the map here.