Jobs
How To Be a 'Professional Brit'
Shannon Felton is an American, but works for the British Consulate-General in Boston.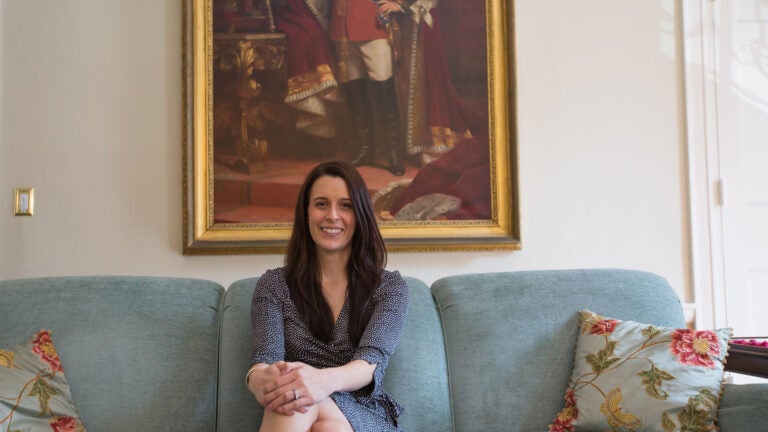 Shannon Felton smiled politely and introduced herself as a representative from the British Consulate-General in Boston.
"Hey, you're not a Brit…'' the man making her acquaintance pointed out. Regional leaders were mingling at an April 1 meeting of the New England Council, an alliance of businesses, institutions, and organizations in the region.
"I know, I'm an impostor! But I am paid by the Queen,'' Felton, 27, said.
The impostor line is one of Felton's go-to jokes when she has to explain her job. She's an American by blood, but head of politics and press at the British consulate by trade.
All In a Day's Work
Felton, a Colorado-native who graduated from Emerson College in 2010, is a mash-up of public relations manager, events planner, policy analyst, and diplomat. She works behind the scenes, but also stands front and center as the United Kingdom representative at meetings and conferences.
Her job responsibilities range from trying new British teas, to accommodating visitors from across the pond, to making sure all British nationals were accounted for after the Boston Marathon bombing.
The mission of the British Consulate-General is to strengthen relationships between the U.K. and the U.S. and to match up research and diplomatic friendships across the Atlantic.
For instance, in regards to matters such as climate change and cybersecurity, the consulate wants to forge British and American collaboration on research projects. The U.K. also wants to learn from the U.S. in areas such as entrepreneurship (it's no coincidence the consulate office is in Kendall Square, a hub for technological innovation in the Boston area), according to Felton.
There are nine U.K. consulates in the U.S. and one U.K. embassy in Washington, D.C.
Felton is the lead on the consulate's efforts on trade policy, touting the benefits of a transatlantic trade and investment partnership. She attends conferences, writes press briefings, pitches stories to the media, and visits presidential hopefuls when they visit New Hampshire.
When British diplomats and dignitaries visit New England, it's Felton's job to take them around, schedule meetings, and accommodate them in any way she can.
"It can range from anything like packing 40 box lunches for Prince Charles's visit to the U.S., to accompanying the royal photographer, to briefing a politician for a meeting,'' she said of her duties.
Notable Accomplishments on the Job:
• Found a route for a red double-decker bus that did not include any bridges or underpasses in Boston.
• Hosted a Beatles-themed party at Boston's Langham Hotel for the Beatles' 50th anniversary last fall.
• Put on a Burberry-themed baby shower in honor of Prince George of Cambridge.
• Organized a meet-up in October 2014 with editors from the GlobalPost and the Christian Science Monitor with the British Foreign Secretary Philip Hammond to speak candidly about ISIS. "The cool-ness and new-ness of my job never really wore off, but it definitely hits me more at times like that, knowing that I made it happen,'' Felton said.
By the Numbers:
• 1: number of voicemails saved from Buckingham Palace.
• 2: years on the job.
• 3: number of times she's been to London so far.
• 3: number of offices she frequents: a home office in Beacon Hill, the consulate in Kendall Square, and the official residence of the Consul-General in Beacon Hill ("The Res, it's very Downton Abbey,'' she says.)
• 4: cups of tea she consumers per day. "I am very, very American though and reuse the bags throughout the day.''
• "Definitely more than 40'': number of hours she works per week.
Dual Identity
A small makeup compact with an American flag is one of Felton's favorite keepsakes. She received it as a gift years ago, as a reminder to remember her nationality.
But part of her job is to advocate for the U.K.'s interests in the realm of U.S. politics.
"We hope the U.K. is the U.S.'s partner of choice,'' Felton said in regards to trade between the nations. "We hope we are as strong of allies as we were yesterday and as we will be in 20 years.''
"It really is a brainer,'' Felton added. "I'm not speaking for the Americans, but the U.S. and the E.U. need to set standards for a trade agreement now and continue to work together.''
Has her personal American persona ever clashed with her professional British one?
"I get asked this quite a bit, but no, I don't. Do I feel like a U.S. spy in the U.K. foreign office? Not at all.'' she said. "We're aligned culturally and ideologically. We have walked in step with each other and we don't plan on going anywhere.''
[bdc-gallery id="26406″]