Jobs
In Boston, the Fight for Better Pay Goes Beyond Fast Food
Demonstrators want low-wage workers in the U.S. to earn at least $15 per hour.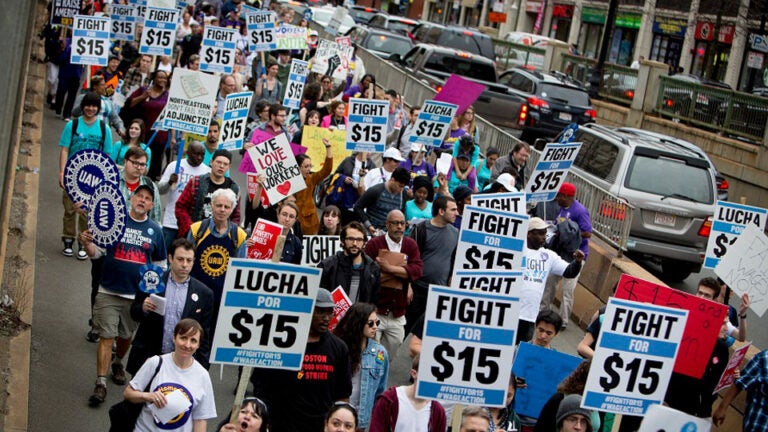 Boston University lecturer Dan Hunter was one of many adjunct professors rallying for higher wages at Forsyth Park near Northeastern University Tuesday, April 14, calling the income of local part-time faculty "counter to the American Dream.''
"Those who are given PhDs and MBAs are promised they will be useful, and yet they usually work at similar institutions to where they went or where they still owe money and qualify for food stamps,'' Hunter told Boston.com.
Hunter has taught playwriting at BU since 2002, and loves his job but feels his pay is inadequate. He said it's important for adjunct faculty to join forces with fast-food workers and other low-income employees. "People should have the right to work for a decent living,'' he said. "It's a question of fairness, of justice, and survival.''
Though many cities' 'Fight for $15' protests began on Wednesday, April 15, Boston activists started a day early. The grassroots movement calls for workers nationwide to earn at least $15 per hour and unionize without fear of retaliation.
Holding signs saying "Stop Corporate Greed,'' and "Jobs For Justice,'' thousands of low-wage workers rallied for higher pay Tuesday at Forsyth Park and the McDonald's on Tremont Street. While much of the nation has focused on the activism of fast-food workers, the Boston protesters also included adjunct professors and workers in healthcare, construction, and home care aides.
According to The Boston Globe, adjunct faculty is paid a national average of about $3,000 per three-credit course, and roughly 80 percent of adjunct professors receive no health insurance from their employer. About 86 percent do not receive retirement benefits. More than 750 BU adjuncts voted to join Faculty Forward, a part of the Service Employees International Union Local 509, in February 2014.
BU spokesperson Colin Riley said the university "looks forward to working with the union on a contract.''
The Massachusetts Legislature passed a law raising the state's minimum wage from $8 per hour to $9 per hour starting January 1, 2015, with minimum wage reaching $11 per hour by 2017. But activists demand more.
"It's pretty clear that's not enough for people to live on either,'' said Russ Davis, executive director of Jobs with Justice. Davis added that the expansion of low wage jobs across sectors has brought a diversity of workers together.
"What we have seen is the development of low wage jobs in every industry, from fast food and construction, to academia and healthcare,'' Davis said. "People aren't willing to live under those conditions anymore, and are uniting as a union to address economic inequality.''
Workers' advocates said they hope another bill introduced to the Massachusetts Legislature this year would improve the wages for some low-wage workers. The bill would require fast food chains and big box retailers with over 200 employees to pay their employees a minimum wage of $15 per hour by 2018.
The Tax Day strikes occurred in over 200 U.S. cities, with hundreds of fast-food workers in New York City kicking off April 15 by blocking morning traffic on the Brooklyn Bridge.
The Service Employees International Union began the campaign in 2012, and organizers are saying this year's protest could be the biggest mobilization of workers in the U.S. ever.
"When I see people on the streets for this issue, I am moved,'' said Hunter. "Profoundly moved. And I am not the only one.''