Jobs
A Lot of Boston Commutes by Foot. Is That Good for Business?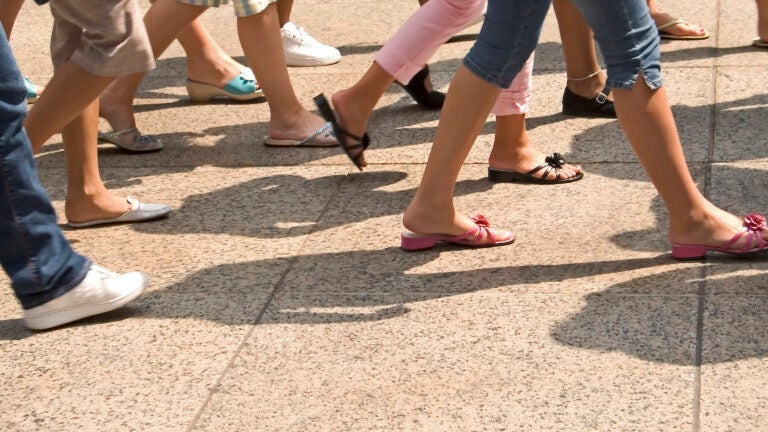 About 15 percent of Bostonians walk to work, the highest percentage of any big city.
Largely because of that, NerdWallet recently ranked Boston as the 7th most "green'' city in America.
But walking commutes aren't just good for the environment. They're good for workers.
One of the obvious benefits of walking to work has to do with physical health.
According to researchers at the Imperial College London and University College London who surveyed 20,000 people in the United Kingdom, walking, biking, or taking public transportation to work can decrease the risk of being overweight compared to taking a car or taxi.
The study also found that people who walk to work are 17 percent less likely than drivers to have high blood pressure and 40 percent less likely to have diabetes.
Avoiding car traffic can also influence mental health when you get into the office.
Dwight Hennessy, an associate psychology professor at Buffalo State College who studies work and driver stress, called this a "spillover effect.''
"When people have a more stressful commute, they get to their job and there are different things that are changed as a result,'' Hennessy told Boston.com. "The stress doesn't stop the second you get out of the car.''
There has been limited research on the direct connection between walking to the office and workplace productivity, but Hennessy says commuting by foot could definitely have a positive effect.
"[Walking] can increase productivity,'' he said. "And can change interactions between people in that [work] environment. To a business those are no joke.''
Walking does not eliminate all stresses, Hennessy said, but sitting in traffic can have very negative effects on commuters.
"While you are stuck in traffic, there is a lot of anger and accumulation of stress while it happens,'' Hennessy said. "It's just wear and tear of the body. It's just an unhealthy pattern constantly.''
He said that while walking, people can see others and stop to chat, creating a sense of community. He said seeing vegetation on your commute can also help make you feel good and good about yourself.
"We have a tendency to stop thinking about the consequences of our actions about other people when we drive,'' Hennessy said. "Our focus is getting from point A to point B. It is a social event when you drive but we think more socially when we walk or bike.''