Jobs
What it's like to be a male nurse in Boston
Busting the male nurse stereotpyes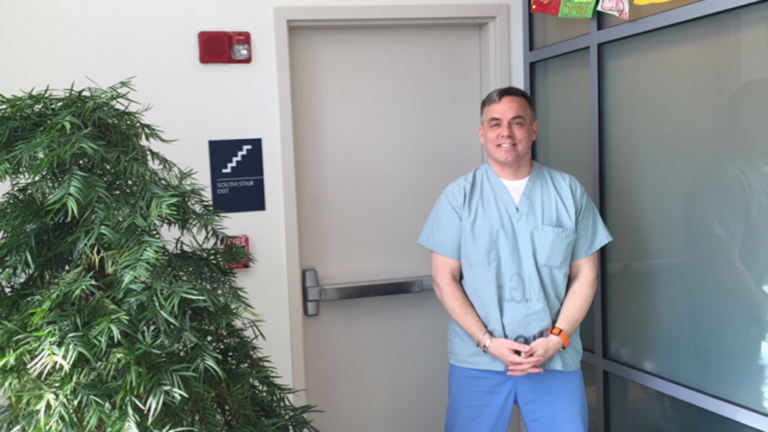 Out of the eight siblings in George Lillie's family, three of them became nurses – George, and his older twin brothers Jim and Malcolm.
"I guess it is a bit rare,'' Lillie said of being the third male nurse in his family. "I hate to say it, but it's always been thought of as a woman's profession.''
Lillie's right: While the number of registered male nurses has increased over time, they're still the minority. In 1970, only 2.7 percent of all nurses were male, while in 2011, men made up roughly 9.6 percent of the field.
The numbers might be slow to change, but 50-year-old Lillie said at least he's felt a shift in how people think about male nurses. "When you used to say you're going to become a nurse, the more mature population might say, 'Oh, you're going to be a male nurse! How unique!' But in the last five years, I've heard that less than ever.''
Lillie's older brother Malcolm, 52, was picked on for going to nursing school at Mount Wachusett Community College in Gardner, Massachusetts straight out of high school in 1981. "He's one of the strongest guys I know,'' Lillie said. "And an amazing person as a nurse.''
It took Lillie a little longer to decide on his profession. He worked in customer relations for a spell, but a trip to Florida in the 1980s during the HIV/AIDS epidemic made Lillie think about the standard of care many HIV-positive patients were receiving.
"I heard this story of a patient being treated really poorly, and I thought, 'This is what I want to do — be a nurse and work in HIV/AIDS,''' Lillie said. Following in the footsteps of his older brothers, Lillie attended Mount Wachusett while volunteering in an HIV/AIDS clinic, but said his career path in nursing took an unexpected turn.
"You can't control the train as a nurse,'' Lillie said. He fell into a position in trauma and critical care out of nursing school, later focusing on becoming an oncology nurse at Massachusetts General Hospital. Helping women fight breast cancer turned out to be his true passion, Lillie said. "The bulk of my practice here is supporting women fighting breast cancer, and I want to do this till I retire,'' he said.
Like so many of his colleagues, Lillie said the women he treats every day inspire him with their strength and courage. "As a nurse, I feel like I'm in such a unique position to see amazing women around me. Women are the strongest beings on this planet,'' Lillie said.
Though women still dominate the field of nursing, Lillie said it shouldn't deter men from entering the field. "Women bring amazing qualities, and men bring amazing qualities,'' Lillie said. "We can make this amazing team, as long as you bring passion.''
Like Lillie, Joseph Foley, a nurse at Boston Medical Center, said stereotypes about the field of nursing have been slow to shift. "People hear the word 'nursing,' and think it's a woman's role,'' he said.
Foley estimated that out of his nursing school class of about 60 at University of Massachusetts Boston, there were "maybe three'' men. "It's definitely dominated by women,'' Foley said. "But I never really thought about it as something uncomfortable,'' he added.
Foley said there have been instances when he's been treated differently from women nurses. "We're approached differently,'' Foley said. "It's more of a respect thing, doctors give us more of their time.'' In one instance, Foley said he walked into a patient's room with a female doctor and the patient's family addressed him as the doctor. "I looked at the doctor and she just shook her head,'' Foley said.
While these types of occurrences could embitter some of Foley's co-workers, Foley said he has a great relationship with most BMC nurses he works with in the intensive care unit. "I'm lifelong friends with a lot of these people I work with and they make it interesting,'' he said, adding that the "Venus and Mars thing'' is completely true, though.
Gender aside – nurses mostly face the same daily challenges, he said.
"There are times the stress has probably gotten to me,'' Foley said. "You can be with a patient for couple weeks and see them dwindle and expire, and it can take a bit away from you…But now I've been an ICU nurse for nine years and I'm proud of that. People look to me for clinical advice, and that's a compliment.''