Jobs
Nurses as Innovators: A Concept That's Changing Patient Care
As medicine grows more complicated, nurses provide ingenious ideas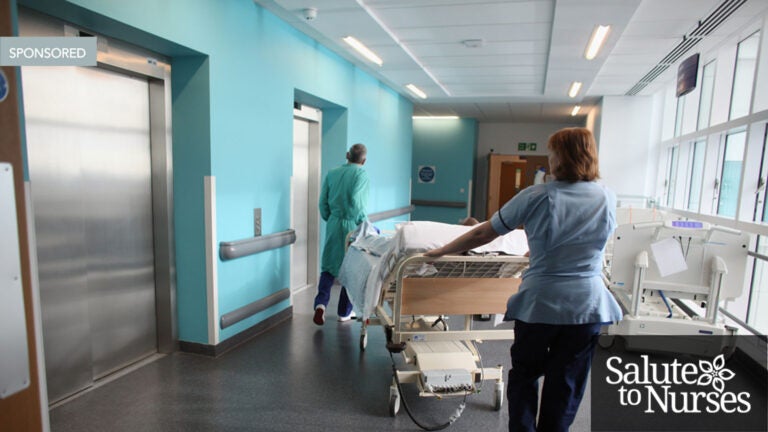 This special advertising section was produced under the auspices of the advertising department of The Boston Globe. It did not involve the reporting or editing staff of The Boston Glob or Boston.com. Editors: Spence & Sanders Communications LLC.
After 34 years as a nurse, Sharon Levine instantly recognizes the expression on the faces of patients waking up in the hospital after suffering cardiac arrest.
"The last thing patients may remember is being at work, or being with their family,'' says Levine, a staff nurse in the cardiac care unit (CCU) at Brigham & Women's Hospital. "They wake up and they're intubated, hooked up to IVs, monitors, cardiac machines, and they have no idea how they got there. You can see the confusion in their eyes. It's very frightening for them.''
The confusion and fear may continue throughout a patient's hospital stay—and beyond. Patients may experience delirium or hallucinations while in the CCU, then leave with large memory gaps about their time there. Studies indicate that, long after returning home, many patients experience symptoms of post-traumatic stress disorder (PTSD), such as flashbacks, insomnia, nightmares, anxiety, and depression, often complicated by being unable to remember much of what happened between admission and discharge.
Levine had read that nurses in European intensive-care units (ICUs) had long worked with families to keep diaries on behalf of critically ill patients to help them fill in the blanks about their experiences. She proposed trying the same approach at Brigham & Women's. "I thought, 'Why not?''' she recalls.
Levine is among a growing number of nurses asking that question—and turning their ideas into real-life changes designed to improve care for patients and their families. It's a move that's earned the support of hospitals nationwide; many provide grants or other support for nurses wishing to pilot-test or conduct studies on their innovations.
In Levine's case, she and five nursing colleagues received a grant in June 2014 to research the effectiveness of diary use in the CCU. Nurses and relatives make regular entries—not about the patient's prognosis or lab-test results, but about the patient's own experience. An initial entry might read: "You came in through the emergency room because you were in cardiac arrest. You couldn't breathe on your own, so you've had a tube placed, and you're hooked up to a ventilator. Your family is here and we're keeping them informed.'' A later entry might read: "You were tired today, but you sat up in bed for an hour, which is great.'' Ultimately, the diary, which patients take home with them, creates a timeline of their experiences.
The response: "So far, the feedback has been terrific,'' Levine says. "People have said, 'I was able to correlate some of the entries with my memories; it filled in a lot of gaps.' It sounds so simple, but it's so helpful to the patient.'' Helping patients with their emotional, as well as their physical, recovery has been life-changing for Levine as well: "It's added a new dimension to my nursing care,'' she says. Brigham and Women's, one of three hospitals nationwide conducting the program, expects to expand it to additional patients.
For Kelly Dunn and Jayne Rogers at Boston Children's Hospital, that "why not'' question was: Why not improve how the hospital communicates with its young patients' parents after discharge? Nurses have long followed up with a phone call 24 to 48 hours after patients go home, but often can't reach them: "We were spending a lot of time trying to track them down, and weren't always successful. They're working; they're busy,'' says Rogers, nursing director for inpatient medicine at Children's.
Being unable to contact patients makes nurses uneasy, especially those with very young patients. "Discharge is a very vulnerable time for families,'' says Dunn, a pediatric nurse practitioner. "I always worry about that span of time between when they leave our lobby and when they follow up with the pediatrician.''
So with a grant from the hospital's Innovation Acceleration Program, the pair and some colleagues created the DisCo, short for "discharge communication,'' program. The team built a secure program for following up by text or email. Families who opt in for such follow-up, and about 85 percent do, receive a message requesting them to respond to three questions: Have you obtained your child's medication? Have you made a follow-up appointment with your pediatrician? Are you having any problems?
If a family responds with anything other than "yes,'' "yes,'' and "no,'' respectively, an alert flashes on the DisCo desktop dashboard, prompting the nurse to check in by phone. In some cases, parents have questions they forgot to ask while at the hospital; in others, they're concerned about a post-discharge development or need help making a follow-up appointment.
More than 2,000 families have enrolled in DisCo since the program began about 20 months ago. Now in its second pilot phase, the program is beginning to expand to other floors. While its creators are thrilled with its success, they view the program as evolutionary rather than revolutionary. "It feels like a natural part of nursing care,'' says Dunn. "It's just a new way of doing it.''
Among the many innovations at Massachusetts General Hospital is the development of the attending nurse role. The concept, while transformational, is simple: Like the attending physician, the attending nurse is responsible for overseeing a particular patient's care from pre-admission to discharge. "The bedside nurse is the nurse for the day,'' says Gino Chisari, director of MGH's Norman Knight Nursing Center for Clinical and Professional Development. "We think of the attending nurse as the nurse for the stay.''
Kelly Cruise, an attending nurse at MGH, sums up the approach's primary benefit in one word: consistency. "We like to have patients leave the hospital as soon as they can. But some stay longer. As an attending nurse, you get to know all the ins and outs of that patient's case,'' which, in turn, leads to more consistent care. Claire Paras, also an MGH attending nurse, says the role enhances staff satisfaction as well by allowing staffers to build relationships with their charges.
What's behind the surge in nursing innovation? For many professionals, it's just part of the job. "Nurses are natural innovators,'' says Dunn, of Children's Hospital, who points out that staff nurses make on-the-spot decisions every day. "Nurses sit at the juncture between the patient and the system. They understand the pain points,'' says Rogers, also of Children's Hospital. "We want to encourage them to identify those issues and bring them forward for solutions.''