Jobs
When Ebola outbreaks are just part of the job
Nurse Paige Cowles Fox felt she needed to respond to the Ebola crisis.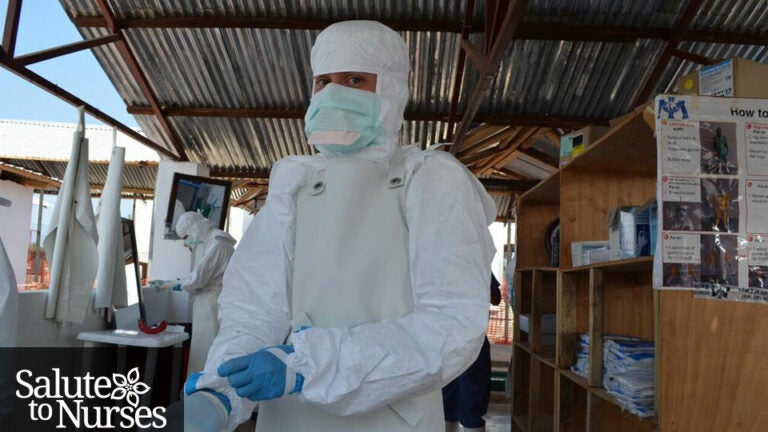 What's it like to have a job so dangerous you have to wear a full-body suit, goggles, gloves, and boots to work every day?
Probably pretty scary for most people.
But for nurse Paige Cowles Fox, who volunteered in Sierra Leone during the deadly Ebola epidemic in January 2015, it was mostly just stressful.
"You kind of know it's not without some risk, but I wouldn't say I was scared,'' Cowles Fox said. "It was definitely a high-stress environment. You're trying to prioritize tasks while the clock is running and trying to provide a lot of care to patients as best you can.''
Cowles Fox is an emergency room nurse at Massachusetts General Hospital, where she specializes in pediatric emergency care. When she first heard about what was rapidly turning into the deadliest Ebola outbreak in history in early 2014, Cowles Fox said she felt the need to respond.
"I just felt like I had skills that would be useful over there,'' she said. Working with children had given Cowles unique advantages – she could quickly assess children's health by observing their skin tones and breathing, and she's skilled at putting IV lines in tiny arms. "Not many volunteers had that experience,'' she said.
It took months to be accepted as a volunteer, but Cowles Fox left for Lunsar, Sierra Leone in January and volunteered there for 10 weeks. Once on the ground, Cowles Fox said any anxious anticipation faded away as she was thrown into grueling 12-hour shifts at an Ebola treatment center.
Every morning, Cowles Fox and the other volunteers would get patient reports for their unit. They were assigned into teams, often with staff members who were from Sierra Leone and caring for friends, colleagues, neighbors, Cowles Fox said. All healthcare providers would put on their suits, boots, masks, and gloves till they were so concealed they could only see one another's eyes.
Because it was so hot in Lunsar (the average temperature is 78 degrees Fahrenheit), it would quickly become unbearable in their personal protective equipment (PPE), Cowles Fox said, so they could only spend a couple hours at a time inside the unit. As Cowles Fox and the other providers rotated between the three patient care tents, where patients were organized by the likelihood they had Ebola, it was a race against the clock.
"You're constantly thinking about how much time you have and it's physically very demanding,'' Cowles Fox said. "A lot of patients don't end up doing very well, and that's stressful also.''
Cowles Fox said it was hard to juggle caring for her patients and maintaining personal safety.
"If you're not taking care of yourself, you can't take care of your patients anymore, so it's a big deal,'' she said. "If you breach your PPE or it rips, that's a huge deal. It's a very risky position to be in.''
Despite the high stress environment, Cowles Fox said she found the experience incredibly rewarding — and humbling.
It's hard to pinpoint exactly how you come back with a new perspective,'' she said. "You complain in everyday life that things are stressful at work, and now, I'm always thinking or comparing those things to the stressors I encountered there.'' Since the first reported case of Ebola in December 2013, the disease has caused 10,704 deaths worldwide. And it's not over. Thirty-three new cases were reported in Sierra Leone and Guinea in the week leading up to April 19, 2015.
While Cowles Fox hopes the pediatric skills she taught local workers help them provide the best possible care to children now and during future Ebola outbreaks, she also hopes she retains some of what she learned in Lunsar.
"I think it put a perspective on trying to connect with people when there are so many barriers,'' she said. "Language barriers, cultural barriers, and the PPE suit. So you have to find some way to build that bond with these patients. I'm sure that's helped make me a lot better at trying to build connections with my patients and their families.''