Jobs
Mass. treats working moms right, study says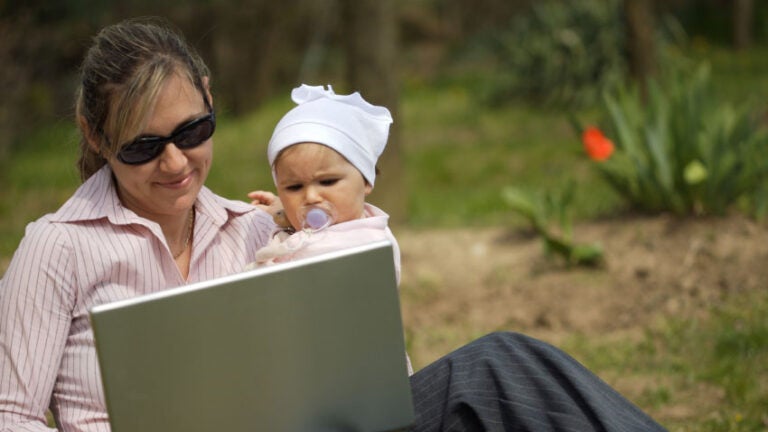 In case you've let it slip your mind, Mother's Day is May 10. The good news is you still have time to pick up a card, flowers, or make that phone call to tell your mom how much you love and appreciate her.
But there's more good news for moms in Massachusetts. According to a new study from consumer finance company WalletHub, the Commonwealth is one of the best states for showing working mothers appreciation.
According to WalletHub's findings, Massachusetts is the fifth best state for a working mom. WalletHub arrived at this conclusion after reviewing 12 key metrics in three categories: child care, professional opportunities, and work-life balance.
Last year, Massachusetts ranked ninth for working moms. Jill Gonzalez, a spokesperson for WalletHub, said the company added new metrics to this year's study that helped Massachusetts improve its score this year.
"This year we added the rate of female unemployment, the number of single moms with children under 18 living in poverty, and the median annual salaries for women adjusted for the cost of living,'' said Gonzales in a phone call with Boston.com.
"Massachusetts did well across these three metrics and that's what helped push it into the top five.''
Here are some highlights of how Massachusetts performed in each metric (1 is the best score while 25 is average):
• 17th – Day care quality
• 2nd – Access to pediatric services
• 26th – Gender pay gap (women's earnings as a percentage of men's)
• 25th – Ratio of female to male executives
• 9th – Median women's salary (adjusted for cost of living)
• 21st – Female unemployment rate
•16th – Parental leave policy score
• 6th – Length of the average woman's workday
• 12th – Percentage of single-mom families in poverty
One key metric where Massachusetts could stand to improve is in the cost of child care. According to WalletHub's findings, Massachusetts has the third most expensive child care in the country, behind New York and the District of Columbia.
"To look at this, we looked at [the] median women's salary and the percentage of salary that was going to child care costs,'' said Gonzalez. "Massachusetts was above 30 percent.''
Two other New England states outpaced Massachusetts in WalletHub's study. New Hampshire took the fourth highest spot, while Vermont beat the other 49 states and D.C. to take WalletHub's top honors. Gonzalez offered some advice on how Massachusetts can at least move ahead of New Hampshire next time.
"One of the rankings we looked at was parental leave so that's something a state can really work on,'' she said.
"The federal law was the Family Medical Leave Act, which is limited in a number of ways,'' she said. For example, the federal law only guarantees qualified employees unpaid leave and only applies to companies with over 50 workers.
"More states are creating their own laws to address the gaps in the federal law,'' said Gonzalez. "That's something Massachusetts can do to improve its score and beat New Hampshire.''
Locally, the Boston City Council has proposed a law that would provide municipal employees with six weeks of paid parental leave.
Check out the map below to see how each state ranked for working mothers:
[fragment number=0]