Jobs
These companies have what graduates want.
Cause work, diversity, and collaboration are all important to millennials.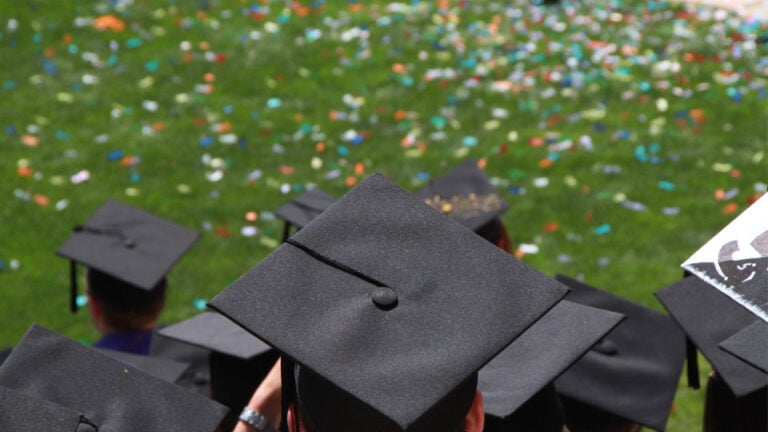 This spring, thousands of millennials will enter the Greater Boston workforce, looking for companies who can give them what they want. But besides good benefits and compensation, what is that, exactly?
Using The Millennial Impact Report, a study sponsored by The Case Foundation that tracks millennials, Boston.com found companies providing some of the factors those born between 1980 and 2000 search for in a job.
What do millennials want & who's offering it?
Cause work
According to the study, those born between 1980 and 2000 show a desire to use their talents and passions to "do good at work.'' Companies that want to build an attractive culture should recognize millennial employees' need to combine their full-time job with cause work — any initiative or program that is charitable in nature.
Who offers it:
Kronos Inc. (Technology, Chelmsford)
Kronos places a heavy emphasis on work-life balance and community engagement through their "Give Inspired'' program that "encourages employees to work and live with purpose.'' Kronos has partnerships with Adopt-A-Classroom, the YMCA Greater Boston, and ANK India, which provides education to underprivileged children.
Matter Communications (Public Relations, Newburyport)
Matter encourages its employees to give back to the community by cooking tacos together at Haven from Hunger food pantry.
Collaborative work culture
"The Millennial generation is moved by the participation and passion of their peers,'' the study states. Millennials want to build strong interpersonal relationships with co-workers, with 78 percent of 1,500 employees surveyed preferring group volunteering over independent cause work.
Who offers it:
Boathouse Advertising (Advertising, Waltham)
Boathouse has an annual summer outing to foster employee bonding. For summer 2014, they went to Woodstock, Vermont and took a company boat-trip down the Connecticut River. Another year they went to Newport, Rhode Island and saw "America's top sailboats.''
Philips North America (Electronics, Andover)
With no assigned workstations, employees are ascribed to "neighborhoods'' with coworkers on the same team. Employees have the flexibility to sit anywhere they want once they get to work, fostering the free flow of ideas.
Sells, produces, or does something meaningful
Millennials want to have a "belief in their company's mission and purpose,'' the Case Foundation's study states. This corresponds with a report by consumer insight company The Intelligence Group, which found that 64 percent of millennials want to "make the world a better place.''
Who offers it:
Flour (Cafe & bakery, Boston and Cambridge)
What could be more meaningful than providing delicious food to your neighbors? Flour hires employees primarily based on "character and personality,'' and does its part making the world a better place by donating the proceeds of its baking classes to charities like "Bakes for Breast Cancer.''
Massachusetts General Hospital (Healthcare, Boston)
Oncology nurse George Lillie provides care to women fighting breast cancer on a daily basis. He described the job as "an honor,'' saying, "As a nurse, I feel like I'm in such a unique position to see amazing women around me. Women are the strongest beings on this planet,'' Lillie said. What could be more meaningful than that?
Flexible office environment
Whether this means flexible hours, or the ability to occasionally work from home, millennials enjoy having more independence when it comes to their work environment – 74 percent of those surveyed by The Intelligence Group said they want flexible work schedules.
Who offers it:
RunKeeper (Fitness tracking app, Boston)
RunKeeper often lets employees work from home on Fridays, bring their pets to work, and take unlimited vacation time –- within reason.
CarGurus (Technology, Cambridge)
Besides encouraging employees to take advantage of catered lunches, a health club, beer on tap, and a game room, CarGurus workers have flexible work hours.
Attention to diversity/ HR awards
According to a 2014 Pew Research Center survey, the millennial generation is America's most racially diverse generation, largely driven by the wave of Asian and Hispanic immigrants coming to the U.S. for the past half-century. It's natural that they want to see this diversity reflected in the workplace.
Who offers it:
ALKU (Technology, Andover)
"We understand the advantages of bringing individuals with different backgrounds, cultures and ideas together,'' ALKU's website states. In addition to diversity, the company cares about giving back. Employees have the option to take an elective payroll deduction for worthy causes.
Bright Horizons (Human services, Watertown)
This early education provider prides itself on focusing on "diversity and talent'' in the hiring process, and furthers this commitment by providing diversity training to all new employees.
Bright Horizons made the cut for Boston.com's "2014 Top Places to Work: Largest Companies.''
These were the other top large companies:
[bdc-gallery id="31006″]
Unique perks
Less traditional company perks are attractive to millennials, who've grown up in an age where a bevy of innovative startups offer unique incentives to employees.
Who offers it:
HubSpot (Inbound marketing, Cambridge)
HubSpot was recognized by Glassdoor for its innovative office space, which include "standing desks, an IT vending machine, and a nap room.''
BBS, Inc. (Marketing, Woburn)
BBS pays for 50 percent of all workers' gas to and from the office, but if an employee does particularly well in a weekly sales competition, he or she might receive a $25 or $50 gas card as well. Other employee perks include "free 4G tablets, company polo shirts, jackets, and duffel bags.''