Jobs
Minimum wage employees need 110 work hours per week for a 2-bedroom apartment in Mass.
The minimum wage is $9 per hour in the Bay State.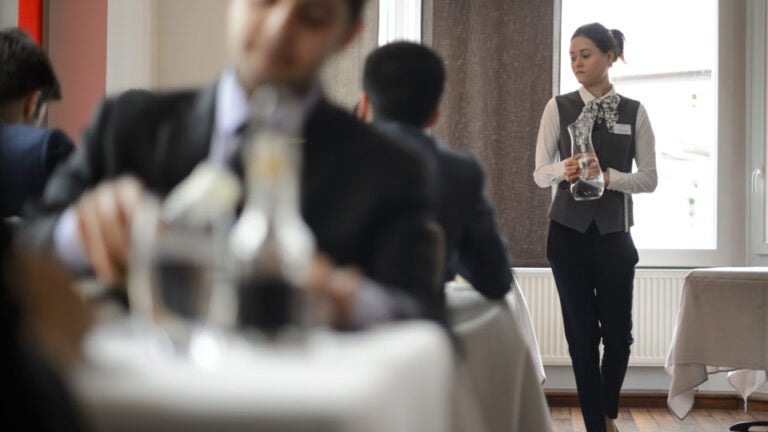 Minimum wage workers in Massachusetts making $9 per hour would have to work 110 hours a week to reasonably afford an average two-bedroom apartment in the state, the latest report by the National Low Income Housing Coalition finds.
As WBUR explains, the Coalition "bases its calculations on how much a household would need to earn to keep costs associated with renting at or below 30 percent of income.''
The report showed just how hard it is for minimum wage workers to afford rent in the Bay State, especially in Boston where they would have to work roughly 128 hours a week to afford the rent on a two-bedroom unit.
While the report lists the fair market rate of an average two-bedroom apartment in Massachusetts as $1,281, that number jumps to $1,494 in the Boston, Cambridge, and Quincy metro area.
The report also identifies a "housing wage'' – the hourly wage that would let someone afford rent on a two-bedroom apartment while working 40 hours a week. In Massachusetts, it's $24.64, and $28.73 for the Boston metro area.
Though that number is still far above the minimum wage, the report's findings have actually improved over the past few years since minimum wage was raised January 1, 2015. In 2013, for example, the report found that minimum wage workers in Massachusetts needed to work 120 hours a week for a fair-market two-bedroom unit.
The cost of renting in Boston has long been a concern for residents, which prompted Mayor Marty Walsh to launch the "Boston 2030'' housing initiative, which aims to add 50,000 new housing units to the city in the next 15 years, including 20,000 affordable units.
But if you want to be able to afford rent before 2030, your quickest route may be to head back to school.
Check out our list of high-paying jobs that don't require a four-year degree.
[bdc-gallery id="30517″]