Jobs
Why all those Harvard kids are consultants, even when they don't really want to be.
A survey showed 15 percent of 2015 grads are going into consulting, but only 0.5 percent want to be in that field in a decade.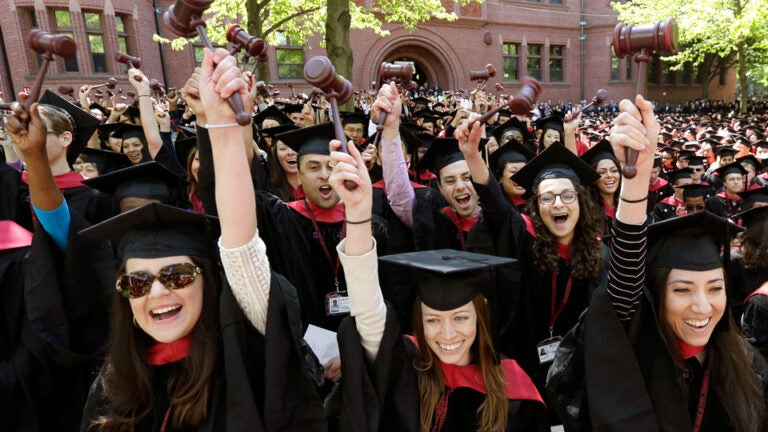 A lot of 2015 Harvard grads are going into consulting, though it's not what they really want to do.
After conducting a survey of Harvard seniors, The Harvard Crimson reports that while 15.43 percent are going into consulting immediately after graduating, only 0.55 percent want to be in that field 10 years from now. No other industry is skewed to that degree.
(The graduating class data for Harvard was gathered through The Crimson's annual spring survey. This year, roughly half the class – 760 people – responded to the emailed survey. )
Why the disparity?
These are the fields 2015 Harvard grads are going into (and the fields they desire to be in a decade from now):
[bdc-gallery id="28578″]
Tough to turn down
To put it simply, top-notch consulting firms aggressively recruit Ivy Leaguers because these students add esteem to companies' names, while indecisive students are attracted to well-paid, prestigious jobs where they'll be exposed to a variety of businesses. Throw in the fact that most of these consulting firms only expect the recruits to fulfill two-to-four-year contracts, and you have a perfect match.
Associate Professor Lauren Rivera of Northwestern University's Kellogg School of Management studies hiring and class, and told Boston.com that elite consulting firms make Ivy League students feel coveted. "They wine and dine students and tell them they're the best and brightest,'' Rivera said. "They appear on campus at a time when students have a lot of anxiety about what they want to do.''
This is what Matt Jorgensen experienced after graduating from Dartmouth College in 2012. Jorgensen currently runs "Rousers,'' a startup that sells men's overalls, with classmates and co-founders Ben Waller (also a former consultant) and Aidan Nelson, but before his 2014 plunge into entrepreneurship, Jorgensen worked at consulting firm Bain & Company right out of college.
"I grew up always wanting to be an entrepreneur,'' Jorgensen said. "But I didn't feel I had the skills or wherewithal to do my own thing right away. I thought Bain would be a good opportunity to make some money, meet people, and get what I considered a 'mini MBA' out of college and see what successful businesses look like.''
Jorgensen first became aware of consulting at a "highly visible'' recruiting event his sophomore year, where Bain internships were framed as stepping-stones to golden careers, he said. The positions were much sought after by his peers, which made the job even more appealing to the competitive economics major.
"To a lot of people, there's a lot of appeal because we're used to being told what hoop to jump through, and we like knowing that if we do that, we will come out the other end with a lot of options, and consulting definitely doesn't close any doors,'' Jorgensen said. "But in some ways, there's a little bit of a phenomenon that I bought into, but I'm not sure it's optimal.''
No accident
In the 1980s, many consulting firms shifted from a hiring system that employed people in a "one-off fashion'' through informal networks, according to Professor Rivera, to a focused, on-campus recruitment where firms hire directly from graduating classes at the most respected schools.
Hiring "the best and the brightest'' gives consulting firms prestige when pitching their services to potential clients, regardless of students' academic backgrounds. Rivera said they often hire biology and English literature majors knowing that most of the recruits will only work for the firm for two to four years – and that's okay.
"Firms actually pride themselves on their alumni network, so having people go out into different occupations not seen as bad thing,'' Rivera said. "Having alumni go into the nonprofit sector or government increases the reach and influence of their alma mater.''
Multinational management consulting firm McKinsey & Company boasts that its alumni – nearly 30,000 – work in "virtually every business sector'' in 120 countries.
A professional future?
The low number of Harvard grads who want to work in consulting 10 years down the road may reflect the tough lifestyle at these firms, where 60-hour work weeks and traveling Monday through Friday is the norm, Rivera said. But this probably won't stop students from being drawn to the positions.
Jorgensen doesn't regret his time at Bain. He learned the basic skills of project management, and the position certainly looks good on his resume.
"Would I have learned just as much going straight into start up?'' Jorgensen asked. "Maybe, and maybe it would have been more relevant to what I'm doing now. But from the perspective of potential investors and teams I want to join, people recognize the value of a strategy consulting background.''
But Jorgensen still has doubts about consulting.
"I do worry a little bit about friends of mine who did have other strong interests but got sucked into consulting or finance because of the prestige of it,'' he said. "It is what it is.''