Jobs
Here's what a lunch break at the Lawn on D looks like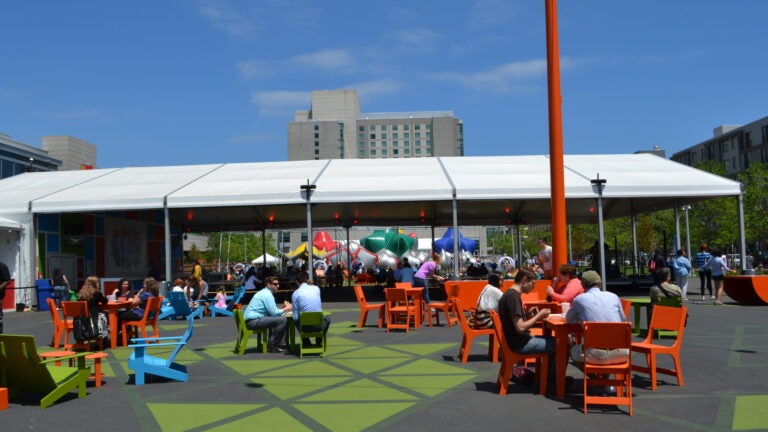 We have all had a sad desk lunch at least once. Some of us have them most days.
Lawn on D is trying to put a stop to that.
During the summer months from noon to 2 p.m. on Fridays, Lawn on D becomes a worker oasis of sorts with live music, places to sit outside, food trucks, corn hole, ping pong tables, and even swings.
Lawn on D consists of almost three acres of land on D Street right next to the Boston Convention and Exhibition Center being used as an "experimental event landscape.'' The goal is to encourage "public engagement, foster creativity and test opportunities for integrating the Boston Convention & Exhibition Center (BCEC) into the urban fabric with arts, music, games, food & beverage and other community-driven programming.''
Last Friday the weather was perfect and the sun was out during Lawn on D's lunch break, where local workers, babysitters, and tourists were out to listen to the live music and eat ribs on the lawn.
[bdc-gallery id="28251″]
Katie Hauser, director of communications at Massachusetts Convention Center Authority, which owns and operates Lawn on D, said this is first year such lunch breaks will be a weekly occurrence.
"It's great!'' Hauser said, standing under the white tent with picnic tables and a live band from Berklee College of Music to her left. "We did it last year a few times but see even more attention now that the word is out.''
The lawn is open every day, but official work "lunch breaks'' are just on Fridays.
"There's nothing like this in Boston,'' she said.
And the attendees seemed to agree with her.
"I love it,'' Laura Hunter, digital creative manager at the Massachusetts Convention Center Authority said. "It's an escape from the workplace.''
Since Hunter works next door at the convention center, she and her coworkers can walk over, get lunch from the food truck (which she said was "delicious''), and play a game of corn hole.
Michelle Mac works at John Hancock and she said she tries to get outside for lunch when it's nice outside. She came to the Lawn on D with a few friends from work.
"This is my first time,'' she said. "I like it and am a fan of the music.''
Others came to the Lawn not for a break but to get some work done. Christine Atchinson, who was relaxing on one of the many adult swings at the lawn, babysits during the day.
"It's a good activity for the little guy,'' she said. "I feel like it would be fun for adults. It's like an adult playground.''
Joellen Carr from Texas, who was playing pingpong, was visiting her family on vacation.
"There's lots to do,'' she said while taking a break from her game. "Fun games and good food!''
See which bands and food trucks will be at Lawn on D this Friday.