Jobs
The glass ceiling still looms in Mass.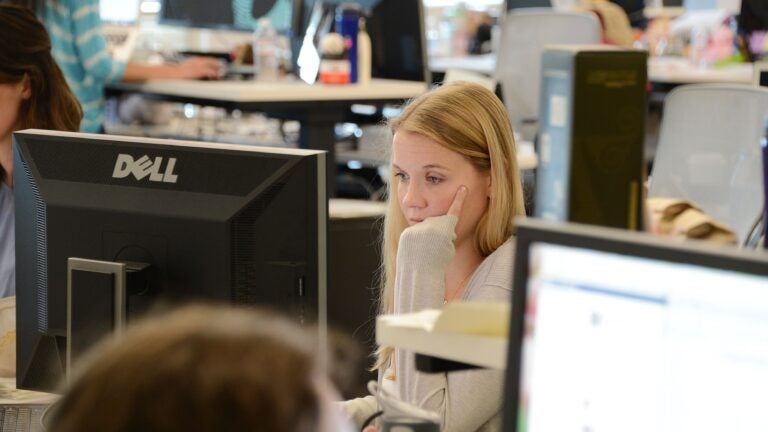 In May, The Boston Globe examined the salaries of the 10 highest-paid executives in Massachusetts. Only one woman, Carol Meyrowitz of TJX Companies, was among the Commonwealth's highest-paid executives.
According to a report issued by the Women in the Workplace Initiative, women hold only 13.8 percent of board of director positions in Massachusetts's 100 largest publicly-traded companies. This is below the national rate of 17 percent.
Meanwhile, a recent survey from Monster.com highlights the dim prospects the newest generation of women see upon entering the workforce. The career company's report found only 16 percent of college women were "absolutely confident'' they will land a job after graduation compared to 27 percent of men.
To Beth Monaghan, principal and co-founder of public relations firm InkHouse, this is evidence that women have not made as much progress in cracking the glass ceiling as they should have.
"The feminist movement started in 60s, so it seems like we should have made more progress since then,'' said Monaghan. "When you dig into the numbers it's startling.''
For example, Monaghan points out only 4 percent of venture capital funding goes to women-backed companies and women only hold 4.2 percent of Fortune 500 CEO positions.
Even the PR industry where she works is not immune. In a recent op-ed Monaghan points out that although women hold most public relations jobs – between between 60 and 80 percent – men occupy 80 percent of the management positions in the industry.
"I was shocked that in an industry dominated by women, we haven't even gotten it right ourselves,'' she told Boston.com. Monaghan says too many institutional infrastructures still favor men.
Betsy Myers, founding director of the Center for Women and Business at Bentley University agrees a cultural shift is necessary to help grow the ranks of women in business. The center helps run the Corporate Challenge, a campaign from the Women in the Workforce Initiative that seeks to expand the role of working women in businesses and nonprofits.
"The workforce was designed a long time ago by men,'' said Myers. "It was created by men for men at a time when most men had stay-at-home wives.''
Companies need to catch up, said Myers, not just to retain female talent but millennial workers, global talent, minorities, and other groups. With these new groups of employees, businesses are forced to revisit the effectiveness of their policies.
"Companies are trying to figure out how do we recruit and retain, not just women, but best workers in a competitive environment,'' said Myers. "It doesn't make sense to recruit people and lose them in a few years.''
So far 117 companies across Massachusetts have signed on to the Corporate Challenge to help grow the ranks of women on their boards.
"You have to be an organization where people feel valued, included, and don't have to hide who they really are,'' said Myers. "That's what companies are trying to figure out.''
The Monster.com survey also found 48 percent of college men believed their first salary job after graduation will exceed $50,000 a year. However, only 33 percent of college women surveyed felt the same way.
Joanie Courtney, senior vice president of Monster's Global Insights, believes the survey may say more about the generation of graduates who grew up during tough economic times.
"What we're seeing is this graduating class is less confident because they've lived through the recession,'' said Courtney. "They've seen parents, older brothers, sisters struggle and so there's more hesitancy and cautiousness about the overall job market.''
But that hesitancy is hitting women particularly hard as they look for work for the first time, said Courtney. In addition to questions about starting a career, Courtney said women have "additional dynamics at play.''
"We're seeing women are very motivated by receiving education and getting into the workforce and getting a career started,'' said Courtney. "But they also think about getting married, starting a family, having children…It's a dynamic that can impact women in executive roles and their desire to climb the corporate ladder.''
Myers believes a change in business environments is inevitable, especially as a younger generation starts entering and influencing companies' practices.
"By 2025, the millennial generation will be 75 percent of the workforce and driving these changes,'' said Myers. "We're going to see a different workplace in 10 years. I think we're gong to see it. I really do.''
Check out the salaries and compensation of the highest-paid female chief executives in Massachusetts.
[bdc-gallery id="26997″]