Jobs
Americans are taking fewer vacation days. Does it help anybody?
An analysis by Oxford Economics showed employees who skipped vacation were less likely to get promoted than those who took time off.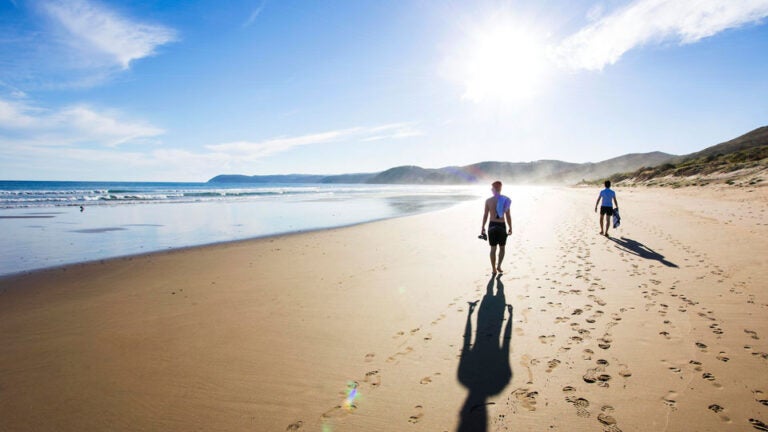 If you're stressed about your upcoming performance review, you might be tempted to forfeit your paid vacation days, hoping the extra face time will make you more likely to get promoted.
But an analysis by Oxford Economics, a company that provides economic forecasting to financial institutions, showed the opposite: Workers who didn't take vacation were actually less likely to get promoted.
"Employees who left 11-15 days of [Paid Time Off] unused last year are actually less likely (6.5% less likely) to have received a raise or bonus in the past three years than those who used all of their PTO,'' the analysis, sponsored by American Express, states.
Oxford Economics examined the Bureau of Labor Statistics's Current Population Survey, finding American workers permanently lose 169 million days of PTO each year.
Katie Denis, senior director of "Project: Time Off,'' a research-driven initiative by the U.S. Travel Association to show the benefits of taking earned time off, said employees who forfeit their PTO don't benefit from the "fresh thinking'' their co-workers might experience after vacation.
"The extra face time doesn't help you,'' Denis said. "There's something to this 'refreshed thinking,' too. Vacations allow you to be more creative.''
Although the U.S. Travel Association stands to benefit from convincing people time away leads to "refreshed thinking,'' the argument is supported, at least anecdotally, by other sources. The idea behind Instagram came out of a vacation in Baja California, Mexico. And according to a survey of 1,000 small business owners in the UK who had successfully been in business for five years, one in five startup ideas come to entrepreneurs while on vacation, Forbes writes.
Story continues after gallery.
These were Boston.com's top large places to work in 2014:
[bdc-gallery id="31006″]
But as Harvard Business Review recently pointed out, "There is a paradox around vacations.'' The time off is supposed to be used for bonding with friends and family and reducing stress, but as a vacation approaches, many workers are overwhelmed with dread.
Why?
Psychology Professor Arthur Markman of The University of Texas at Austin writes that distance is to blame. When objects are far away, people tend to think about them abstractly, but the closer they become, the more people stress about the details.
"As the vacation gets closer, your thoughts become more specific,'' Markman writes. "All of the details that are required for you to go on the trip come into view. You think about getting your passport renewed or reserving space on an excursion.''
This type of thinking can make people question why they'd even take a vacation at all.
The number of annual vacation days American workers use has steadily declined over the past two decades, the Oxford Economics analysis also states. From 1976 to 2000, American workers used 20.3 days of vacation each year, but since then, the number has dropped off, with Americans reporting 16 days used in 2013.
"That's almost an entire workweek lost,'' Denis said. "When we studied why people weren't getting away, it wasn't really cost – that was a distant [third] fear. Numbers one and two were 'a fear of workload piling up,' and 'a fear that no one can do the job while they're away.'''
So how can employees actually enjoy their paid time off?
Denis recommended planning far in advance: "Send reminders of when you'll be out, and make sure your co-workers will be covering for you.''
Time management coach Elizabeth Grace Saunders suggested this as well, adding that employees should take "at least a half day off of work'' before leaving to give some margin for any final packing details or errands. For when workers return, Saunders also writes they should consider arriving home a day early so they have time to unpack, do laundry, and sleep before heading back to the office.
Sometimes vacations can seem just as stressful as work, but if you forgo yours, you might not be helping anybody.