Jobs
Meet the people bringing the written word to those who can't see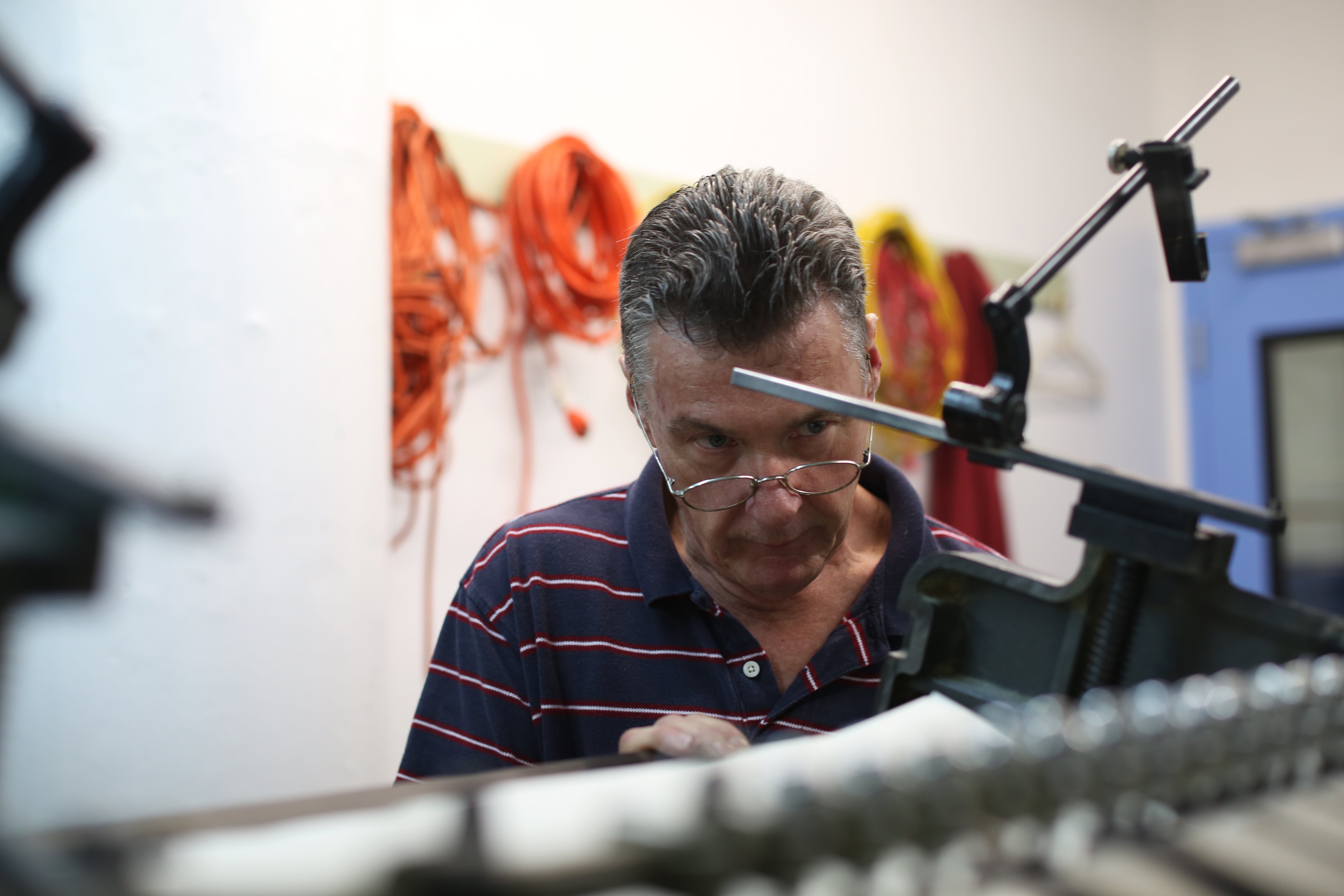 The National Braille Press would be easy to miss.
It's located in a building steps from Northeastern University on an idyllic one-way road with little car traffic and many trees with blooming flowers. The outside of the building has grey steps that lead to a small sign that says National Braille Press, Est. in 1927.
Upon ringing the bell to enter, it would seem like a fairly typical Boston office – there's a receptionist, a staircase and some offices – but with telling details. There is a conference room with portraits, one of which shows a man with his eyes closed and his fingers running across a page. Against the other wall are books, most of which don't have illustrations on the cover, just a title and raised bumps.
This unassuming building houses all stages of a printing press that prints 75 to 100 braille books per year for the Library of Congress, braille menus for Starbucks and Wendy's, cookbooks, airline safety guides, children's books, Harry Potter, tests, and the Bible. It also houses a unique collection of workers, both blind and sighted, who shared with us the details of their jobs.
From radio to print
Joe Quintanilla, vice president of development and major gifts, sat in a chair in the conference room with his cane by his side. He was wearing a suit and a tie that spelled out NBP, for National Braille Press, in braille – an interesting choice for a man who can't actually read the code.
As a kid, Quintanilla explained, he was pulled out of class every week to meet with a teacher for the visually impaired. And he hated it.
"I didn't like being pulled out of class,'' he said. "I had some vision. Sometimes you have denial and don't want to use adaptive strategies.''
Quintanilla said he had a good memory and was getting good grades, so he didn't put much focus on learning braille. When he got into high school he tried to pick it up, but by college he realized he had missed out.
"I lost out because of my decision not to push braille,'' he said. "I wanted to pursue a career in radio.''
Quintanilla went to Boston College and majored in communications, while also running on the cross country team. (He also ran the marathon in the 1996 Paralympics.)
"I thought I was good and funny [on the radio],'' he said. "They gave me a script and I would listen to it.''
But after a making a few mistakes, he realized that reading scripts was key…So he found a new career path.
Quintanilla now helps raise money to subsidize the high cost of making braille books so that blind people don't have to pay more than sighted people in order to read. He's been with NBP for four years, during which time he has improved his braille reading ability.
"I got more braille skills,'' he said. "But it was a detriment to me not to have it. Braille is a tremendous part of learning.''
The people behind the process
That is the goal of the National Braille Press – to provide access to learning through books and more to blind adults and children.
And it all starts with the transcribers upstairs.
Julia Parmalee graduated from Bryn Mawr College with a degree in Greek and Latin. After school she did some odd jobs, like taking care of pets, until she read a Boston Globe article about NBP in 2006.
"It described what a braille transcriber did,'' she said, sitting in her chair, her computer screen filled with braille dots. "It's what I wanted to be doing.'' Parmalee is sighted and said she had never thought of this as a career path before.
Parmalee uses a software called "Duxbury Braille Translator'' to create code, which converts the printed word to braille. She also needs to look for words that weren't coded correctly.
"In a mystery novel it [wrote] 'defective' instead of 'detective,''' she said.
Once she thinks it is correct, she sends it across the hall to the proofreaders.
Story continues after gallery
Take a look inside the National Braille Press building:
[bdc-gallery id="26964″]
Amber Pearcy has been a proofreader at NBP since 2012. She graduated with a degree in psychology from Louisiana Tech University and has been reading braille since she was three years old.
As a proofreader, she reads the braille that has been transcribed, looking out for errors.
"It's about how careful we are,'' she said sitting in a chair with her guide dog underneath her desk. "Some documents are scanned and we might see an 'L' for an 'I' or sometimes there can be added or deleted dots.''
She also has to make sure the document is formatted correctly, like if something is supposed to be laid out in a list.
"It's all about the details.'' Pearcy said. "Our mission here is really important. [It] encompasses every stage of someone's life. I started learning braille at three and I always had it at my fingertips.''
Next, Bill Maling, the plate embossing device operator, who has been working at NBP since 1980, takes charge and uses the proofread sheet to emboss the braille dots onto a piece of metal.
Proofreaders take another look to make sure the text is correct, and then the metal is brought to its final destination – what Quintanilla called "the heartbeat of NBP.''
The metal plates are placed in the 50-year-old Heidelberg press machines where they then use the plates to mass produce the book's pages.
After all the pages have been pressed, they are carried across the hall where they are hand folded, stapled or bound, and put in envelopes to be shipped out.
According to Quintanilla, the NBP produces over 9 million pages of braille per year.
"The challenge for braille is the notion that braille isn't needed anymore,'' he said. "As long as people need to read, braille is going to be a must. Technology can enhance braille usage, but it can't replace it.''