Jobs
Getting laid off every year…and loving it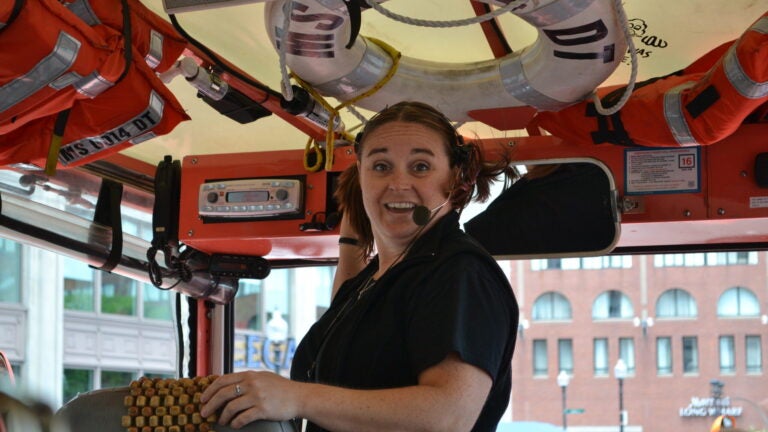 Colleen McKinnon has been laid off every October for the last 14 years.
In fact, she accepts the job knowing she is going to be laid off.
McKinnon, better know as PJ Keen when she's at work, is a ConDUCKtor for Boston Duck Tours. She's also a farmer, a florist, and a cruise ship stewardess and deck hand.
"It's a nice offset,'' she said of her seasonal schedule. But the Duck Tours job is one she comes back to summer after summer, for its flexibility, getting to talk to kids, and having Boston as her office.
"There's no turning back!''
There was 1950s music playing aboard McKinnon's duck as the tourists walked up the stairs to their assigned seat. McKinnon came in last. She put up the stairs, locked them shut and said, "There's no turning back!''
McKinnon was wearing pink pajama pants and had pigtails in her hair as she stood at the front of the duck.
"Hi everyone my name is PJ Keen,'' she said with her headset on. "PJ for obvious reasons.'' She pointed to her pants and the tourists seemed to get a kick out of it.
"I suffer from sleepy episodes,'' she said. "Naps are the greatest things on earth.''
She gave a few safety tips and then announced in a Boston accent, "We are outta here!''
McKinnon was born and raised in Massachusetts. She went to college in New Hampshire at Franklin Pierce University where she majored in American history and theater.
During her junior year of college, McKinnon interned as a curator at the Supreme Court building in Washington D.C. where she gave tours.
"I realized I was good at it,'' she said. And she still is.
McKinnon guides four or five tours a day, entertaining passengers for 90 minutes at a time, all while fighting through Boston's winding streets and traffic.
"When you tell someone you're a Duck Tour guide, they say it's cool,'' she said. "And it is! But it's hard.''
Boston traffic is one of the hardest parts. "Traffic is worse than the Big Dig this year,'' she said. "Everywhere you turn there's someone digging up a street.''
With the duck stopped at a traffic light, McKinnon looked back at the tourists through her rear view mirror.
"I know an entire page of TheCat in the Hat from memory,'' she said after telling the crowd that Dr. Seuss was from Springfield. At lightning speed, she recited the passage while stopped at a light at the corner of Boylston Street and Arlington Street.
Story continues after gallery
A look at what its like to be a ConDUCKtor:
[bdc-gallery id="29161″]
"I get laid off every year''
McKinnon started working as a Duck Boat ConDUCKtor 14 years ago.
Duck Tours is very flexible in letting her decide when she comes back to work. Though the tours start up in March, McKinnon often doesn't come back until the summer months.
"I get laid off in the winter and work from June to October,'' she said. "But they pay my insurance throughout the winter.''
McKinnon doesn't sit around in the wintertime. She said last winter she worked as a stewardess and deck hand on a yacht in the Caribbean.
Her grandparents also own a farm near her house, which she has been working at since 8th grade. Her grandma is a florist, so she does some of that too.
"Welcome to the Charles Rivah!'' McKinnon said as her duck passed under the Zakim Bridge and rolled into the water, becoming a boat in the process.
As she took the group toward the Longfellow Bridge, she allowed the kids to come up to the front and take control of the wheel (with her guidance, of course). She asked each of them what they wanted to be when they grew up, which elicited responses such as wrestling coach, doctor and famous inventor.
"Sometimes kids will come up and give me a hug,'' she said. "It's the best feeling in the world.''
McKinnon and her helpers drove under the Longfellow Bridge to a perfect, unobstructed view of the Boston skyline from the middle of the river.
"Welcome to my office!'' she said.
Despite the traffic and sometimes frustrating passengers, McKinnon realizes her job is pretty cool.
"This is the best job in the world,'' she said.