Jobs
What it takes to run New England's elite sports camp
Wilt Chamberlain, Julius Erving, and Walt Frazier played at Kutsher's Sports Academy.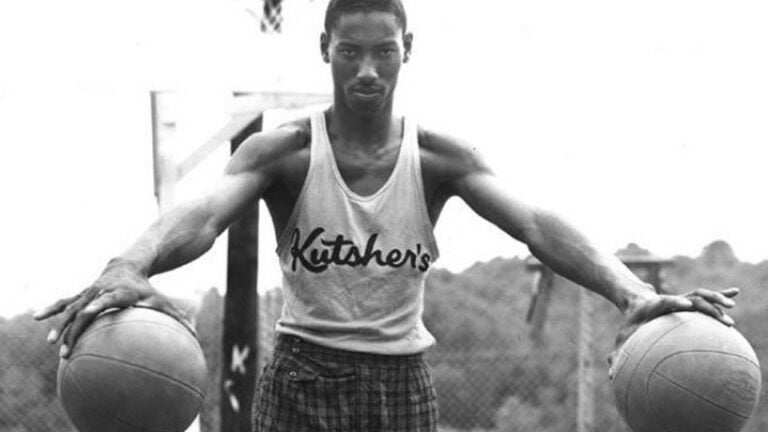 When Rachel White was 7 years old, she held out her basketball for basketball legend Wilt Chamberlain to sign. She wasn't at a special event for former NBA All-Stars or anything. She was just home.
"Everything at camp is crazy,'' White said of Kutsher's Sports Academy (KSA), the children's summer camp that her parents, Marc and Caroline White, own in the Berkshire Mountains. "But to me, it's normal because I've been here all my life.''
That's thanks to her father's unlikely journey from a pro-basketball player struggling to make it in Sweden, Germany, and Egypt, to owner of a camp formerly staffed by talents like Chamberlain and Boston Celtics coach Red Auerbach.
'Not just playing knockout'
The idyllic camp is sprawled out beside Lake Buel, its cabins, courts, and fields looking more like a neatly designed "The Game of Life'' board than an actual place.
It's deceptively cozy; KSA has been not only a destination for sports-obsessed children, but also a hotbed for athletic greats.
Milton and Joseph Kutsher founded KSA in 1968 alongside NCAA basketball coach Claire F. Bee. It was the first traditional summer camp to offer an entirely self-directed sports program, and quickly became a mecca for emerging basketball talent in the 1970s, '80s, and '90s.
Wilt Chamberlain, the camp's biggest claim to fame, worked as a bellhop at Kutsher's Country Club, a now-defunct Jewish resort in the Catskill Mountains in the summer of 1954. While playing on the resort's basketball team, Chamberlain was discovered by soon-to-be-famous Boston Celtics coach Red Auerbach, who was athletic director of Kutsher's Country Club.
Chamberlain is widely regarded as one of the greatest basketball players in NBA history, and he stayed with the Kutsher clan after they opened KSA, training there in off seasons and teaching clinics to aspiring campers. Chamberlain loved camp so much he was involved every summer from its founding year till his death in 1999.
Other sports stars flocked to the camp to play in charity games, train, or teach clinics.
Julius Erving, Pete Maravich, and Walt Frazier all dribbled in KSA's field house. During one charity match, The Maurice Stokes Game, Chamberlain first met Kareem Abdul-Jabbar on the courts. World boxing champion Muhammad Ali even trained there.
Story continues after gallery.
A peek inside camp, past and present:
[bdc-gallery id="28200″]
Today, the White family runs the bustling sports camp in Great Barrington, Massachusetts, bringing KSA's rich history of athletic greatness and traditional summer camp vibe to hundreds of kids and teens every summer. It's not always an easy balance.
"It's based on the camper,'' Rachel White told Boston.com. (Full disclosure: Rachel was the author's college roommate). "How much you put into it is what you get out of it. But you're not just playing knockout all day like at some camps.''
'This would be a great career'
Every member of the White family plays a role in running camp each summer, but it all starts with Marc White.
Marc, KSA owner and director, is a former professional basketball player who first started working as a camp counselor in 1980, shortly after graduating from Denison University in Ohio. He found an ad for the position in The New York Times Magazine and thought it was the perfect fit – he could practice his sport where legends had played, while living in an idyllic summer setting.
Things were easy then. Marc said there wasn't too much responsibility; he just had to show up to his games, and teach kids to play ball. For seven autumns between age 22 and 29, Marc played in Sweden, Germany, and Egypt, coming back to KSA every summer as a basketball coach.
"It was a great experience as a 22-year-old,'' he said. "I wasn't quite mature enough to know what I wanted to do and it gave me time to grow up.''
Part of growing up involved meeting his future wife, Caroline White, at KSA in 1984. She was a water sports counselor from Ireland who quickly rose through the ranks to become aquatics director. They fell in love and were married in 1989. Shortly after, Marc was named director of the camp in 1991.
"It's funny,'' Marc said, reflecting on his time as a counselor. "When I got this job, that first year, I was looking around at camp and thought, 'This would be a great career.'''
The Kutshers sold KSA to the Whites in 2005, and Marc and Caroline found themselves with an entire camp to run. Not just any summer camp, but one steeped in a history of athletic greatness.
In order to shepherd this legacy into the 21st century, Marc has tried to hire the best coaching staff possible. He's brought in NBA pros like Carlos Boozer, Ben Gordon, and Troy Murphy to teach campers, along with former MLB players like Will Cordero.
And Marc's career has become his family's life.
In their blood
Though each day of summer is a hectic adventure, the White children help their parents keep camp running like a well-oiled machine. It's in their blood.
"I never understood what it was like when other kids said they didn't go to camp in the summers,'' Rachel, Marc and Caroline's eldest daughter, said. "It's where I've made some of my best friends in the world.''
Rachel has been the camp's associate director since 2013, after spending five seasons as a counselor and tennis instructor, and as a camper from ages 6 to 17. When she's not fielding questions from hundreds of parents or managing the camp's social media accounts, she's recruiting campers and hiring staff from all over the world in KSA's Florida office.
She never realized she'd work with her parents as a young camper.
"I always thought it was lame,'' Rachel said, laughing. "But as I got older, I appreciated camp more because it's not the norm.''
Watching after 250 kids makes each day different and exciting, she said. Each camper has a constantly changing, personalized schedule involving sports like dance, fencing, lacrosse, volleyball, tennis, golf, track and field, roller hockey, and, of course, basketball.
Every morning of the summer season, Rachel said she steels herself with a cup of coffee before heading to the main lodge where she's bombarded with campers' questions and concerns.
"At breakfast, you hear everything that happened between clocking out and opening,'' she said. The rest of her day is a blur of monitoring the kids and counselors in the four periods of the day, taking photos to post on Facebook, paying bills, and placing food orders.
"I definitely don't think I could handle a 9 to 5 job in an office year round,'' Rachel said. "I'm not built for it. It's nice to have a few months each year out on the courts and fields, supervising everyone you've hired and seeing how it all works out.''
The other White children, Meghan and Taylor, are also involved as KSA basketball and tennis counselors.
Despite having all hands on deck, Marc said running a camp means being ready for anything. "You don't really relax till the campers leave,'' he said.
Still, there's nothing he'd rather do. That's clear to his children
"Like, my dad is kind of an imposing presence,'' Rachel said. "He's this 6'7'' big guy, but the biggest teddy bear, and knows every eight-year-olds' name. It's adorable seeing these kids learn a sport and come back for more and more.''