Jobs
Finding a summer gig that keeps teachers excited about the classroom
Summer programs like i2 Camp and iD Tech let educators continue to shape young minds.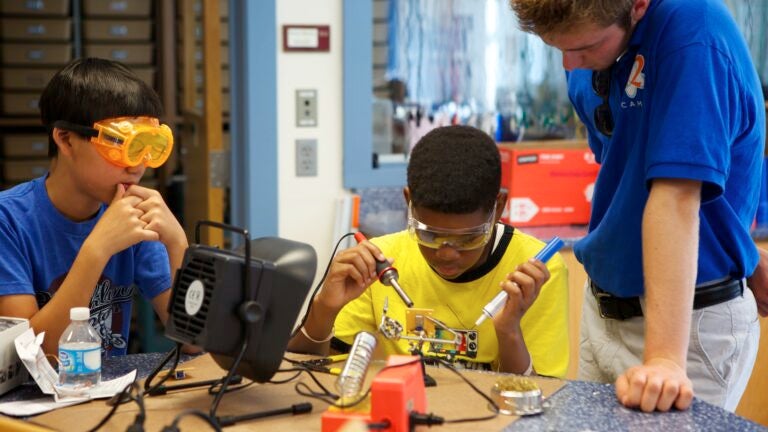 As a kid, Matt Dinger always loved going to his favorite summer camp in western Massachusetts.
"It was a camp where character development is stressed a lot,'' Dinger told Boston.com. "It was my first time being away from my parents. I gained independence, and traveled a lot.''
Dinger is now grown up. The 27-year-old teaches math at the Roxbury Latin School in West Roxbury. As a teacher, he missed the excitement he once felt during his time in a summer camp. Fortunately for Dinger, he came across the chance to go back as a director at the i2 Camp, a summer program that introduces middle school students to the STEM fields.
"For me, [summer camps] have been a big part of my life,'' said Dinger. "I think for some younger teachers, high school and grad students, some are thinking about going into teaching. This is a good opportunity to see how they feel in the classroom settings.''
The i2 Camp offers programs around the U.S., with the local program hosted at Roxbury Latin. The curriculum offers students the chance to build apps and video games, study forensic science, or engage more complicated subjects including how to respond to a pandemic or build a prosthetic device.
Dinger says the education-focused summer camp program is not only exciting for the campers, but for the staff as well.
"In the longer term, it reflects a different way of teaching,'' said Dinger. "It's a student-driven project where kids learn by doing, exploring, and asking questions.
"It's tough in regular classrooms to do it that way…but the more teachers are exposed to it, and see the enjoyment and excitement on the campers' faces, and bring it back to the classrooms, is just great.''
Story continues after gallery
Mass. leaders reveal their first jobs after graduation
[bdc-gallery id="30484″]
Phil Thornton is a program coordinator for the i2 Camp in Boston who believes summer programs like this remind educators why they chose their careers.
"I think one of the qualities of really good teachers is they continue to be excited about learning,'' said Thornton. "They're being reminded of what its like to learn something brand new and have the additional responsibility to learn it and learn it well enough to teach it [themselves].''
Samantha Sardella agrees education-focused summer programs are a helpful way for teachers to stay on their toes and move their careers forward.
"For me as a teacher, this is a great opportunity for building leadership skills,'' she said. "I saw it as a way to become a mentor, to take over a leadership role, [and] build up my resume.''
During the regular school year, the 26-year-old teaches fifth grade at a public school in Springfield, Virginia. This summer, she is working at iD Tech Camp, taking place on the UMass Lowell campus. iD Tech is another nationwide program that offer kids between the ages of 6 and 18 a chance to explore the STEM fields. Courses focus on programming, robotics, web design, and more.
Sardella told Boston.com she learns as much about technology as the kids. "Being a person who is not in computer programming, I learn a lot about programming code,'' she said. "I'm more aware and I take it back to the classroom.''
But even though she is working beyond the end of the school year, Sardella still views working at the summer program as a break from her regular job.
"I wanted something that would involve kids, but that would not be teaching,'' she said. "This way I can work with kids but not really teach.''
She's also excited to work in a program that encourages young minds, especially girls, to get interested in science and engineering.
"I think it's great what they're doing,'' said Sardella. "This is a great opportunity for girls and women to go into that field.''
According to Dinger, the camp environment is a great way to connect with other educators and return to the classroom with a fresh perspective.
"You're sharing in the learning process, guiding but not telling [students] what the answer to a question is,'' said Dinger. "It can be a long summer, but it can also be a breath of fresh air for some teachers to have this opportunity.''