Jobs
Meet the badass woman who will put humans on Mars
MIT's Dava Newman was sworn in as NASA's second-in-command on May 15, 2015.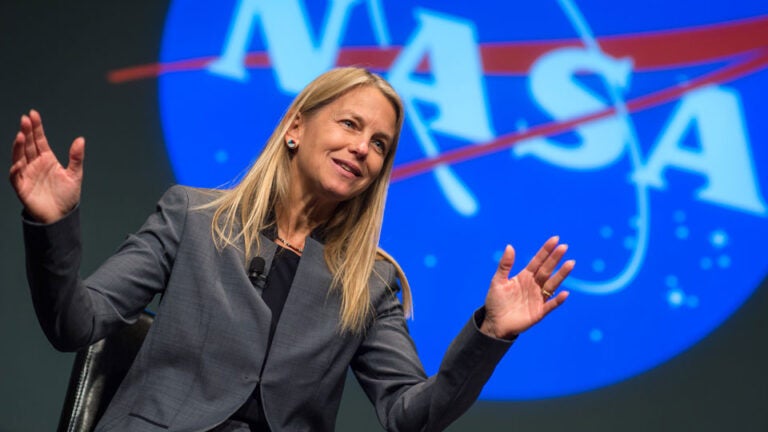 Since Dava Newman left her MIT teaching position in May to become deputy administrator of NASA (the agency's second-in-command), things have been "a little hectic,'' she told Boston.com.
That's understandable. It's been a bumpy summer.
Historic firsts; crushing setbacks
In June, NASA failed for the third time on their mission to send supplies to astronauts at the International Space Station. But in July, a NASA spacecraft made history when it passed Pluto, delivering stunning images of the dwarf planet and making the U.S. the only country to visit every planet, current and former, in the solar system.
"You have to accept and even plan for setbacks,'' Newman said. "That's just part of the business. You can never get it 100 percent right. It helps propel us forward.''
Last week, NASA had another success when astronomers found planet Kepler 452b. Many have unofficially started calling it "Earth 2.0,'' saying it's one of the closest equivalents to our own world yet.
Three months peppered with crushing obstacles, momentous firsts, and astounding discoveries would overwhelm most people starting a new job. Fortunately, Newman is not most people.
Explorer of space and sea
For the last 15 years while teaching engineering and astronautics at MIT, Newman has been designing the space suit of the future: a form-fitting "second skin'' she expects astronomers to wear when they colonize Mars. Over the past couple decades, the 50-year-old has tested three of her experiments on human performance in space, authored a textbook on aerospace engineering and design, and in her spare time, sailed around the world, ran the Boston Marathon, and has given her students life-changing opportunities.
"Thanks to Dava, I've had the chance to dine with Apollo and shuttle astronauts, to appear in documentaries on both the Discovery Channel and the Science Channel promoting space exploration, and to conduct bioastronautics research on a microgravity parabolic flight,'' MIT student Brad Holschuh told MIT Technology Review.
Newman has accomplished a lot in her career, but she's looking forward. Her sight is set on Mars.
"It couldn't be a more exciting time,'' Newman said, barely able to conceal her enthusiasm as she described one of her main goals as NASA's new deputy administrator: The three-phased mission that will result in the colonization of a planet 140 million miles away.
Life beyond Earth
Robots have studied Mars for over 40 years, but now, NASA wants humans to get in on the action.
Newman said they are currently in the first phase of the mission to Mars. Astronauts currently orbit above Earth aboard the International Space Station, studying technology needed for human exploration into deep space (including Mars).
"It's a pretty unique vantage point of the world and our earth system,'' Newman added.
Phase two, known as the "proving ground,'' entails sending a robotic mission to capture and redirect an asteroid to orbit the moon so astronauts can explore the asteroid and test new technologies like solar electric propulsion (which they'll need when sending cargo to explorers on Mars).
Seems simple enough.
The third and final phase – "Earth-independent'' — is the one Newman and plenty of others are most excited about because as Newman pointed out, "Everyone wants to go to Mars.''
"I'm a big sailor so I use a lot of sailing analogies,'' Newman said. "When you do navigation, you can be days or week without access and you are your own lifeboat out there. In space, it could take days or weeks to get back to Earth. The third phase could be two to four year missions.''
Newman anticipates this will take place in the 2030s, unless there's some kind of monumental breakthrough in propulsion technology.
Story continues after gallery.
Highest-paid female CEOs in Massachusetts:
[bdc-gallery id="26997″]
"I'm motivated every single day because my passion is exploration,'' Newman said. "I guess since I've been in this space business for a long time, I definitely think it's hard. It is rocket science, and these projects typically have years- to decades-long timeframes. I just accept it.''
Fifteen years may seem incredibly far away to many, but Newman is used to long-term endeavors. One of her greatest ambitions – besides Mars – is getting more young girls interested in STEM (science, technology, engineering, and mathematics,) which she renamed 'STEAMD,' adding 'arts' and 'design' to expand the field.
Newman was one of two women who graduated from University of Notre Dame in the 1980s with a degree in aerospace engineering. She wants that number to change.
"This might be the best job in the world related to women in STEAMD,'' Newman said. "I care about recruiting everyone, especially young girls and boys. I want to paint this picture in their mind to dream.''