Jobs
What this man learned working 50 jobs in 50 states
Heath Padgett and his wife quit their office jobs after getting married.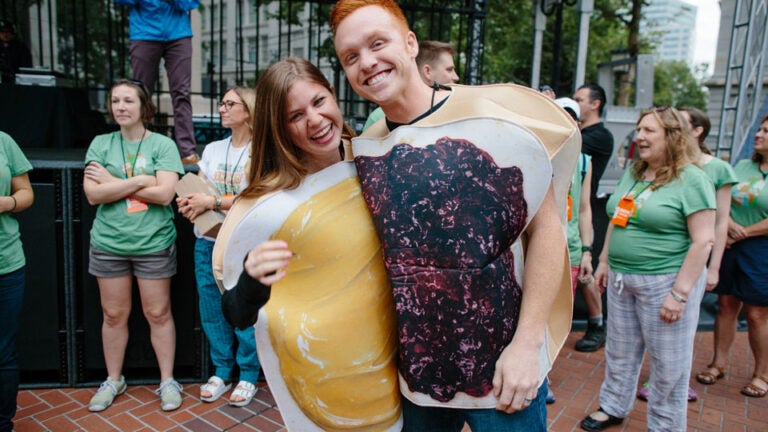 In the past seven months, Heath Padgett has worked as a martial arts instructor, bread baker, goat farmer, apple picker, poop scooper, park ranger, bike mechanic, paddle boarding guide, and zombie at Six Flag. He hasn't made a cent.
"In an attempt to fight boredom and escape the Texas summers, my wife and I quit our full-time jobs to pursue a crazy adventure/bucket list item together,'' Padgett explained on his blog. He had been a software salesman. "We wanted to travel to all 50 states on our honeymoon.''
Padgett and his wife Alyssa wanted to do more than just travel. The Texas natives wanted to get a better sense of their purposes in life, and to embark on a venture that would lead to a great story. (Both are aspiring writers.) What would make a better tale than working a different hourly job in every state?
A similar journey was taken in 2009 by recent college graduate Daniel Seddiqui, who also worked 50 jobs in all 50 states.
Putting the gears in motion
"We didn't have an agenda like trying to showcase moms working minimum wage or anything like that,'' Padgett told Boston.com. "The biggest theme was, 'What does it mean to have a real job?'''
The Padgetts raised $4,000 through GoFundMe, bought a refurbished RV off Craigslist, and were planning their route when they realized it might be harder than they appreciated to get companies on board with a couple working for just one day. So Padgett sent a cold email to Snagajob, a company that helps hourly employees find part-time and full-time jobs. He didn't expect to hear back from them.
[fragment number=0]
In a few hours, his phone rang.
"A few days later, they flew me up to Virginia to meet the team,'' Padgett wrote on his blog. "We had a similar vision for the impact we could make through this project.''
The gears were in motion. Snagajob sponsored the Padgetts's project, donating over $8,000 and filmmaking equipment so the pair could make a documentary about the trip.
Padgett couldn't believe it. The company's passion for his mission renewed his sense of purpose, he said, adding, "I've never finished anything before. That was the core focus of everything on the road. I just had to follow through.''
On the road, finding meaning
With seven months of highway under their belts, the Padgetts have logged thousands of miles in their RV, interviewed 76 employees about what it means to have a "real job,'' and filmed their work as janitors, busboys, meat handlers, baristas, fudge-makers, and electricians.
[bdc-gallery id="30652″]
What did they learn from the experience?
"I can't judge people at face value,'' Padgett said, explaining that many hourly employees at fast food restaurants and bars had degrees, just like him. Many had left boring office jobs, just like him, in the hope of finding meaning in their work.
"Meaning might not mean having a huge salary or job security,'' Padgett pointed out, recalling that some of his most satisfied years of employment were in college, when he worked 16-hour days for a moving company whose trucks were painted to look like cows.
[fragment number=1]
[fragment number=2]
[fragment number=3]
He met a former accountant working at a clam shack in Maine, and a former professor bartending at an Italian restaurant in Chicago. Many of these workers treated their hourly jobs as crafts, Padgett said, but even those who were just working to get by shared one commonality: they all had a great story.
"I just kept being wrong,'' Padgett said.
In Portland, Oregon, he met Bryce Lilly, a senior maintenance technician for the Portland Art Museum in his 60s who battled dyslexia to work at the prestigious art museum. At a Vitamin Shoppe in New York City, a health enthusiast named Mustafa described how he broke from the doctor career path his parents had selected for him to instead search for natural solutions to health problems.
"You can't put people into boxes of what they can't be,'' Padgett added.
Changing life's trajectory
The trip is over, but the Padgetts are still going, just in a different direction.
"I have huge satisfaction for not just being an idea guy anymore,'' Padgett said. "It's completely changed the trajectory of our lives. We don't have a traditional route anymore.''
They're still living in the RV (paying off student loans and the few grand they spent on their trip), and working on the documentary they hope to finish by Labor Day 2016. In the meantime, they will find freelance work, and maybe Padgett will write a book one day. No future plans are concrete. That's part of the beauty of their new simple lifestyle, Padgett said.
"When Alyssa and I are getting ready to have our first kid together, I definitely won't be prepared,'' Padgett wrote. "But I'll also remember that is what makes life interesting and beautiful, to experience moments we weren't entirely sure we could handle in the first place. After all, if we were 100% sure everything was going to be fine, what's the point?''