Jobs
Running Harvard College's freshman orientation is no cakewalk
According to Katie Steele, Harvard College's director for freshman programming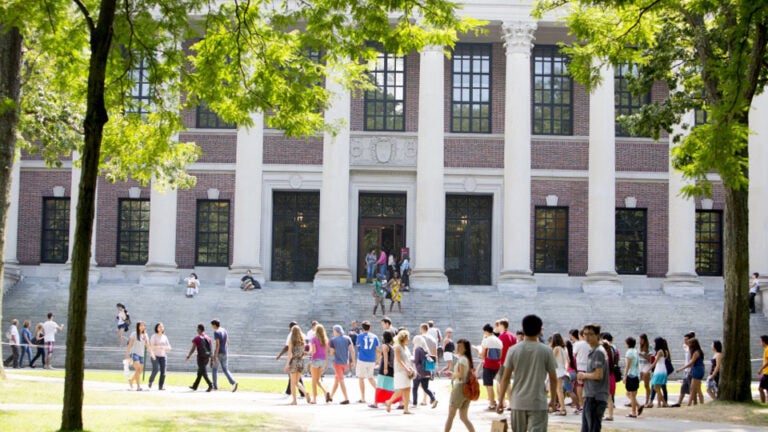 Ever wonder what it's like running one of the most prestigious college in America's freshman orientation?
For Katie Steele, Harvard College's director for freshman programming, the job's no mystery. She's been in charge of the school's annual festivities for nine years now.
"We don't wash, rinse, and repeat each year,'' Steele said. Every year brings a fresh class and a fresh start, and there's always room for improvement, she added.
Her job is no cakewalk. This year, the 1,990 accepted freshmen will experience roughly 85 orientation events over the course of seven days, Steele said, beginning on move-in day, August 25.
It's students' official welcome to Harvard, where they can meet advisors and peers, but perhaps more importantly, it's when they decide what they want to study. Harvard offers over 49 concentrations and 50 academic departments. Students don't have to officially register for classes until after the first week.
"Right about now till when the students arrive, there's stress making sure everything is ready on all levels,'' Steele said. "But it's a good kind of stressful. It's busy but exhilarating.''
Story continues after gallery:
Forbes top college's:
[bdc-gallery id="109704″]
Orientation is also when students learn what it means to be a Harvard student.
This includes a novel aspect of this year's orientation: Harvard College's brand new undergraduate honor code, Steele said, which is the result of four years' worth of work by the faculty's committee on academic integrity. The need for an honor code emerged after a 2012-2013 investigation into the largest recent case of student misconduct on an exam.
"We'll spend a fairly significant amount of time having conversations with students about what honor and integrity mean,'' Steele said. They'll also cover diversity by discussing Sonya Sotomayor's memoir My Beloved World, which all freshmen read, and tackle the importance of getting a liberal arts education with a conversation on W.E.B. Dubois. They'll also meet with advisors, proctors, and peer advising fellows multiple times.
It's a lot.
"By the time [orientation's] over, students are definitely excited to start class,'' Steele said.
Steele's been preparing for the August launch for a long time – since last October, in fact. "It's a community of faculty and staff and students meeting on a monthly basis to make major decisions about what we can do to make each orientation more special,'' Steele said. The planning process doesn't wrap up till May.
She's in charge of orientation aspects big and small, from deciding on themes covered during the events, to making sure scheduled speakers have bottles of water and fresh batteries in their microphones.
"Are the doors unlocked? Are there signs? Are there maps? Is there wheelchair access?'' Steele laughed. She's even in charge of whether a thunderstorm causes a power outage. "I'll probably take a few Fridays off in September.''
Despite the chaos, Steele said she truly enjoys her job.
"What I love about it is there are so many details at once, that you kind of look back and it's this big moment in time people really remember,'' she said. "They remember when they first met their roommate and did something big without their family there. Fortunately, I have a job where I get to help make those moments happen.''