Jobs
What managers can learn from the Amazon debacle
HR experts weigh in.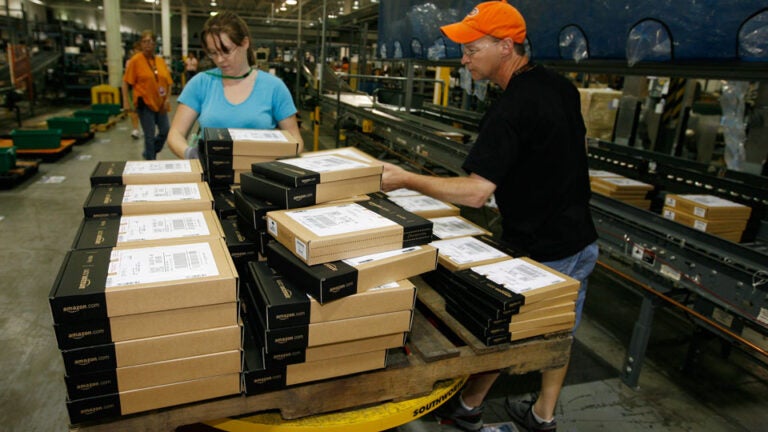 A recent New York Times article unveiled some disturbing management practices at Amazon, the most valuable retailer company in the country.
Employees described being expected to work late hours and weekends and also tear their peers' ideas to shreds at meetings. One woman fighting breast cancer and another who had recently had a miscarriage were reportedly punished for cutting back on their workloads. Team members said they were encouraged to send bosses feedback on teammates who were annually ranked, with the lowest-rated member fired.
But the most shocking part of the accounts?
"They aren't that shocking,'' Jason Averbook told Boston.com. Averbook is the CEO of The Marcus Buckingham Company (TMBC), a performance and engagement solutions firm.
'A measure-of-now world'
Though Amazon is taking the heat now, Averbook contends the human resource issues they're facing represent a widespread trend in the face of ever-connected companies with endless swaths of performance data at their fingertips.
"The history of HR did things once a year, an engagement survey once a year,'' Averbook said. "Now, it's not a once-a-year world, but a measure-of-now world. We're constantly trying to measure now, and that gets done at team leaders' level, not an HR level.''
As the Times article pointed out, Amazon has access to a perpetual flow of real-time metrics about customers, which managers expect employees to keep track of. At a retail company, this type of information is invaluable. Clearly something about Amazon's work environment translates into business success: the company recently surpassed Wal-Mart as the country's retail king.
But the impact of a 24/7 job that blurs work-life boundaries can have a detrimental impact on workers. And Amazon is not alone in their workaholic culture, Averbook added.
"Because I've got my phone with me at night I'm expected to be connected,'' Averbook said. "It's a new era of work. It's important for every business person to set business expectations of when one is expected to work or not.''
Story continues after gallery.
Jobs that make the world a worse place:
[bdc-gallery id="30901″]
For employees uncomfortable voicing concern where they work, Averbook said he believes good will come from the Amazon uproar. He thinks every major company in the U.S. is taking a hard look at their culture and management practices, looking for areas to improve upon.
We spoke with local HR experts (Ralph Roberto, president of career advisory firm Essex Partners and Michelle Roccia, executive vice president of employee engagement at WinterWyman), who weighed in on management practices that foster a healthy workplace.
Here were some of their management tips:
1. Give balanced feedback.
The only way to give constructive criticism to your peers is to make it balanced, Roccia said. "Say what they do really well, then say areas they could work on. This is very important anytime you give feedback because it shows it comes from a good place,'' Roccia added.
2. Hold team meetings frequently.
"I don't believe in annual performance reviews,'' Roccia said, adding that a human's performance can't be accurately measured once every 365 days. "Employees should be meeting with their managers bi-weekly.''
By taking the temperature of your team members every two weeks managers can deal with performance issues proactively.
3. Competition is great; Kindness is better.
"How you treat your employees is eventually how you treat your customers,'' Roccia said.
Remembering that your workers are humans, not machines, encourages employees to be more loyal to the company and influences them to work harder at pleasing clients. The Amazon debacle has made some customers take to the Web saying they won't shop there anymore. While that may be a dramatic response, it's certainly not something Amazon wants to hear.
4. There is such a thing as too much data.
"Generally, data is great,'' Roberto said. "More info can help leaders make better decisions. But you need to have good values influencing how you use that data. Are people being punished by that data, or are leaders using it to help employees learn and grow?''
Make sure there is purpose in having employees memorize metrics other than making their minds "swim with details,'' as the Times article described.
Weeding out the mediocre
Amazon is internally addressing the issues raised by the Times article – Jeff Bezos addressed this in his letter to employees. But Averbook added that in the long run, the company might actually benefit from the spotlight that's been shed on its culture.
Potential employees will self-select, Averbook explained. "It might be better for Amazon because if you don't want to work hard then you won't work there,'' he said. "It might weed out people looking to be mediocre verses those who want to be excellent.''
Amazon currently has 87 job openings in the Boston/Cambridge area. As Averbook pointed out, now talented job seekers can better understand whether they'll fit in at the company.